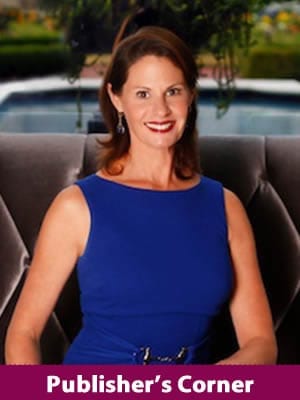 As we settle into the New Year, I'd like to express my appreciation and gratitude to all of our readers, Simply Buckhead Radio show listeners, and Simply Buckhead team, for their support and contribution to our amazing growth and success in 2014!
It has been a banner year for us, as we witnessed several more weddings and welcomed another baby to the Simply Buckhead family. Congrats to Editor-in-Chief Giannina Smith Bedford and her husband Jon on the November arrival of their healthy and beautiful baby daughter.
Our team also grew, with addition of Director of Audience Development (in other words, social media pro) Jaime Lin Weinstein, and WordPress developer Jason McCullough. We added renowned writers and stylists, new departments and editorial features, and an account executive to the sales team, and expect more of the same growth in 2015.
One of our favorite 2014 additions is our new radio show, Simply Buckhead Radio, which launched on Buckhead Business RadioX November 4th, and airs live weekly on Tuesdays from 2-3 p.m. Be sure to tune in at www.SimplyBuckheadRadio.com, but if you miss it, you can listen any time since it is in rotation in our archived shows. We've had some great guests already, and have many more lined up in the coming weeks and months.
Just because it is the middle of the "winter" (I keep this in perspective as a native New Englander), doesn't mean there isn't lots of great stuff going on in Atlanta. From choirs to art shows, antique auctions and children's play places, there's something for everyone in the family to enjoy during the gray months. Our new issue, the Kids & Pets issue, is out on stands now, and we hope you enjoy the parent-preneurs who created kid-friendly products, pet product entrepreneurs, as well as some stellar pets who are compassionate companions, and pet rescue heroes, who all appear in our pages.
Last but certainly not least, we have a HUGE announcement: Our 5-year Anniversary Party is being held on Tuesday night, February 3, at Jetlinx/Signature Air at PDK Airport. Tickets are now on sale for $35/person. ALL proceeds from ticket sales, and our fundraising Gift Pull, where tickets are $20/each, and every one represents a prize valued from $20-$1000, will go directly to support CURE Childhood Cancer, the Atlanta-based 501(C)3 organization which we sponsor year-round.  CURE Childhood Cancer is dedicated to conquering childhood cancer through funding targeted research and through support of patients and their families. Our goal is to raise a minimum of $40,000 at this event, and we need your support to make it happen.
Please keep the feedback coming – we love to hear from you, our readers, so we can continue to develop great editorial material. Many of our best story ideas and hidden gems come directly from audience referrals. We promise to continue being the best resource for exposing Buckhead and Brookhaven's brightest shining stars in 2015 and beyond!
Cheers!
We value your feedback any time. Email, Tweet, or Facebook us—we respond to all, and don't be surprised if your comments end up in our Letters section next time.
Joanne Hayes, Publisher | Founder