A BROOKHAVEN COUPLE'S HIGH-STYLE INTERIOR PUTS FAMILY AND FUN FIRST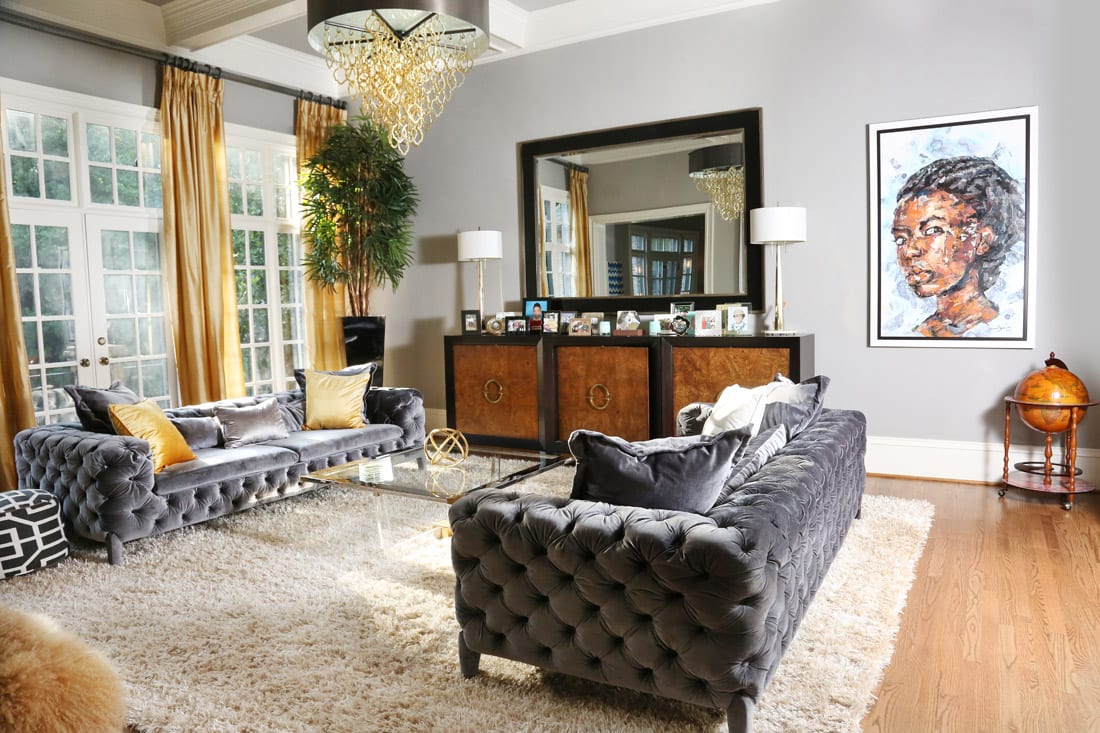 STORY: Giannina S. Bedford
PHOTOS: Sara Hanna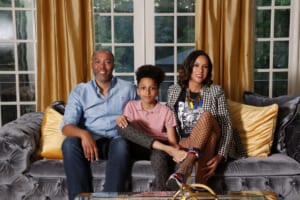 Personalizing a home is a process that can take years. For Zora Foote and Colin Meadows, it has been an ongoing journey for more than a decade. The couple, who met in California, moved to Atlanta in 2006 when Meadows accepted a job at investment management company Invesco, where he's currently the company's chief administrative officer. In looking for a home, walkability was key for the pair. "Coming from California, we walked a lot, so we wanted a home where we could walk to the grocery store and Starbucks, and there aren't a ton of areas [with houses] that offer a substantial yard that were still walkable and fit the bill," says Foote.
The family found that in a five-bedroom, seven-bathroom home in historic Brookhaven. Upon move-in, the three-story stone residence was essentially turnkey, but the interior reflected the popularity of beige and the ornate fixtures of the '90s. "I was used to the California aesthetic of clean lines and not a whole lot of window dressings. When we came, it was builder's beige everywhere," says Foote.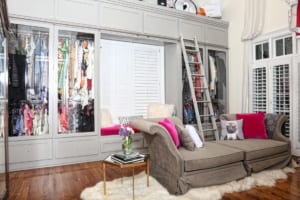 The couple has slowly overhauled the look, teaming up with various designers to create an interior that echoes their passions. From the stylish living room to the relaxed family room, each space speaks to Foote and Meadows' love for family, art, travel and entertaining. Foote's main-level closet—a multi-room space created by combining an office and master bedroom walk-in closet—is a perfect example.
It's an impressive homage to all things high fashion, where the creations of designers such as Alexander McQueen, Chanel and Tom Ford are displayed with Smithsonian-like care. "These shoes, for example, are from McQueen's last collection, so they mean everything to me. They're a piece of art," says Foote.
In the future, Foote has plans to drop the floor of the closet into the basement apartment to create a two-s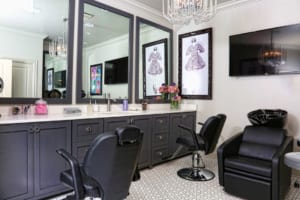 tory dressing area with a glass staircase. But for now, she's relishing the results of the most recent renovation, which took place a year ago when she joined forces with Heather Hogan Roberts of Ivy & Vine to overhaul the kitchen and basement after seeing the upgrades Roberts had made to a friend's nearby townhome.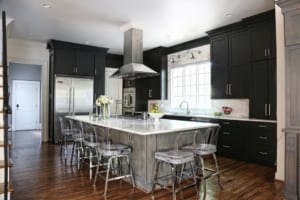 Roberts revamped the rooms based on the couple's penchant for understated glamour and a laid-back vibe that jives with their fondness for throwing parties, including huge birthday bashes for their youngest son, 11-year-old Hamilton. Their older son, Kenneth, is currently a student at Syracuse University College of Law. "We really needed a new kitchen. We're a fun house that entertains a lot. Our sons are our everything, and we also needed an area for them to hang out in the basement," says Foote.
In the kitchen, Foote wanted black cabinets, which Roberts paired with Cambria Brittanicca quartz countertops and backsplash. "I really wanted someone to let me do black cabinetry," says Roberts. "Everyone is wanting grey. I love it, but creatively it's not very challenging, so when Zora said black, I said, 'Yes!'"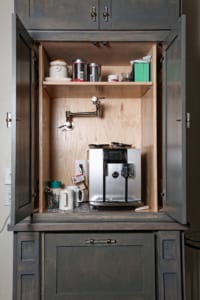 A custom coffee station, equipped with a drawer fridge and water source, was a must-have. The inconspicuous standalone unit is stained in a bluish-gray that matches the island, which helps unify the room aesthetic and balance the darker-hued cabinetry. The center of the kitchen is anchored by a range strategically placed in the island facing out so Foote, an avid cook, can converse with family and friends while preparing meals. Next to the pantry, a Viking oven creates a baking area with all necessary ingredients at arm's reach.
Adjacent to the kitchen, a casual-yet-cool dining area features a round table from Restoration Hardware, Cyan pendant light and a black-and-white carpet from FLOR. Blue chairs with gold metallic bases that Foote sourced from Overstock.com give the space a little bling.
"Zora says she doesn't have any design skill, but she totally does," says Roberts. "She has amazing taste in art. And she loves color, and I love color, so that's a fun little plus."
Art is displayed throughout the home, with showstopping pieces taking center stage in the foyer, which was also part of the latest refresh by Roberts. It features marble floors, reupholstered high-back chairs and an enormous chandelier (a holding piece until Foote finds something else she likes). It all sets the scene for the eye-catching works purchased during trips to South Africa, Cuba and regular trips to Miami and Las Vegas, where the couple also own homes. "Now we are getting my son into it, and he'll choose pieces of art," says Foote.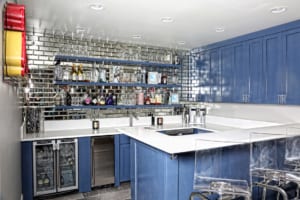 In the basement, Roberts and Foote created an '80s-themed recreation area with Nintendo decor and converted a former wine cellar into Hamilton's spray painted DJ-ing space. There's also a beauty salon that, like the upstairs closet, reflects a penchant for couture with framed illustrations of Alexander McQueen runway looks flanking the wall-to-wall vanity where Foote gets her hair done. Hexagonal marble tile and Lucite hardware elevate the VIP feel, and an edgy powder room with "F-a-b-u-l-o-u-s" wallpaper and a toilet painted blue by artist friend Arias Bell brings the cool factor to the next level. "That bathroom is my favorite because of the wallpaper," says Foote.
Another much-loved spot is the basement's shimmering bar with blue cabinetry and beveled antique glass tile that reflects the outdoor pool seen through the French doors. "We do a great deal of entertaining and wanted a low-key, casual, hip space to do it in. The basement had to be reflective of us and our style and remain useful," says Foote.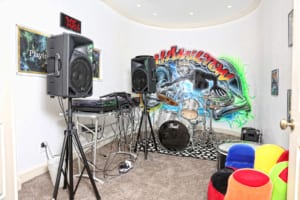 The redecoration of the Foote-Meadows home wasn't done overnight, and it's still an ongoing process, but through it all, the homeowners have given their life priorities thoughtful consideration. It's taken more than a decade, but the end result is an artistically chic but chill home where good times for all ages rule.
ZORA FOOTE'S TIPS FOR SELECTING ART FOR YOUR HOME
1. Don't take it too seriously. "Art always scared me a bit as collectors, museums, galleries and artists can be intimidating. Once I realized I was a curator of my 'home gallery,' it put me in a better position to evaluate art on my terms."
2. Art is everywhere. "You don't always have to go looking for art at the traditional places. In our home, purses, furniture and even our [painted] toilet are artful statements."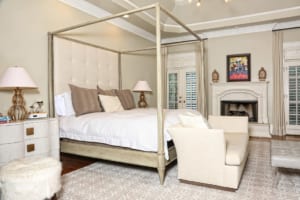 3. You don't have to agree on art. "My husband and I don't generally share the same taste in art, but we don't enjoy the same taste in clothing either. We decided we'll buy what we like individually, and then on larger scale/ cost pieces, we decide together based on facts outside of just personal taste."
4. There's art for every taste and budget. "Art should inspire, move, amuse or capture you. A $100 painting from a street fair can be more meaningful than a $20,000 piece from a gallery. As long as you enjoy it, the monetary value is meaningless."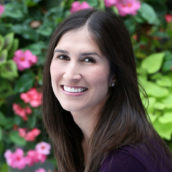 Giannina Bedford
Giannina S. Bedford is multi-faceted writer and editor. Her work covers design, travel, food and business. She's penned Simply Buckhead's home feature since inception and held a variety of editorial roles at the magazine. Her freelance work has appeared in Condé Nast Traveler, USA Today, Virtuoso Life, Hemispheres and TravelandLeisure.com. She also contributes regularly Atlanta Business Chronicle. Fluent in Spanish, Giannina was born in Miami and grew up in Brazil, Chile, Hawaii and Australia. She currently lives in Dunwoody with her two kids and husband.