PUTTING THE PEDAL TO THE METAL FEELS LIKE FREEDOM
One of my favorite books as a child was The Maggie B., by Irene Haas. In it, the title character wishes for the freedom to sail wherever her whims might lead. Even as a little one, my wanderlust was strong, as if I innately knew that one day I'd be bound by work schedules, social commitments and Atlanta traffic.
While commandeering a boat in landlocked Buckhead is unrealistic, on a recent weekend, an opportune road trip felt like the closest thing to freedom I could find. It's one of the simplest travel pleasures: You get the fun of an escape without any of the hassles of plane tickets, security lines and airport delays. Plus, with the chance to captain a borrowed 2017 Buick Cascada Sport Touring Convertible—in shiny Sport Red, no less—a trip on the open road felt like just what I needed.
I set sail with one of my best friends, Christie, heading north to Highlands, North Carolina. We were bound for a girls' weekend to celebrate another friend's upcoming wedding, and even the weather seemed to be onboard with the occasion, with sparkling sunshine and temperatures in the mid-70s. Though the weekend's festivities didn't begin until Friday evening, we left in the morning to give ourselves plenty of time. After all, my favorite road trip experiences come with a built-in margin to embrace spontaneity.
With a push of a button, the Cascada's top was down, and I felt the vitamin D begin to work its magic before we even got on I-85 North. I'd spent the week trekking back and forth to meetings in the suburbs, inching along in rush hour, often logging more than an hour each way. So being able to push the pedal down and give the car's 200-horsepower engine a bit of exercise felt like flying, my hair whipping in the breeze.
Since neither Christie nor I had time beforehand to pick up a gift for the bride-to-be, we plugged in shopping options in the onboard navigation system, choosing shops along the way. We stopped to pick up a bite, barely consulting the clock. We weren't on anyone's schedule but our own. I did have a momentary gut-check moment, worried that I forgot to send in a document needed for a project. Fortunately, the car's built-in Wi-Fi let me log on and double check that my client had everything he needed, all from the comfort of the buttery leather seats (at one of the aforementioned stops, of course).
As I-85 gave way to I-985, we chatted happily, like two friends who hadn't seen each other in weeks. It was the kind of conversation you can only manage in person and when stress levels are low. Mine was, thanks to the beauty of passing mountains in Clayton and gorges in Tallulah, and the utter lack of traffic on a pristine Friday.
As we turned in Dillard to begin climbing the winding mountain roads into Highlands, I considered the importance of finding joy in the journey, not just the destination. Much like young Maggie, so cleverly illustrated in her eponymous book, I wished for an opportunity to sail away with total freedom to wherever my whims took me. My wish was granted, and though my road trip only lasted a few days, it was enough to remind me that even a simple drive has the power to recharge your batteries.
STORY: Jennifer Bradley Franklin
Photo: Sara Hana Photography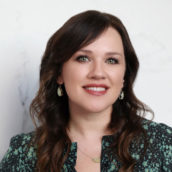 Jennifer Bradley Franklin
Senior Contributing Editor and Beauty Columnist at Simply Buckhead. Travel, Food and Design Writer and Author.