BUCKHEAD SALONS GET CREATIVE WITH MANICURES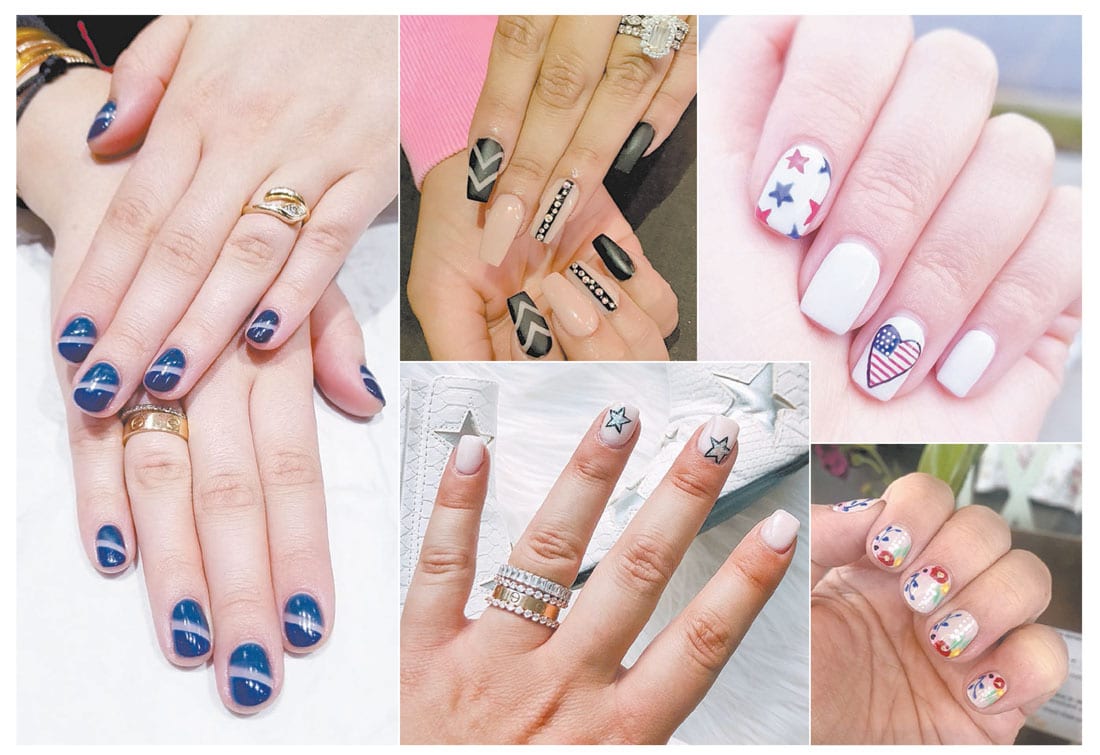 STORY: Lia Picard
Scroll through Atlantans' Instagram accounts and you may notice a common theme among more and more of them: stunning nail art as a fashion statement. Creative manicures above and beyond the basic buff and polish have always been on the menu at area salons, but lately they've gotten a big boost.
Linda Vo, owner of Les Mains Nail Bar in Andrews Square, says nail art is becoming increasingly incorporated into our everyday lives and interests. She observes, for example, that sports fans will honor their favorite teams with designs inspired by their schools' colors or mascots, and chefs will get nail art depicting their favorite food items.
One such foodie who's an avid nail art enthusiast is Megan Roth, the Buckhead resident behind the popular Instagram account @hungrygirlsdoitbetter. The Les Mains regular says, "I always need to have my nails done for photos because no one likes to look at an unpolished hand. The designs are unique and different, and give my hands a little personality. They're also a conversation starter, and I think our followers really react to them."
Similarly, local fashion blogger Adabelle Buntrock of TheDailyBelle.com has been getting nail art for more than six years. "When I first started getting my nails done, I would do really complicated art, but now I prefer to be a little more simple and subtle," she says. "I like playing with the color varieties and add-ons like glitter or rhinestones." Her go-to salon is The Haute Spot in Sandy Springs.
If you've wanted to try nail art but are unsure of how to take the plunge, take a few design tips from local salon owners. First, keep in mind that if you get nail art, it has to be done with gel, the polish that dries instantly under UV light. "If you make a design mistake with regular polish, you can't take it off and redo it," explains Vo. Gel, though, dries in layers, so if there's a mistake on top, it can be taken off without ruining the entire nail.
Different salons have different nail art strengths. At Les Mains, while the staff will attempt anything, the signature designs are stars, lines and florals. At Sugarcoat on Pharr Road, "Simple nail designs are most popular around spring," says owner Peiru Kim. "Dried flower applications, negative space designs and tiny crystal and diamond embellishments are always in style around this time of year." If you have an idea of what you want to do, just bring in a picture and let the manicurist take it from there.
"Nail art makes people feel good about themselves," says Vo. "What you put on your nails, you're always looking at it. It's just another added thing for self-care." It can also accentuate any outfit and up your fashion game.
WHERE TO GO
The Haute Spot
5590 Roswell Rd. N.E.
Sandy Springs 30342
404.705.8070
facebook.com/hautespotprado
Les Mains Nail Bar
56 E. Andrews Dr. N.W.
Atlanta 30305
404.941.9598
facebook.com/lesmains.nailbar
Sugarcoat
320 Pharr Rd. N.E.
Atlanta 30305
404.814.2121
4365 Roswell Rd. N.E.
Atlanta 30342
404.600.8600
sugarcoatbeauty.com
Lia Picard
Freelance writer covering food, travel, and interior design.