Bentley Motors honors iconic CNN sportscaster.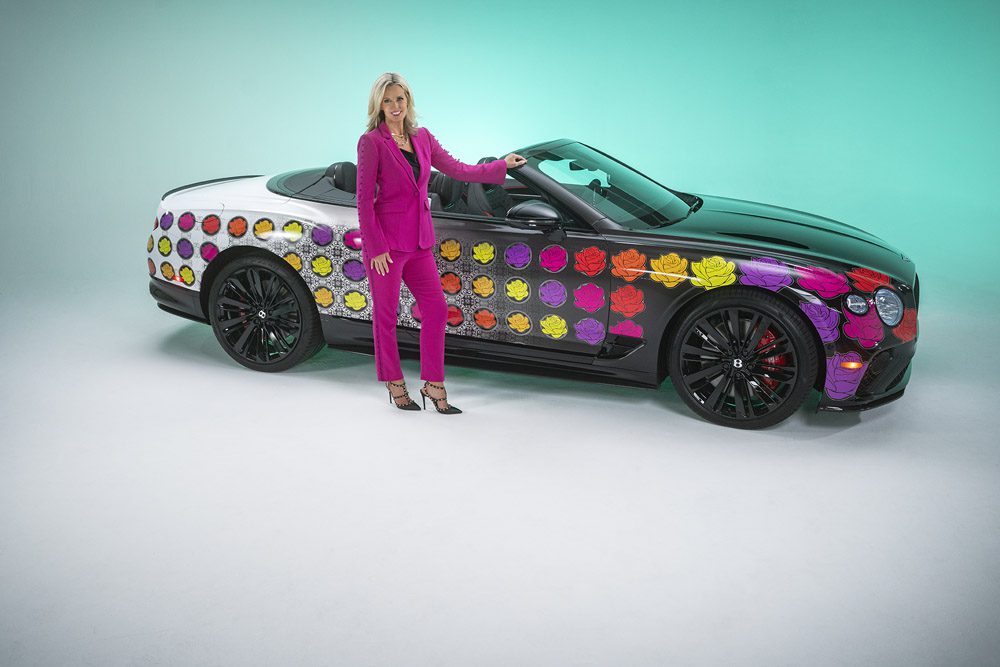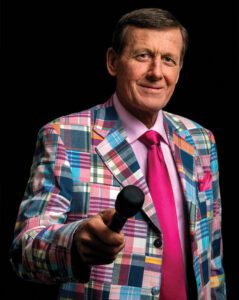 NBA sportscaster Craig Sager was known for his considerable skill but also for his exuberant personality and flamboyant one-of-a-kind blazers. He was easy to spot while announcing NBA games courtside on CNN and its affiliates for 26 seasons. The Buckhead resident's positive attitude didn't abate after he was diagnosed with acute myeloid leukemia in 2014. Soon after, he and his wife, Stacy, created the SagerStrong Foundation to fund research for blood cancers. To date, it has raised more than $2.5 million.
Sager lost his two-year battle in 2016, but his legacy is celebrated through a partnership with Bentley Motors Inc. The company designed a one-off GT Speed Convertible inspired by the brightly colored, flowery blazer he wore during his acceptance speech at the 2016 ESPY awards. At that event, he received the V Foundation for Cancer Research Jimmy V Perseverance Award, named for Jim Valvano, whose courage and speech at the first ESPY Awards in 1993 inspired the creation of the foundation. Since then, the organization has raised $290 million for cancer research.
It was the last public appearance for Sager who received numerous awards, including induction into the Sports Broadcasting Hall of Fame two days before his death. He was honored posthumously by the National Academy of Television Arts and Sciences (the Emmys) for Outstanding Sports Personality and Sports Reporter, as well as being the recipient of the 2017 Naismith Memorial Basketball Hall of Fame Curt Gowdy Media Award.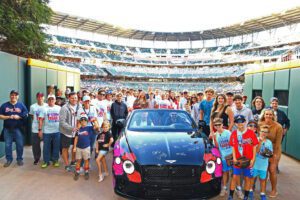 The relationship with Bentley evolved from Sager's friendship with Scott Reynolds, retail marketing manager for the western U.S. and Canada. The two were introduced via the V Foundation, and Reynolds came up with the idea to "dress" an iconic Bentley sports car with a Sager jacket pattern to raise money for SagerStong.
"I thought it would be amazing," says Stacy Sager, who was involved in the entire process from brainstorming ways the floral pattern would be applied to leaving the hood pattern-free to accommodate signatures from outstanding athletes and celebrities. A final design touch was embroidering Sager's signature on the head rests and door plates.
The iconic vehicle has traveled thousands of miles via transport, and Stacy was along for much of the ride, including stops at the Naismith Hall of Fame in Springfield, Massachusetts, and Art Basel in Miami. It was widely welcomed by Olympians and NBA, MLB, NFL sports families who signed its hood and trunk to simulate the people Sager would have met during the year.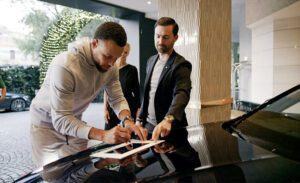 Signees include Stephen Curry, Earvin "Magic" Johnson Jr., Dikembe Mutombo, Trae Young, Freddie Freeman, Jamal Anderson, the Sager family and many more.
"We're honored to have so many athletes sign this unique sports memorabilia on wheels in memory of Craig," Stacy says. "If he were here today, he would be driving the family around, top down, smiling ear to ear in this perfect representation of his beautiful and powerful spirit."
The car was auctioned off in February after the NBA All-Star game in Salt Lake City. Proceeds were earmarked for SagerStrong that recently partnered with the V Foundation to fund Stanford University's Dr. Amy Bhatt's research into the way dietary changes might improve the intestinal environment in cancer patients. The goal is to improve therapies.
To further cap a stellar fundraising year for SagerStrong, NBA All-Star Stephen Curry auctioned off a special pair of sneakers he wore during the 2022 NBA playoffs. They brought $52,000 at auction, in addition to garnering attention for SagerStrong.
SAGERSTRONG FOUNDATION
sagerstrongfoundation.org
@sagerstrongfoundation
BENTLEY MOTORS
bentleymotors.com
@bentleymotors
Mickey Goodman
Award-winning Ghostwriter, Journalist, Content Creator.