Stephen and Gale Barnett took great care to build a second home that blended with its environment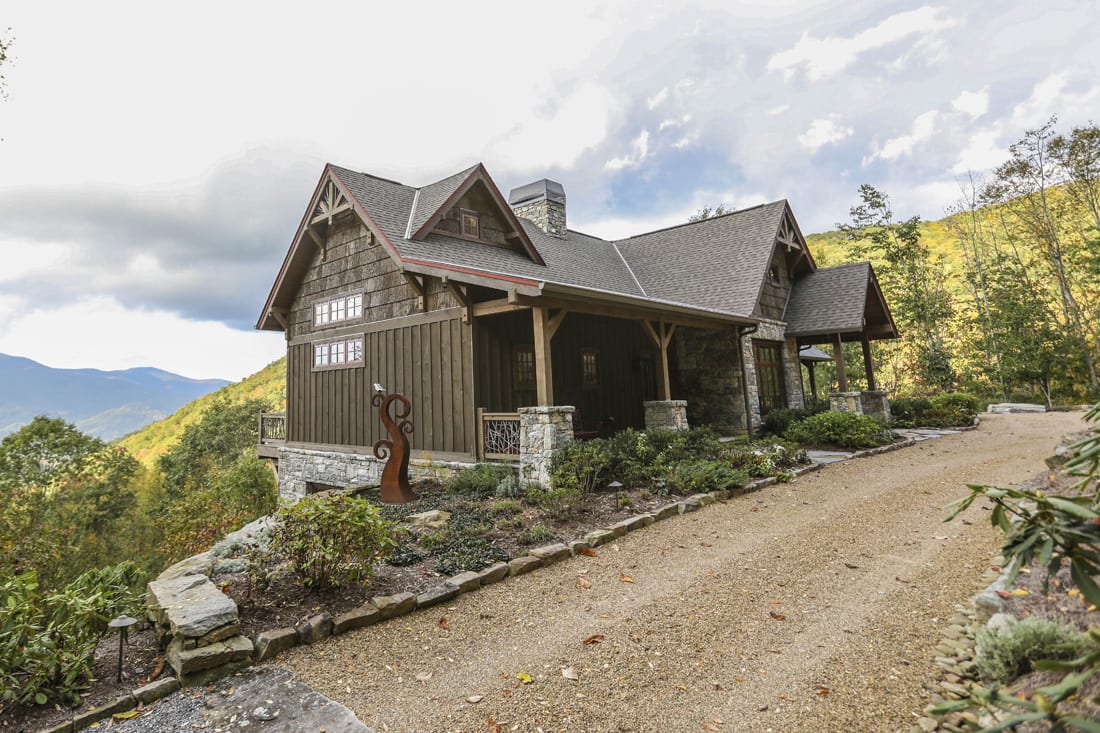 When longtime Buckhead residents Stephen and Gale Barnett started searching for a second home, they knew exactly what they didn't want in the community where they would live. They wanted to avoid a traditional golf, tennis and pool development. "I didn't want to replicate a country club setting," says Gale, who wears many hats, including attorney, certified planner and developer.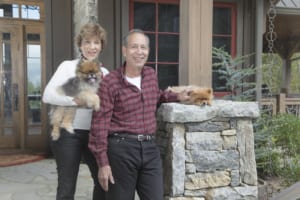 The Barnetts began looking at Balsam Mountain Preserve near Sylva, North Carolina, less than 40 minutes from Asheville, because they had a cousin who owned a home in the development. The couple visited their family at Balsam and started looking at communities in the region for their own second home.
They wanted a location that would be an easy commute for a weekend getaway. "[Balsam] served as a good escape," says Stephen, a general and vascular surgeon. "When in active [medical] practice, it's hard to get away. You need something accessible."
Stephen and Gale particularly loved the development's commitment to nature. "Preserve" is not just part of the community's name; it's a description of the community itself. There are fewer than 400 homes throughout the 4,400-acre property, and 75 percent of the property has been placed into a conservation easement protected by the Balsam Mountain Trust. On-site naturalists work closely with homeowners, architects and builders to create homes that have a limited environmental footprint.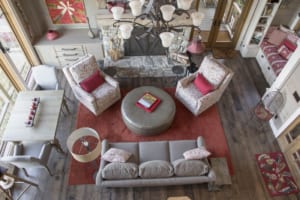 "It's a preserve," says Stephen. "You can't take out a tree or kill an animal. You work with naturalists in determining what trees come out when building." After purchasing their lot in 2012, that is exactly what the Barnetts and their design team did.
The couple enlisted the aid of architect Allen Halcomb of MossCreek Designs in Knoxville, Tennessee, and builders George Baldwin and Larry Phillips of Baldwin & Phillips Construction in Sylva. Baldwin and Phillips built the Barnetts' cousin's house and had extensive experience constructing other Balsam Mountain Preserve residences.
Together, they crafted a 3,500-square-foot house that contains a family room, kitchen, loft, den, master suite, Gale's office and a powder room on the main floor. On the second floor, there's another, smaller family room with a bar, a guest bedroom and bathroom, and a multifunctional room that serves as a guest room when needed. "We designed rooms by function, not name," says Stephen.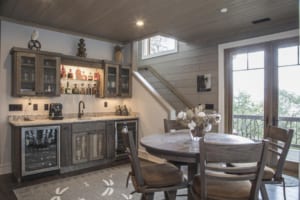 Outside, a two-story deck holds court on the back of the house, with a covered outdoor living room off the main floor. All of the rooms along with the exterior spaces were designed to take advantage of the mountain vistas in the distance. A garage with a second-floor living space stands across from the front of the house.
It took a little more than two years for the house to be completed. Along the way, the Barnetts worked with Halcomb to tweak the architectural plans they had chosen. For instance, they converted dead space over the kitchen into a loft. Also, just off the family room, they pushed out a wall to put in a book nook. One fun adjustment was installing an elevator in what originally was to be the laundry room. Behind the elevator, the remainder of the space was converted to Gale's office. "There is no wasted space," says Stephen. "We used every nook and cranny." The Barnetts relied on Phillips' knowledge of local vendors to find the right suppliers of natural materials for both the interior and exterior of the home. "You want to make the house look like a part of the landscape," says Stephen. "It sits like it's in a nest looking out at the surroundings as if it's always been here."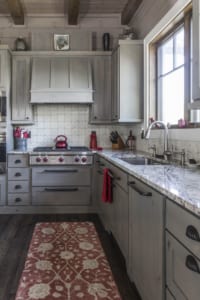 Examples of those materials include the live-edge countertop in the powder room, a poplar bark wall in the downstairs den, mountain laurel on the deck railings, stacked stones from local quarries for the fireplaces and Appalachian hardwood for the fireplace mantels. "We loved using these materials," says Gale. "They are very natural and fit into the environment."
Because Stephen and Gale love art, there are many pieces on display throughout the house. But don't mistake them for home accessories. "It's art; it's not there for decor," says Gale. Stephen is quick to add, "It's carefully curated."
Much of the art comes from local artists, another important consideration for the Barnetts in choosing Balsam for their second home. The house is in the midst of the arts and crafts community in western North Carolina. "We are avid art collectors," says Gale. "It was very important to me to include that in my consideration [of the home's location]."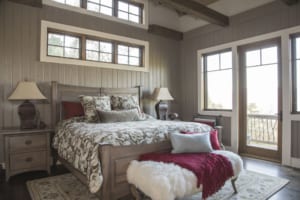 Examples from their collection include several ceramic pieces by Alex Matisse, the basket artwork in the downstairs den by Matt Tommey, a Linda Beach quilt and other ceramics by Japanese artist Akira Satake. Stephen and Gale even contributed their own artwork to the home. Framed photographs by Stephen can be found in several spots, and Gale designed the stained-glass transom over the master bedroom door.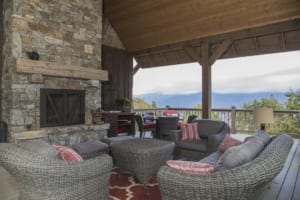 Now that the house is complete, and the Barnetts have had time to settle in, they couldn't be happier with the results. "The house has a natural sense, but it's filled with art," says Stephen. "It's a blend of natural and human creation."
STORY: Karon Warren
PHOTOS: Dara Dyer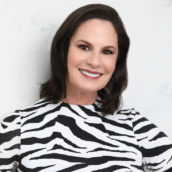 Joanne Hayes
Publisher & Founder
Joanne Hayes is a 26-year veteran of the publishing industry, having worked for 12 years as an Account Executive for an award-winning Journal Register Company newspaper group, Southern Rhode Island Newspapers, and 3 years as the Marketing Director of SO Rhode Island, a publication of the award-winning magazine company Providence Media, prior to her move to Atlanta in 2009.
Simply Buckhead Magazine was conceived by her company, ValueStream Media Group, and began publication in 2010, with Joanne at the helm as Publisher and Founder.  The publication quickly became the "must-read" publication for people who live, work, shop, dine, entertain, travel, have families, homes, and pets and participate in philanthropic efforts, and has literally been read online all over the world. 
ValueStream Media Group is a media partner and sponsor to CURE Childhood Cancer, Bert's Big Adventure, Atlanta Community Food Bank, The nsoro Educational Foundation and Joanne currently serves as a Board Member for the Atlanta Community Food Bank.