A Buckhead artist delves into her past for creative inspiration
STORY: H.M. Cauley
Blayne Macauley's days as an artist date back to her high school years at The Westminster Schools, where she took up photography. Then a trip to Italy between her junior and senior years introduced her to the power of paint.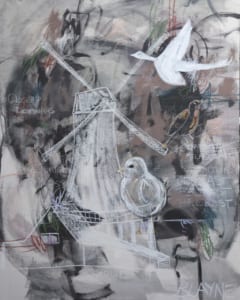 But as much as she loved it, painting as her main career had to wait. First, the Garden Hills resident studied photojournalism in Boston, then transferred to the University of Georgia and earned a history degree. She spent 13 years organizing marketing efforts for her mom, Glennis Beacham, founder of the Buckhead based Beacham & Company, Realtors. And she got married and had two kids. "I was also painting but realized I was ready to slowly transition to focus just on art," she says.
When her father died almost four years ago, Macauley put her painting materials away. "I took a small hiatus," she says. "But then I started using painting as therapy to work through stuff."
That process led her to devise what she describes as "narrative painting"— putting specific objects from her favorite memories on the canvas.
"It's sort of cave painting-esque, telling a story you could follow," she explains. "In the beginning, a lot of the work was focused on childhood memories, things I wanted to hold onto. And from there, it boiled down to several symbols that I started using over and over. That's what I've now become known for— paintings with symbols."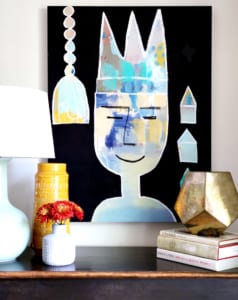 Macauley's bold use of kings, queens and birds, among other objects, caught the attention of designers on the HGTV network, including Atlanta-based style guru Brian Patrick Flynn, who put some of her works into the HGTV Urban Oasis showhome in Cincinnati in 2018. Flynn also posted some of her work on his Instagram page, and the demand for Macauley's work soared. It's now been featured in several galleries around the country and in area showhouses, and she's busy collaborating with clients who find her creations online and want custom pieces. Orders for her pencil, acrylic paint or oil pastels range in price from $100 to $5,000.
Her popularity also pushed Macauley to lease a studio at The Goat Farm Arts Center in Midtown. "The exposure created a real demand for this type of painting," she says. "And it gave me the chance to finally do it full-time."
But art isn't just in the studio. Her children, a 4-year-old son and 2-yearold daughter, also love creating their own paintings at home. "My son is super creative, and my daughter really likes to paint," she says. "They're very creative little people."
Learn more about Blayne Macauley's art at blayneart.com.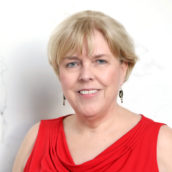 H.M Cauley
Atlanta-based writer and editor contributing to a number of local and state-wide publications. Instructor in Georgia State's Communication department and Emory's Continuing Education division.