Meal delivery services are reinventing the way we think about meal planning.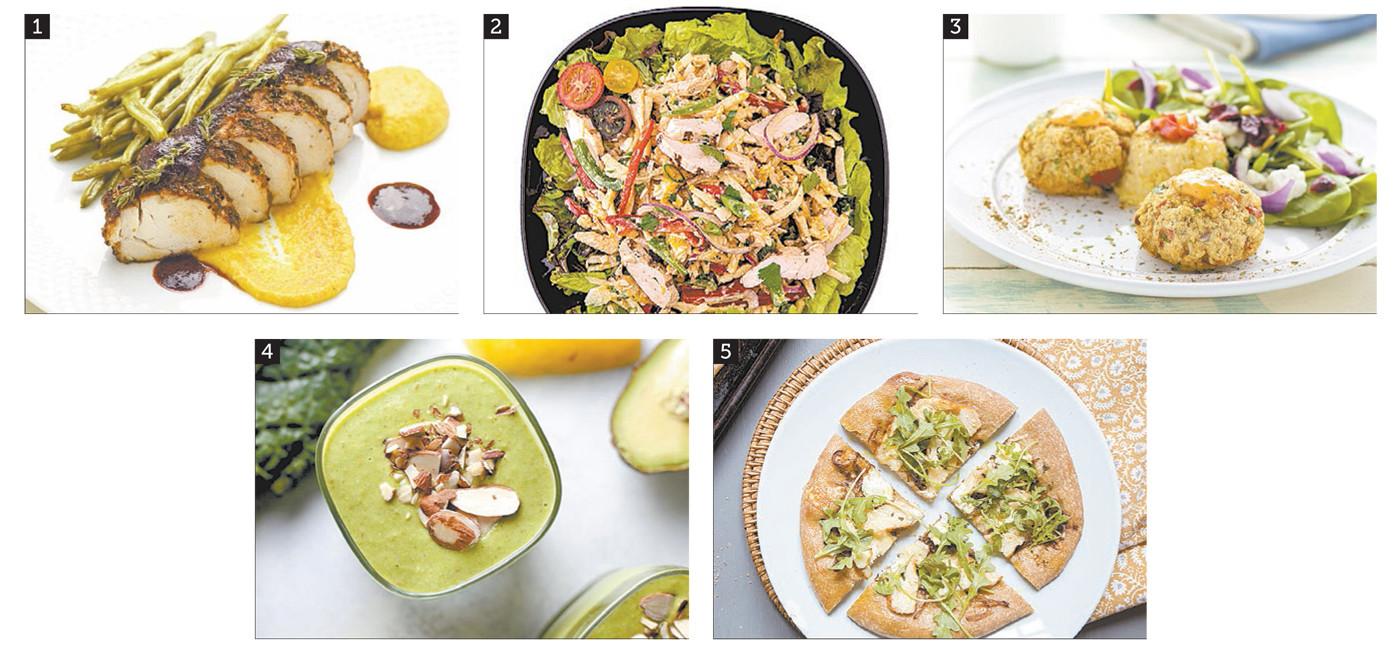 Now it's easier than ever to stick to dietary restrictions or whip up a gourmet, chef-inspired meal in record time. Creative, prepared and pre-prepped meals are a smart choice for working couples, singles and busy families who crave variety but don't have the time or energy to invest in finding recipes and cooking every day. These balanced meals, with options that please a variety of palates, are delivered straight to your door and are ready to heat or to assemble.
1. Fresh 'n Fit Cuisine
($7.50 per meal)
Reach your health and nutrition goals with 1,200- to 1,800-calorie meals that are customized to meet a variety of dietary needs, such as low carb, vegetarian, gluten free or Paleo. Menus change every four weeks and are organized by menu type. Meals are prepared with locally sourced ingredients that arrive ready to serve. No prep necessary! Recent meals include herbroasted pork loin, and zucchini and carrot latkes. Weekly deliveries with a minimum of three meals are available Mondays and Thursdays to select metro Atlanta zip codes, or you can pick them up at Buckhead area locations.
Dish shown: Cuban-style mojo pork
678.208.0341
freshnfitcuisine.com
2. Saige
($12 per meal)
Recently launched in May, this new personal chef service is ideal for families who can't afford a personal chef. A short series of online questions allows Saige to learn exact food preferences for each family member and then tailor meals to accommodate any dietary preference or requirement. For instance, parents can enjoy grilled chicken and jicama salad with orange dressing, while kids have chicken pot pie with a side of broccoli. Just place your order and forget about prep work as all of the ready to heat meals are delivered in a cooler and are dropped off each week at the same time.
Dish shown: Grilled chicken and jicama salad
404.996.0900
heysaige.com
3. Atlanta Meal Prep
($12 per meal)
There is no assembly required— just heat and serve meals that are preservative free and made with fresh, locally sourced products. Each meal contains heating instructions and arrives in microwaveable containers designed to meet a variety of dietary needs such as Paleo, 1,200-calorie, high protein and vegetarian. Recent meal selections include Thai ground turkey coconut lemongrass meatballs with cauliflower rice, and North Georgia honey and tumeric roasted boneless chicken thighs with sweet plantains. The minimum order is five meals for $60, and that includes free delivery ITP or a pickup in the Buckhead area.
Dish shown: Thai ground-turkey coconut lemongrass meatballs
404.805.4726
atlantamealprep.com
4. GreenBlender
($4.90 per smoothie)
In line with the popular ingredient- portioned craze, there is now a make-at-home smoothie delivery service. GreenBlender delivers fresh produce and superfoods for do-it-yourself smoothies. Each week, you'll get five new smoothie recipes along with pre-portioned ingredients such as bananas, berries and more to make 10 smoothies, such as the popular Green Protein smoothie or Creamy Matcha Mint. Ingredients are sourced from organic farms and packed with vitamins, minerals and fiber. Also included are blending tips and background information on the nourishing benefits of each item. The company started in New York and has since expanded to Atlanta and beyond.
Dish shown: Green Protein smoothie
greenblender.com
5. PeachDish
($12 per meal)
Local and visiting culinary talents such as Steven Satterfield, chef/owner at Miller Union, and Kathleen McDaniel, executive pastry chef at Indigo Road, serve as weekly recipe contributors offering Southern-inspired menus that are delivered right to your door. PeachDish meals give you the tools to cook delicious dishes in your own kitchen. New menus with savory selections, such as caramelized onion pizza with chicken, goat cheese and arugula, are created every week and delivered with recipe cards and the pre-measured ingredients needed to prep and cook. There are no commitment or membership fees; pay only when you receive a delivery.
Dish shown: Caramelized onion pizza with chicken, goat cheese and arugula
404.939.1860
peachdish.com
STORY: Jessica Dauler