Fun for young surgical patients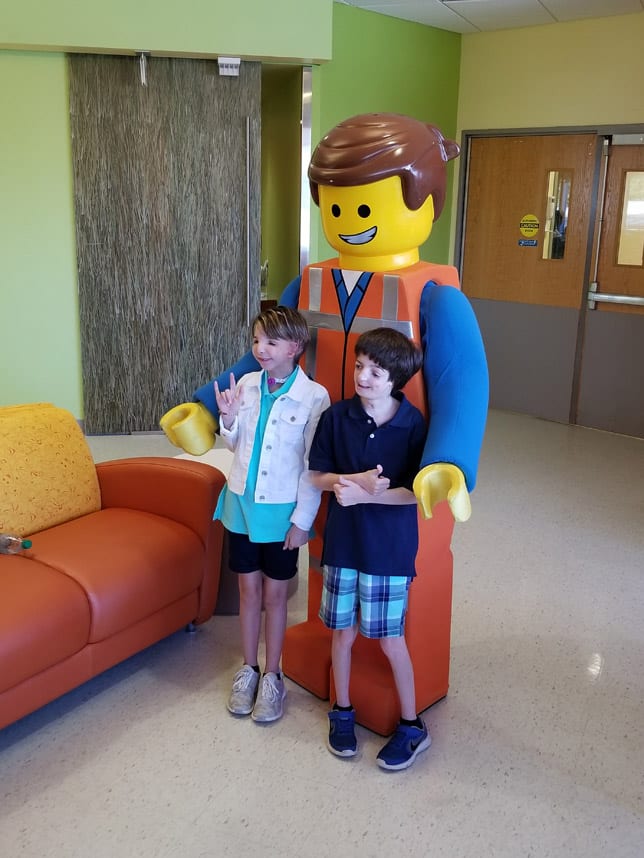 BY: Mickey Goodman
Lexie and Malachi Delany are all too familiar with pre-surgery routines at Children's Healthcare of Atlanta at Scottish Rite Hospital. The tween siblings have undergone more than 100 combined surgeries for a genetic disorder, Treacher Collins syndrome, that affects facial features.
When they checked in for procedures in May, they got a big surprise, though: the new Legoland Discovery Center's Magic Mobile Unit in the hospital's day surgery wing, donated by Merlin's Magic Wand, a worldwide charity for ill children.
"It was wonderful to see the siblings dance with six-foot-five inch Emmet, one of our costumed characters, and play with the Xbox and other interactive toys," says Legoland marketing manager Whitney Kemmerick. "Having fun hopefully helped them forget about their upcoming surgery for a while. The unit also gives parents some breathing room and alleviates anxiety."
The idea behind the mobile units is to bring the joy of Legoland to kids unable to trek to Discovery Centers like the one in Phipps Plaza. Because the units are on wheels, they can also be unplugged and taken to young patients unable to leave their rooms.
"A little-known benefit at Legoland is providing free tickets to under served families and children with disabilities to the location of their choice," says Kemmerick. "They don't have to be affiliated with an organization to apply and can register at merlinsmagicwand.org to learn if they qualify."
For more information, visit atlanta.legolanddiscoverycenter.com and choa.org/locations/scottishrite- hospital.
Mickey Goodman
Award-winning Ghostwriter, Journalist, Content Creator.