Chama Gaucha brings (another) taste of Brazil to Buckhead.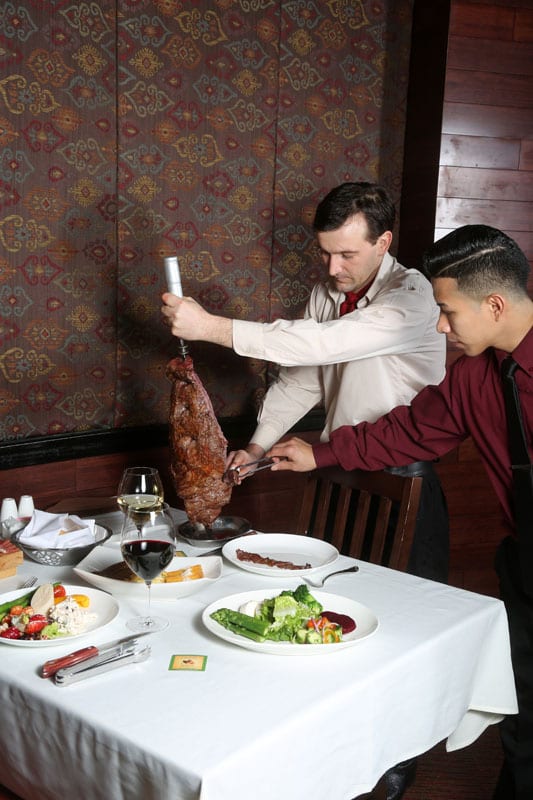 Even in America, where binge eating often feels like a competitive sport, "buffet" can be a pejorative term. If you don't believe me, mention Golden Corral or Old Country Buffet to a CrossFit junkie. It's like flinging holy water on a vampire. They hiss. They scream. They curl up like bacon on filet mignon.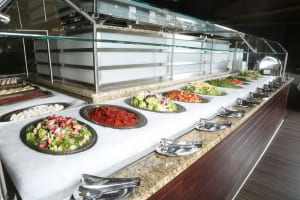 All that said, Americans don't own the buffet culture, nor does an occasional trip to an all-you-can-eatery guarantee you to be a porker. Just look at the Brazilians (please!). "Tall and tan and young and lovely," they think nothing of spending a morning at Ipanema, then slipping out of their wet bikinis and into a nice hot churrascaria (as the South American-style, all-you-can-eat steakhouses are known). There, the caipirinhas flow, the salad bar goes on for miles, and the carnal lust is palpable. All eyes are on the servers, men in gaucho attire bearing endless skewers of flame-kissed prime rib, pork loin, sausage, lamb, chicken, shrimp, and on and on—all you care to eat for a set price.
I've noted that buffet-loving Southerners (Texans included) have taken quite a shine to this promenade of juicy hunks. In Buckhead alone, there are two Brazilian meat palaces on Piedmont Road. East of Peachtree, an outpost of the Brazilian chain Fogo de Chão sits on the choice strip of restaurant real estate that includes Buckhead Diner and Kyma, while to the west of the city's main artery is Chama Gaucha. Opened in April of last year, it's one of four restaurants from a much smaller, Houston-based company.
After scarfing meat for years at Fogo, where I have nice memories of birthday parties and family dinners, I've turned my eye on Chama Gaucha, which feels a little fresher and has a slightly lower price point ($45.50 for the total package at dinner vs. $51.50 at Fogo).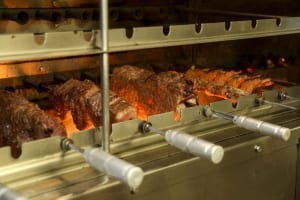 Though I had a relatively quiet early dinner at Chama Gaucha back in November, a recent Saturday night visit was a little more frenetic. Waiting until the last minute to make a reservation, we took the earliest slot we could get (9 p.m.), then showed up about an hour early hoping they could work us in. Sure enough, before we could take more than a couple of sips of our drinks, our beeper flashed red, and the orgy of eating began. Though Chama Gaucha offers all kinds of cocktails, from bourbon lemonade to mango- jalapeño margaritas to green-tea martinis, I always start with a traditional caipirinha. Made of nothing more than cachaça (sugarcane- based white rum), lime and sugar, it's the national cocktail of Brazil. Chama Gaucha gets the caipirinha right, though if on a busy night the bartender doesn't take the time to dissolve the sugar, you may need to take a spoon and stir. You may also request a caipirinha made with passion fruit, pineapple and other tropical flavors. Or maybe you'd prefer wine or beer. Me, I stick to the classic.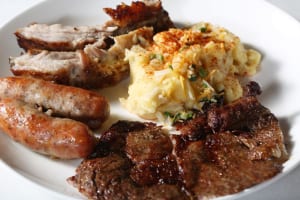 Inevitably, when I find myself at a churrascaria, I say I'd be perfectly content with just the salad bar. (Yeah, right. Funny how that never happens.) But seriously, Chama Gaucha's lineup of pristine greens, asparagus, beets, cucumber, broccoli, hearts of palm, cheese, charcuterie and every kind of salad accouterment you can think of is a dazzler. I especially love the cool, ceviche-like shrimp in tangy tomato sauce, the tabbouleh, the crunchy curls of bacon and—of all things—the chicken salad, which is just a tad sweet and heavy on the mayo (in a good way). While I appreciate the hat-tip to my home state, the so-called Georgia Salad—with pecans and strawberries, grapes and whatnot—would probably be more at home at the Swan Coach House than a rodízio.
When it comes to the meat service, if you are feeling adventurous, I suggest you try a bit of everything, then ask for more of the cuts that really please.
Of these main-course offerings, the beef rib is, hands down, the be-still-my-heart best cut. I'm a farm boy from South Georgia, and this tasted like the cow of my childhood: rich, succulent and tallow-y. (I don't even want to think about the fat content.) You might skip the bottom sirloin (a dryer cut), but do try the famous picanha (thin, delicate slices of prime sirloin). I enjoyed the filet and the petite lamb chops, but I don't think the Parmesan-encrusted pork loin worked— the flavors seem to fight one another. The prime rib was tasty but not essential; the sausage could have been plumper and juicier.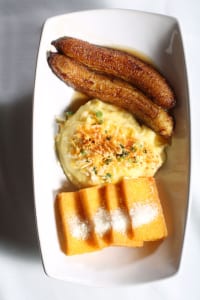 Every dinner comes with a trio of sides: rich, cheesy mashed potatoes; wonderfully sweet caramelized bananas; crispy, fried polenta, all good. Do ask for a side of the perky chimichurri sauce and the horseradish cream, which I could spread on just about anything, from potatoes to beef.
I've never been able to think about dessert at Chama Gaucha. But if you must have something sweet or happen to be celebrating a birthday, there are plenty of options: flan, crème brûlée, cheesecake, papaya cream, tres leches, molten-chocolate cake and so on.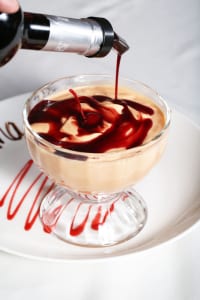 In the end, Chama Gaucha is a welcome addition to Atlanta's churrascaria scene. Overall, the food is delicious, though you'll have a better experience and more attentive service if you go when the place is not slammed. On the Saturday we were there, we got plenty of shrimp, sausage, chicken and so on, but it was well into the meal before we saw the beef. And while I am a salt lover who thinks that a fine cut of meat needs little else, after a while, you start to notice a sameness to the flavor profile, as if salt and garlic are their own food group here.
All that said, if meat is your thing, you'll be in heaven at Chama Gaucha. Like Southerners, Brazilians love to talk, and they love to eat. So don't think of this as an opportunity to binge. Take breathers between courses. Pace yourself. Walk around. Stretch. Talk with friends. Order another caipirinha. Then eat some more. "Buffet" should not be a negative term but a philosophy: When life hands you abundance and variety, take time to savor and enjoy.
CHAMA GAUCHA
3365 Piedmont Road N.E., Suite 1350,
Atlanta 30305
404.842.0011
chamagaucha.com
Prices: Dinner: $44.50. Lunch: $26.50.
Salad bar only: Dinner: $24.50. Lunch: $19.50
Recommended: Caipirinhas. Pao de queijo (cheese bread). Caramelized bananas. Salad bar. Beef rib, picanha, filet mignon, lamb chops, drumsticks, shrimp.
Bottom line: South meets South America, deliciously.
STORY: Wendell Brock
PHOTOS: Sara Hanna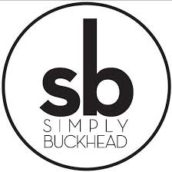 SimplyBuckhead
Simply Buckhead is an upscale lifestyle magazine focused on the best and brightest individuals, businesses and events in Buckhead, Brookhaven, Sandy Springs, Dunwoody and Chamblee. With a commitment to journalistic excellence, the magazine serves as the authority on who to know, what to do and where to go in the community, and its surroundings.