STORY: Olivia Putnal DeLong
The oh so necessary jeans shopping day can be dreaded or loved. After you read on below, we hope it's the latter. Jeans are a closet staple, but in order to find a pair that fits properly, a little research is worthwhile. Knowing what style your body needs will help you find that perfect pair and you may never want to take them off! We've broken it down by body type, and listed a jean option that goes best with each build. From skinny jeans to boot cut, shop around to learn a little about what choices will be the most flattering.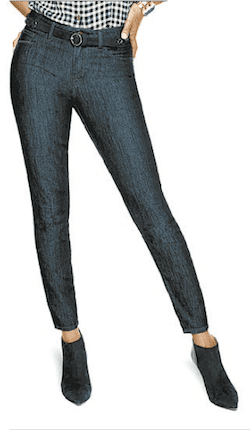 Athletic
Toned, athletic women need to create soft curves with the clothing they wear. These recently released C. Wonder Stretch Curvy jeans feature a fabric that provides lots of comfort, while keeping the flattering contoured fit intact. The skinny style is fashionable and sleek, with room in the thigh and hip areas for a muscular build. The gorgeous indigo color transitions from day to night, and pairs with just about anything. Stretch Curvy C. Denim in Indigo Rinse: $118 without zipper, $128 with zipper, C. Wonder.
C. Wonder
3393 Peachtree Road N.E. Atlanta 30326
404.816.3847
www.cwonder.com
---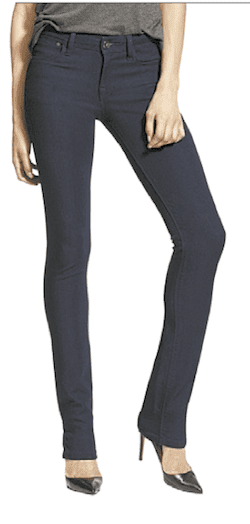 Hourglass
A comfortable yet flattering option for the hour- glass body type is this Coco Curvy Straight jean from DL 1961. The DLX four way stretch denim material makes them light and breathable, but also keeps the jean's shape intact without stretching out. A key tip to remember for those with an hourglass shape is to purchase a high waisted jean to properly fit the seat area. This pair has an 8.5 inch front rise, helping to tuck in the tummy. There is also extra room in the hips, butt and thigh areas to accentuate your best assets. The comfort and fit will have you living in them 24/7 and the super dark wash is always in style. DL 1961 Coco Curvy Straight in Flatiron wash: $180, Tootsies.
Tootsies
3400 Around Lenox Road #219 Atlanta 30326
404.842.9990
www.tootsies.com
---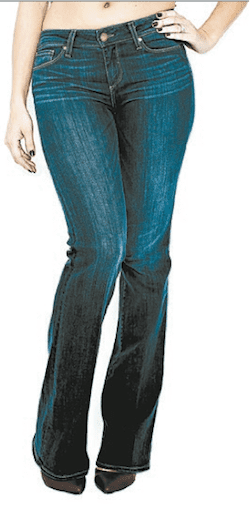 Long and Lean
Lengthy and slender women need fitted jeans that show off their enviable long limbs! These Paige Skyline Boot cut jeans have just the right amount of flare at the bottom for a slightly structured look that is ideal for dressier events, but hold their shape elsewhere, making them flirty, too. Tall women should search for jeans with a longer than 34-inch inseam so that they fit properly at the waist. This pick by Paige has a 341⁄2 inch inseam, fitting the ideal jeans bill for the lofty woman. While they sit higher on the hips, the bottom's boot cut design is a versatile investment as they fit well over various shoe styles, from ankle boots to stilettos. Paige Skyline Boot: $199, fab'rik.
fab'rik
3400 Around Lenox Road N.E. Atlanta 30326
404.816.6221
www.fabrikstyle.com
---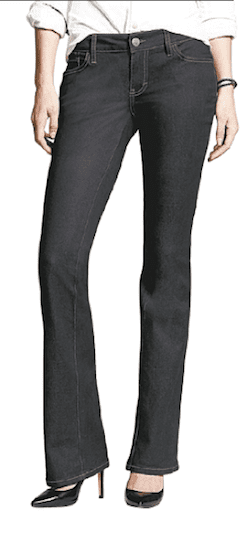 Pear-Shaped
A dark wash jean is always flattering, but especially so for pear shaped gals. These Banana Republic Curvy boot cut jeans are ideal for concealing the waistline due to their color and slight flare at the hemline. The jeans flow through the hip and thigh areas, creating a slimming look. Pear shaped women should avoid light wash denim and styles with many pockets those two features can often accen- tuate the bottom half of the body. These jeans can pair with booties for the cooler fall and winter months, but can also fall right in place with flats or sandals in the spring. Banana Republic Curvy Dark Wash Boot cut Jean in Indigo: $75, Banana Republic.
Banana Republic
3393 Peachtree Road N.E. Atlanta 30326
404.231.4905
www.bananarepublic.com
---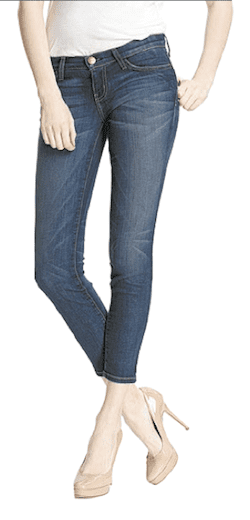 Petite
Having a petite build (typically a height of 5'5" or less) makes for challenging jean shopping if you want to find a pair that doesn't require a trip to the tailor. For petite women, it's exciting when designers and brands create ankle or cropped length bottoms. These Current/ Elliot Stiletto jeans will hit in just the right spot above your heels or sandals with its 271⁄2 inch inseam. The skinny style, when paired with heels, will elongate the legs, and the mixture of cotton, polyester and spandex holds form for a sexier look, but also allows for movement, because let's face it, comfort is important too. Current/Elliot Stiletto Stretch Jeans in Townie: $196, Nordstrom.
Nordstrom
3500 Peachtree Road N.E. Atlanta 30326
404.442.3000
www.nordstrom.com