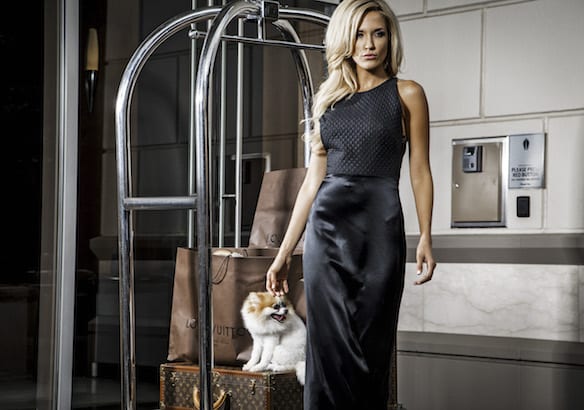 Tampa native Ashley Harris is now a Buckhead resident with a small business in her portfolio. Harris began her online pet boutique, Bark Fifth Avenue, in June 2013 to offer furry friends lavish clothing and accessories.
"The primary reason I started Bark was the poor quality of products existing in the commercial market. They lacked the uniqueness in presentation that I imagine when I think of haute couture. I created Bark to allow my creativity and passion for dogs and fashion to shine," Harris says.
Harris' career path has taken several turns. She first began studying political science and legal studies at Kennesaw State University, but two years in, decided that nutrition and exercise science was more suitable for her. She has been a fitness and fashion model for Click Models of Atlanta since 2005, and continues to model while running her retail business. The combination of the two careers makes Harris feel very satisfied and happy.
She carefully chooses her Bark Fifth Avenue designers such as Dogs of Glamour, Bark n Bag and Babu and the items she carries. With every purchase she makes from California, New York, Las Vegas and Milan, she has her own Chihuahua, Lucci, the inspiration behind her company, in mind. "I travel to the big designer shows in Los Angeles and Las Vegas, and I've also visited a vendor in Milan while on vacation. Primarily, I work with five to six vendors who I contact on a weekly basis so I can discover the latest trends and fashions," Harris explains.
A typical day for Harris includes an early morning workout with her personal trainer, and then it's straight to her office on the corner of Peachtree Road and Lenox Road for client meetings, research and ship outs of her fashionable wares. Harris likes to pack, wrap and send all of her clients' purchases personally, to make sure they have everything they need for their pampered pooches.
When the recently engaged Harris isn't planning her Italian wedding and traveling, she can be spotted dining at her favorite Buckhead haunt, Tomo, and exercising at Pinnacle Fitness. She's also looking forward to giving Lucci a new brother Chihuahua that will appropriately be named Phipps (that she can dress up, naturally!) in the new year.