DEDICATED MASTER ENGRAVER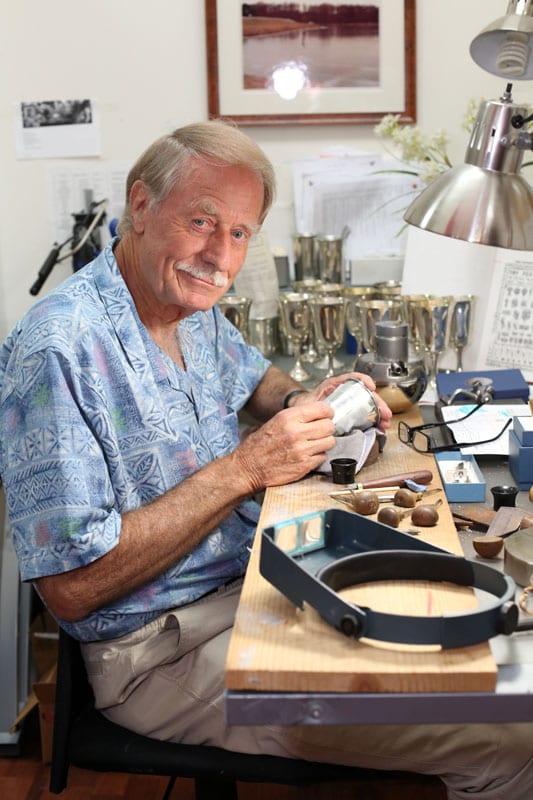 His is an art that not many can master— and that fewer and fewer even try to do. John Franciscus is one of only a few dozen master engravers in the country.
Franciscus, 78, has a studio inside LJ Lewis Silver Company in Sandy Springs, not far from his Buckhead home. What he does is something of a lost art—hand engraving monograms and names on precious metal. He learned his craft as a teenager in the Netherlands more than 60 years ago, beginning his training at The Royal Silverworks in Voorschoten at the age of 15. It took him a few years to become something of an expert. "You improve it as you do more, just like a tennis player or soccer player," he admits. He's been a full-time engraver for the last 35 years.
Franciscus moved to Canada in 1956 and then to the United States in 1982 on the advice of colleagues. "I've never looked back," he says. He quickly got to work, made a name for himself and had his own Buckhead store, Zonneveld Silver, for a few years. Most engraving these days is done by a computer-controlled machine or a laser, but Franciscus uses old-fashioned hand engraving tools. "The kind Paul Revere had," he laughs. His services are very much in demand and he loves what he does. "I enjoy it, it's never boring, and I have a nice clientele," he says. "I make people smile. There's never a bad day at work."
He has engraved for celebrities such as Jimmy Carter, Jane Fonda and Burt Reynolds, as well as companies such as The Coca-Cola Company, Lockheed Aircraft Corporation and BellSouth. The Masters golf tournament was another client; Franciscus engraved the winners' trophies until seven years ago when he took a break. The most elaborate piece he ever designed was a sterling silver flask that was presented to a producer at the Cannes Film Festival. He is divorced and has four children—Edwin, Cynthia, Annie and Andrew, the only one who lives locally, in Decatur—and works pretty much every day of the week. He brings his cat, Joey, to the store with him often.
Outside of work he enjoys oil painting. His other huge passion is soccer. Franciscus is a dedicated player in a 50-plus Roswell league where he plays a few times a week. He started playing when he was 11, after school and on lunch breaks. Since then he's participated in other sports, but none have given him the pleasure soccer has. The oldest person on his team, he jokes that he can hold his own with younger colleagues. It's something that keeps him sharp physically and emotionally.
"It's a beautiful game," he says. "It has created a beautiful outlet for me to be outdoors, and it absolutely stirs my soul."
STORY: Jim Farmer PHOTOS: Sara Hanna
SimplyBuckhead
Simply Buckhead is an upscale lifestyle magazine focused on the best and brightest individuals, businesses and events in Buckhead, Brookhaven, Sandy Springs, Dunwoody and Chamblee. With a commitment to journalistic excellence, the magazine serves as the authority on who to know, what to do and where to go in the community, and its surroundings.