CONTINUING HIS SPORTS LEGACY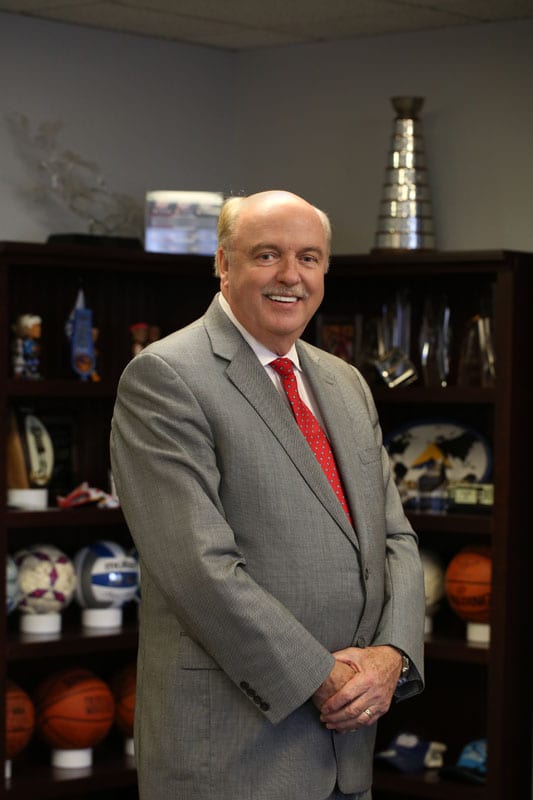 Sports have always been a passion for Bernie Mullin, so it's fitting that he's built a career getting others excited about them.
In 2008, using 30 years of experience from executive roles in sports organizations, he founded The Aspire Group, where he serves as CEO and president. Based out of Buckhead, the company focuses on sports marketing. Mullin has 200 employees working in seven countries, in 17 different sports, generating $250 million in annual revenue. Most clients are collegiate teams, the biggest being Georgia Tech.
Growing up in Liverpool, England, he played soccer for the Oxford City Football Club from 1969 to 1973 before pursuing his education. An undergraduate degree in business from Coventry University in England came first, before he moved to the U.S. and received an M.S. in marketing, an MBA, and a Ph.D. in business from the University of Kansas.
A stint as the senior vice president of business with the Pittsburgh Pirates in 1986 led to a similar job in 1991 with the Colorado Rockies expansion team. Mullin was at the reins when the team broke an all-time major league baseball attendance record—4.8 million fans in one year.
After going to work with the NBA in 2000 as the senior vice president of marketing and team business, he moved to Atlanta in 2004 to become president and CEO of Atlanta Spirit, which then comprised the Atlanta Hawks, the Atlanta Thrashers and Philips Arena. It was a transitional period for all three. "The Hawks, Thrashers and Philips were losing $47 million a year when we got here, but we kept the losses down to $13 million during my years, while completely rebuilding the Hawks," he says. He got rid of all the players and started over from scratch, going through the NBA draft and helping create the foundation for today's team. The Thrashers had never had a winning season but made the playoffs in Mullin's second season, while Philips blossomed into a profitable venue.
Four years later, it was time to move on to a different challenge and he left to create Aspire. Yet times had changed. "It's not your father's sports marketing where the box office just sat there, answered the phone and handled demand," he says. "Today's millennials don't want to spectate the way their parents or grandparents did. If they do, they want to have a fully interactive experience." That stadium experience has to surpass the "50-inch flat-screen in a man cave with $1 beer" experience.
Aspire conducts research to gather information on those coming to games and those watching on TV or online—and determining ticket and entertainment buying patterns. "[As part of what we do], I should know who you are, what you like and what will resonate with you."
Mullin and his wife, Valerie, have lived in Chastain Park 11 years. They have four children, Julie, Lara, Chad and Steven. In his spare time, Mullin enjoys golf, music and travel. Still a Hawks fan, he's enjoyed cheering on the team's successful season.
What drives him to continue working is being around young people. More than 180 Aspire employees are below age 25. "We have a company of young professionals, and I love being able to help point them in the right direction."
STORY: Jim Farmer PHOTOS: Sara Hanna
SimplyBuckhead
Simply Buckhead is an upscale lifestyle magazine focused on the best and brightest individuals, businesses and events in Buckhead, Brookhaven, Sandy Springs, Dunwoody and Chamblee. With a commitment to journalistic excellence, the magazine serves as the authority on who to know, what to do and where to go in the community, and its surroundings.