Brookhaven artist re-creates unique pieces from the past.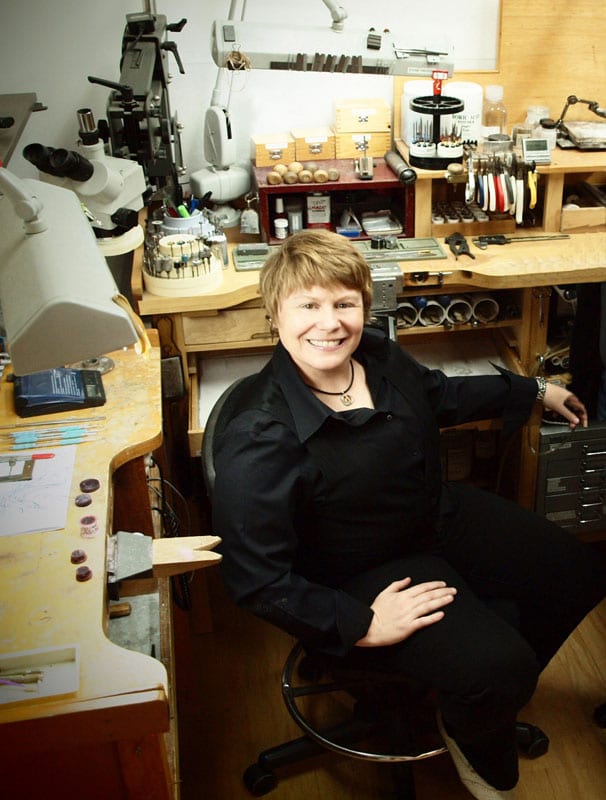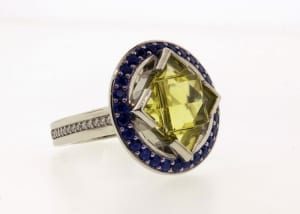 In a statement that would make most parents cringe, Dawn Muscio declared she was going to major in jewelry making. But unlike most college students, Muscio had already demonstrated a serious talent for turning metal and stones into works of art while in high school.
"In fact, I went to school to major in graphic design," says the 46-year-old New York native. "In my sophomore year I started doing that and didn't like it at all. Then I went to art class with a drawing that got ripped apart. I felt I was at the bottom of the barrel, and then they told us very few would make a living at our art. So I took a jewelry class to fill my schedule and soon realized I could make a living doing that— people would buy more jewelry than paintings."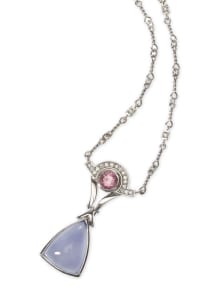 After graduation, Muscio started working at a fine jewelry gallery in upstate New York where she did "all the grunt work" from basic repairs to resetting stones. After moving to Atlanta in 1999, she held similar jobs in the back rooms of Buckhead's Migliore and the Jewelry Artisans shop in Sandy Springs while trying to launch her own business. In 2005, she started selling her own creations out of her Vinings house and eventually was drawing enough clients that she moved into a 700-square-foot studio in Brookhaven. About two years ago, the business was doing so well that Muscio relocated nearby to her present site on Apple Valley Road, where there's enough space to house a showroom and an event area.
What's kept clients coming back is Muscio's uncanny ability to take an antique or existing piece and reconfigure it into something more stylish and contemporary: A diamond solitaire is reworked as a pendant, surrounded by smaller diamonds set in white gold; a dog tag is filigreed like a Gothic church window. She has also won awards for her unique pieces, such as a pair of cufflinks in 18-karat red gold and stainless steel dotted with morganites, rubies and diamonds.
"Restyling is like a puzzle: People come in with a jewelry box full of items they inherited, and I can remake an heirloom with sentimental value into something they will want to wear," she says.
One of her most memorable transformations turned a garnet mourning brooch from the late 1800s into a necklace, cocktail ring and earrings using yellow gold around the original stones. "It took a year to come up with the idea and make it, but now it's a mix of the old and new," she says. "And the client has three children, so she will have a piece to give each of them."
See the artist…
Muscio will be at the Brookhaven Arts Festival Oct. 17 and 18 where she'll debut a new line of pendants and bracelets created from elements her clients love best: white gold and precious and semiprecious stones. Prices will start around $400.
Buyers looking for something more unusual can attend Muscio's "Gemstone Round Table" Oct. 8 and 9, when master stone cutters will be in the store to showcase one-of-a-kind stones that Muscio can add to a personalized design. Reservations are required and can be made by calling the store.
D. MUSCIO FINE JEWELRY STUDIO
2556 Apple Valley Road
Atlanta 30319
404.846.3434
dmuscio.com
STORY: H.M. Cauley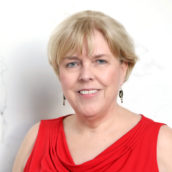 H.M Cauley
Atlanta-based writer and editor contributing to a number of local and state-wide publications. Instructor in Georgia State's Communication department and Emory's Continuing Education division.