Queen of Cream's Cora Cotrim brings her unique treats to Buckhead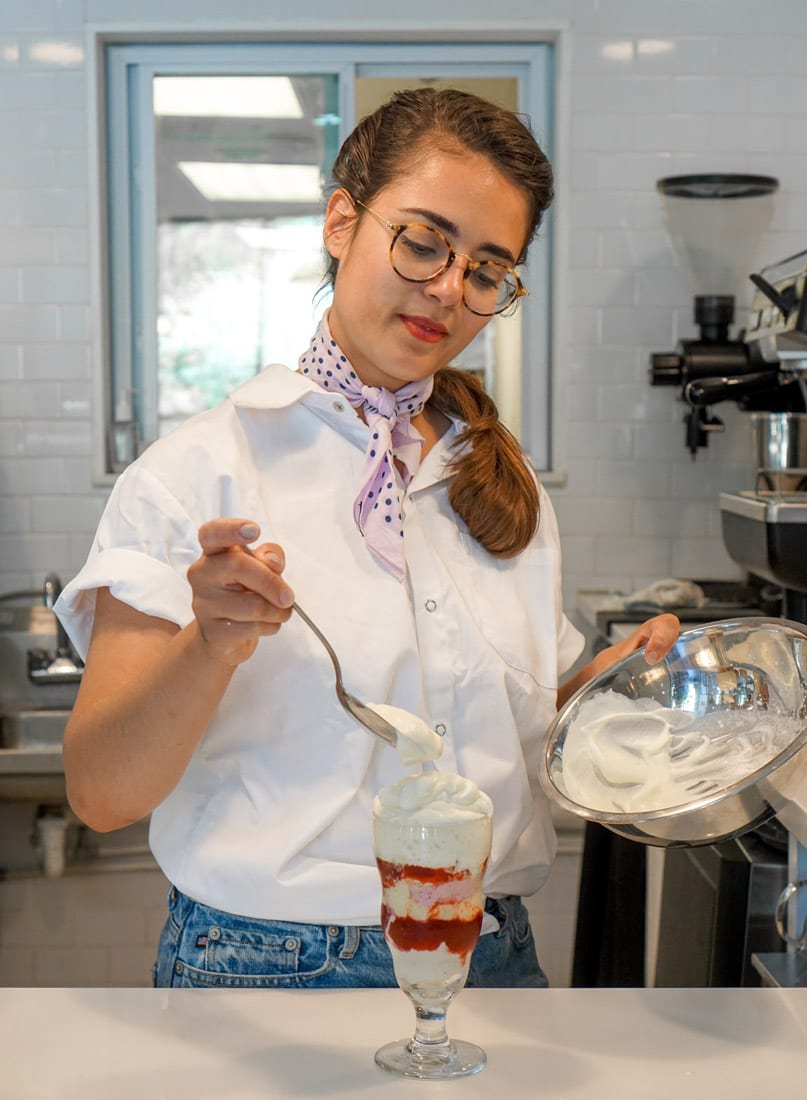 STORY: Carly Cooper
Cora Cotrim, the woman behind Atlanta's Queen of Cream artisanal ice cream, taught herself to make the sweet, scoopable treat. She had bartended at various restaurants and worked as a pastry chef at Paper Plane, a Decatur watering hole now known as The S.O.S. Tiki Bar. But it was the challenging consistency of ice cream that captivated her attention. "I started experimenting, and it became an obsession," she says.
Cotrim started her business with her friend Davis Sandling in 2014 with an ice cream cart, then opened her first brick-and-mortar location in Old Fourth Ward two years later. A few months ago, she partnered with Revelator Coffee on the aptly named Coffee & Ice Cream at Lenox Square. Her unique flavors (think Lavender Honeycomb and Black Pearl) are now also served at Revelator's new Sweet Tooth Café in Phipps Plaza. She opened another traditional Queen of Cream in Poncey-Highland in the spring. We spoke with Cotrim to learn more.
What makes Queen of Cream ice cream different?
The biggest thing is the grass-fed milk we use from Greenstone Grazing in Louisville, Georgia. It's the backbone of our flavor. Ours is a high-fat content ice cream. It's not as sweet; it tastes like cream.
What's your favorite flavor?
Brown Butter Pecan. It's the most Georgia flavor ever. We use Banner Butter. The pecans are from Georgia. It has a lot of layers—sweet, savory and nutty.
Why did you decide to expand to coffee and vegan ice cream?
Coffee came as a necessity based on the weather. With the popularity of vegan and gluten-free dietary restrictions, we decided to do a vegan ice cream, and people kept asking for it. At Lenox, we serve vegan Coffee Cocoa Nib Crunch, Passion Fruit, Matcha with Strawberry Chocolate Chips and Black Pearl [a coconut base with activated charcoal and chocolate chips]. All of the vegan flavors have a coconut base.
How much ice cream do you eat in a week?
I taste everything, but I only eat a scoop a few times a month. I'm not a huge dessert person. I'm more of a savory person. People love ice cream, and I enjoy their happiness.
Does your 2-year-old daughter eat a lot of ice cream?
Whenever I take her to work with me, she runs around and asks for ice cream. I give her a kid cone with a tablespoon on it maybe once or twice a week.
What's surprised you most about being a business owner?
The connection we've made with our fan base. People drive from East Cobb to get a scoop.
What's next for you?
I'd like to start offering ice cream cakes, vegan treats and ice cream sandwiches.
What do you do for fun?
These days, I do a lot of mom things. My husband was a chef for 20 years, so we travel for food. We'll go to Nashville for the weekend. We've been to Austin a couple times, and we go to Charleston for family vacations. We also go on walks and listen to podcasts. "Radio Cherry Bombe," about women in food, is very inspiring.
Before you had a family, you spontaneously moved to L.A. How did that happen?
I went there for Coachella in 2006 and never came back. I was 19 and had one friend who lived there. I found a place to live in Venice Beach and got a job waiting tables. A year and a half later, I returned [to Atlanta].
QUEEN OF CREAM
queenofcream.com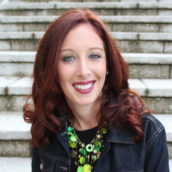 Carly Cooper
Foodie Tastemaker Columnist at Simply Buckhead. Contributing Editor at Atlanta Magazine. Restaurant Aficionado and Mother of Two.