Easy recipes from three Buckhead chefs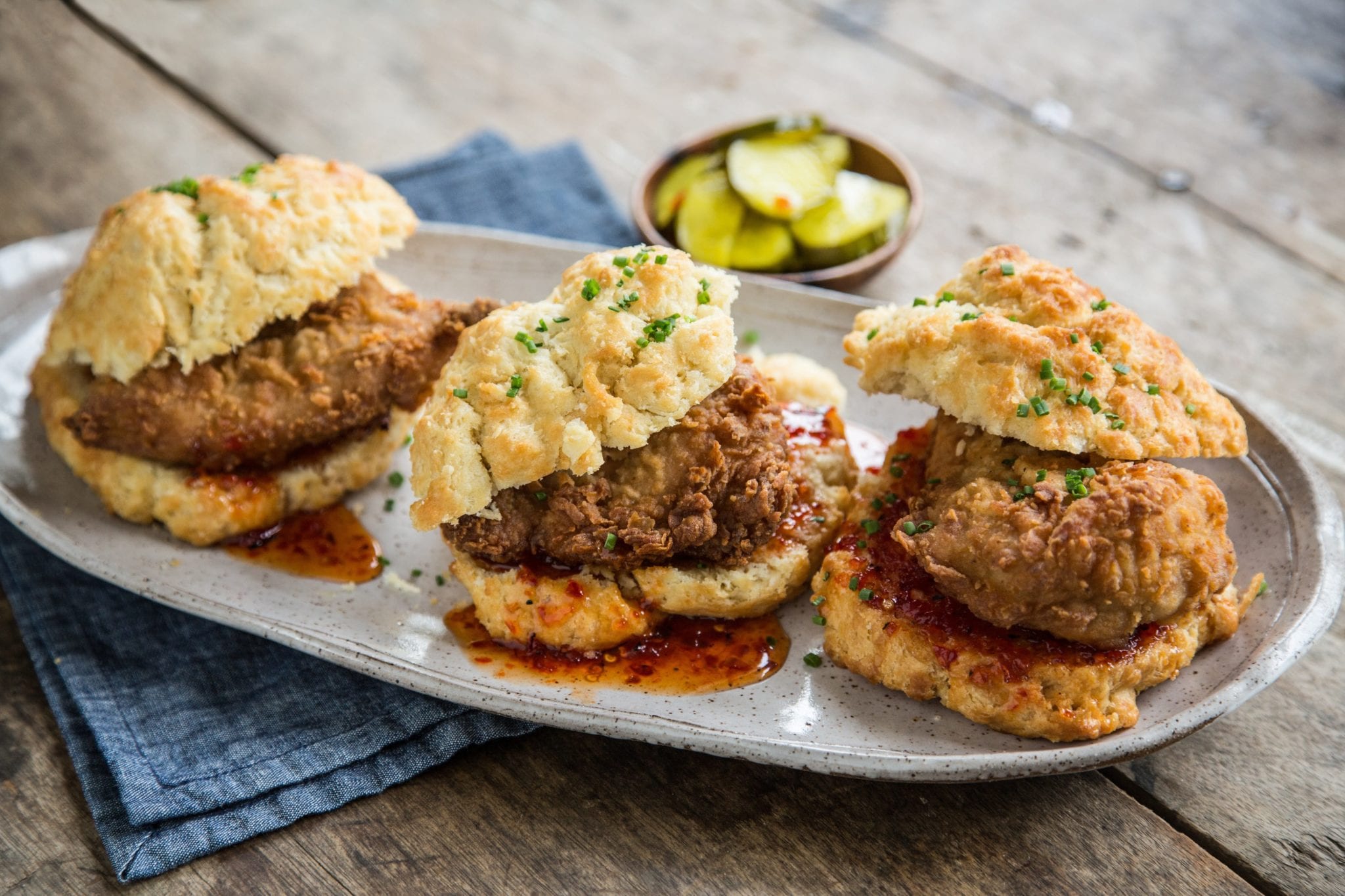 STORY: Rebecca Cha
So you want to orchestrate an unforgettable, homemade picnic but are intimidated by the process and time involved? (Pinterest makes it look so easy, right?) No worries. Here are some simple, scrumptious dishes from local chefs that are easy to shop for and make ahead, that will stand up to a little heat and travel, and that will definitely impress your hungry companions.
Lemonade-Brined Fried Chicken with Buttermilk Biscuits and Whiskey Maple Syrup
Drizzle Serves 4
From Suzanne Vizethann, Buttermilk Kitchen
4 4-ounce boneless chicken breasts
Vegetable oil for frying
LEMONADE BRINE:
1 quart cold lemonade (Natalie's brand)
1 quart cold water
4 cloves garlic, crushed
3 bay leaves
¼ cup kosher salt
1 tablespoon black peppercorns
½ bunch parsley
BUTTERMILK BISCUITS:
4 cups all-purpose flour
2 tablespoons sugar
2 tablespoons baking powder
2 ½ teaspoons salt
½ pound cold unsalted butter, grated (Banner Butter brand)
2 ½ cups buttermilk (Banner Butter brand)
WHISKEY MAPLE SYRUP DRIZZLE:
2 tablespoons rye whiskey (ASW Resurgens brand)
2 cups real (100%) maple syrup
FRIED CHICKEN DREDGE:
1 cup all-purpose flour
½ tablespoon garlic powder
½ tablespoon onion powder
½ teaspoon paprika
½ teaspoon cayenne
½ teaspoon black pepper, ground
1 teaspoon salt
1 cup whole-fat buttermilk
To make brine, mix together lemonade, water, garlic, bay leaves, salt, peppercorns and parsley. Place chicken in brine, cover and store in refrigerator for 2-6 hours.
While chicken is brining, make biscuits and syrup drizzle. For biscuits, preheat oven to 350°F. (Note: temperature and times are for convection oven; adjust if using conventional oven.) Mix together all dry ingredients (everything from flour through salt) in bowl. Mix grated butter into dry ingredients until crumbly and fully incorporated. Slowly add buttermilk until dough is sticky consistency (start with 2 cups and add ½ cup more if needed). Scoop biscuits onto pre-greased cookie sheet and bake for 10 minutes. Rotate and cook another 10-12 minutes until golden brown.
To make syrup drizzle, mix together whiskey and syrup in 4- to 6-quart saucepot. Over high heat, bring mixture to a boil, then down to a simmer. Continue simmering for about 5 minutes until flavor infuses. Remove from heat. If not using right away, cool and place in refrigerator; syrup will keep for 3-5 days.
When ready to fry chicken, combine all dredge ingredients except buttermilk in shallow baking pan. Place buttermilk in separate shallow baking dish. Preheat oil in deep, heavy-bottomed frying pan or fryer to 275°F degrees. Remove chicken from brine and pat dry with paper towels. Dip chicken in dredge, then in buttermilk and then back in dredge. Add dredged chicken to fryer and cook for 7-8 minutes (internal temperature should read 165°F). When ready to serve, place chicken between two biscuits and drizzle with syrup.
---
Pimento Cheese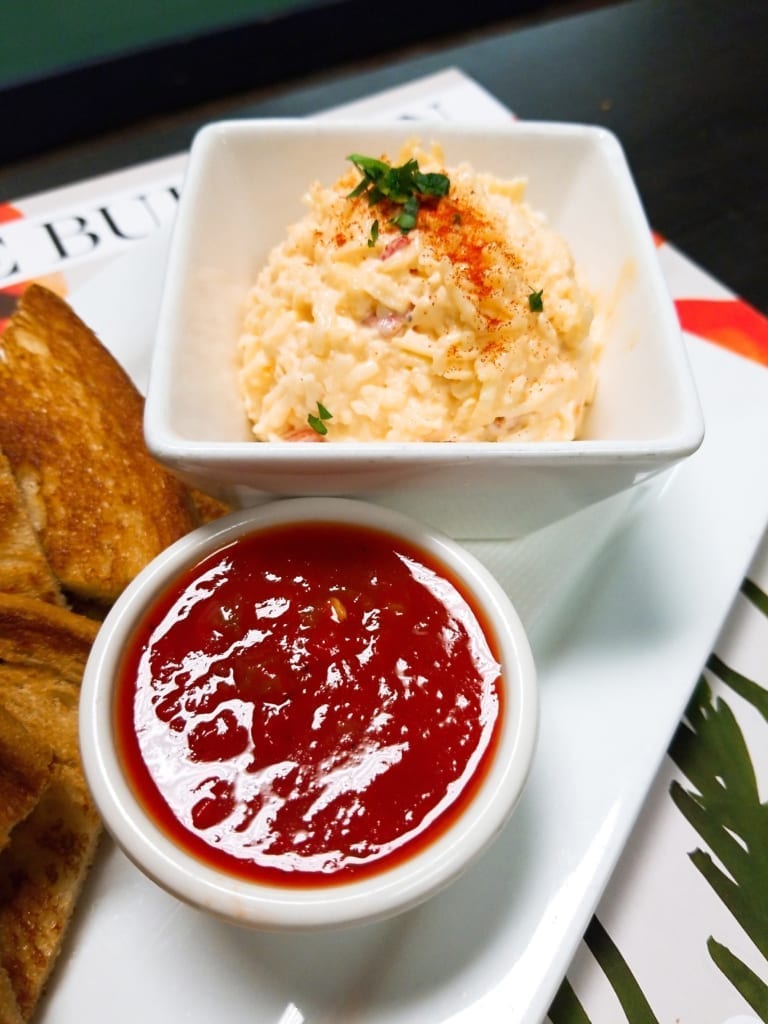 Serves 3-4
From Zeb Mozley, The Hungry Peach
8 ounces sharp white cheddar cheese (not pre-shredded)
3 ounces crumbled feta cheese
¼ cup mayonnaise (Duke's brand)
1 tablespoon Sriracha
2 ounces pimentos, minced
1 tablespoon yellow onion, grated
Pinch of salt and pepper
Grate cheddar cheese in food processor or by hand. Place in large bowl and add feta, mayo, Sriracha, pimentos and onions. Mix well by hand. Taste and add salt and pepper as needed. Transfer to airtight container and chill for at least 30 minutes. Serve with toast points and red pepper jelly.
---
Organic Tuscan Kale Salad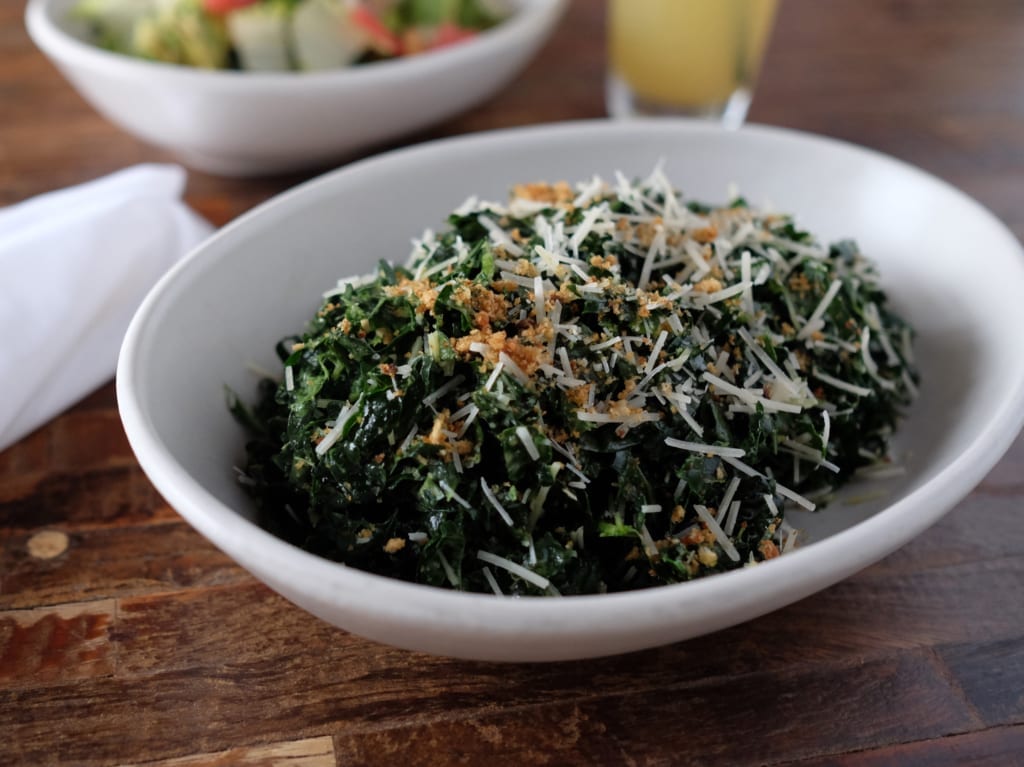 Serves 8
from Nick Cassidy, True Food Kitchen
½ cup extra-virgin olive oil
¼ cup freshly squeezed lemon juice
3 garlic cloves, mashed
½ teaspoon salt
Pinch of red pepper flakes
2 bunches lacinato kale (about 14 ounces), ribs removed and leaves sliced into ¼-inch shreds
½ cup Grana Padano or
Parmigiano-Reggiano cheese, finely grated on a microplane
2 tablespoons toasted whole wheat bread crumbs
Grana Padano or Parmigiano-Reggiano cheese shavings (for garnish)
In salad bowl, whisk together oil, lemon juice, garlic, salt and red pepper flakes. Add kale and toss well to coat. Let salad sit at room temperature for 10 to 30 minutes. Add grated cheese and bread crumbs and toss again. Garnish with cheese shavings before serving.
---
Southern Potato Salad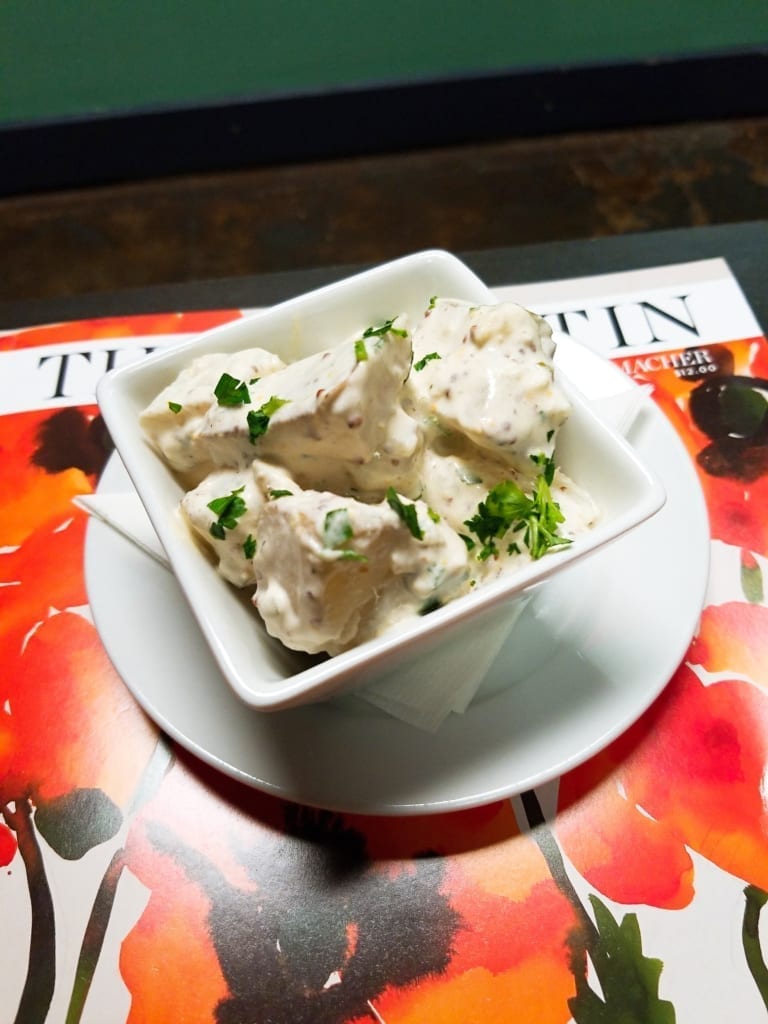 Serves 4-6
From Zeb Mozley, The Hungry Peach
8 medium russet potatoes, peeled and quartered
1 ½ cups mayonnaise (Duke's brand)
2 tablespoons apple cider vinegar
2 tablespoons sugar
1 tablespoon spicy mustard
1 teaspoon garlic powder
1 teaspoon salt
½ teaspoon black pepper
2-3 tablespoons sweet pickle relish
1 cup onion, minced Paprika (for garnish)
Boil potatoes in salted water until tender. Drain and set aside to cool. In medium bowl, combine mayo, vinegar, sugar, mustard, garlic powder, salt, pepper and relish (with juice). Stir well and place in fridge. Once potatoes are cooled to room temperature, put in large bowl and add onion. Remove chilled mixture from fridge, pour into bowl with potatoes and toss until evenly coated. Garnish with paprika if desired. Place back in fridge until ready to eat.
---
Truffle Brownies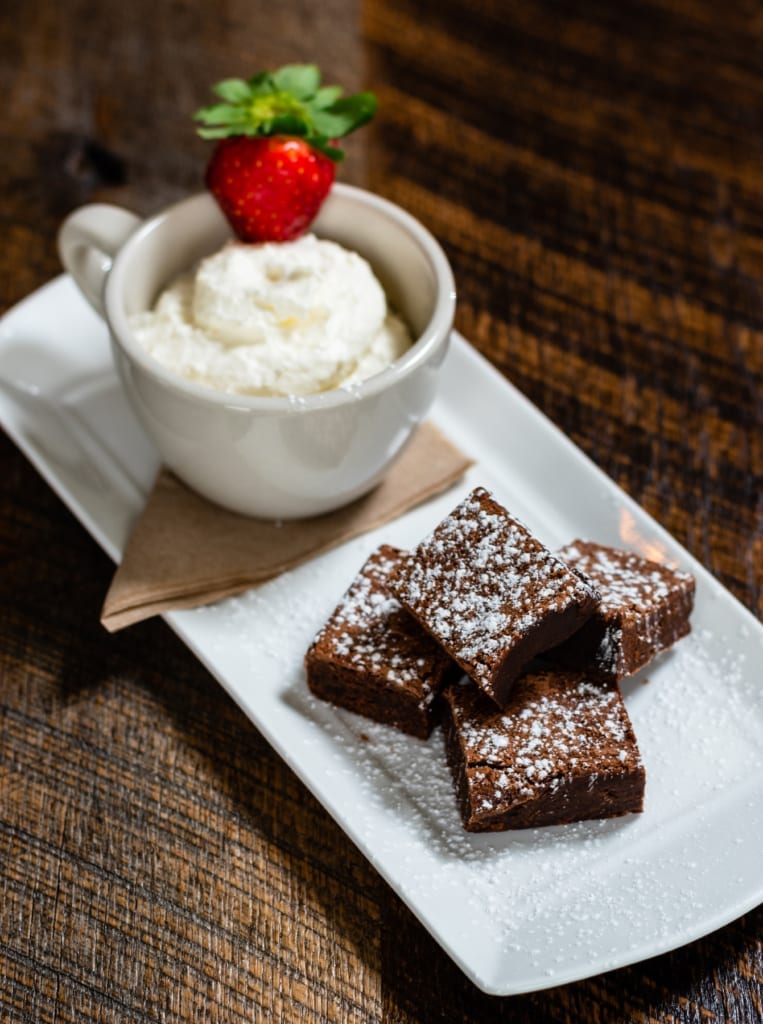 Yields 15 brownies
From Suzanne Vizethann, Buttermilk Kitchen
28 ounces chocolate pistoles (66%), chopped fine
20 ounces butter, cubed
4 cups sugar
2 tablespoons vanilla extract
Pinch of salt
8 eggs, whole
4 egg yolks
12 ounces all-purpose flour
Preheat oven to 325°F. (Note: temperature and times are for convection oven; adjust if using conventional oven.) Melt chocolate and butter over double boiler. Let sit for about 5 minutes. Add sugar, vanilla and salt. Pour chocolate mixture into bowl (fitted for countertop mixer) and add whole eggs one at a time, then add yolks. Add flour and mix for 30 seconds. Pour onto half sheet pan. Bake for 15 minutes, rotate and bake 15 more minutes. Brownies will still be a little gooey in center.
Rebecca Cha
Food, beauty and interiors writer at Simply Buckhead. Linguist, teacher, chef, parent.