In a season full of rich drinks like eggnog, cocoa and hot buttered rum, it can be nice to sip and save a few calories. You don't even have to forgo the holiday spirit. Instead, spread cheer with these festive seasonal teas that are low in calories and added sugar.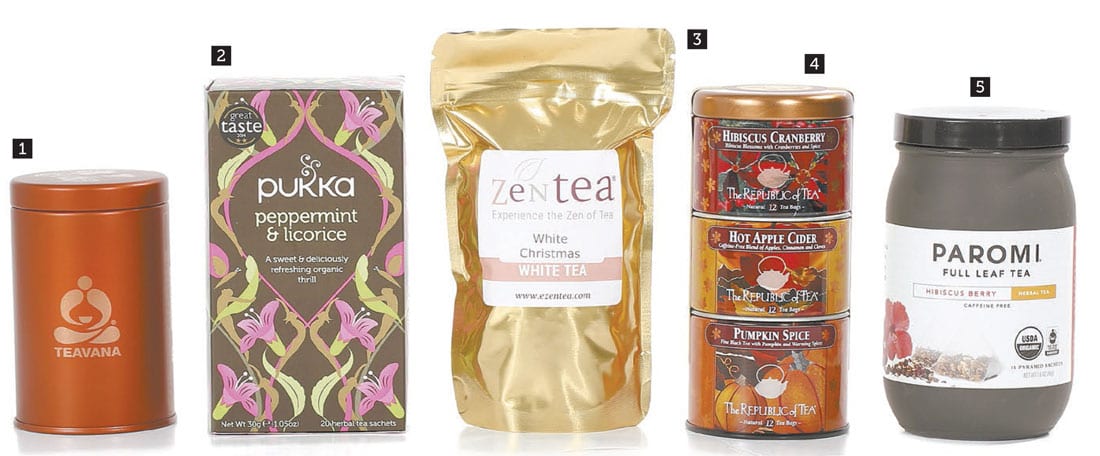 1. Spiced Apple Cider (2 oz., $10)
Spice up your holidays with this calorie-free take on a traditional fall treat. The merrily colored blend of high-quality, long-cut red rooibos leaves with cinnamon spice, apple slices, chicory, plum and hibiscus offers a natural, caramel-like sweetness in every sip. The resulting brew is balanced and smooth, yet tart and refreshing enough to embody the season.
Teavana
Phipps Plaza
3500 Peachtree Road
Atlanta 30326
404.261.3004
teavana.com
2. Pukka Peppermint & Licorice (20 bags, $6)
Take a walk down candy cane lane with this caffeine- free treat that is best savored by a roaring fire after a holiday meal. The guilt-free indulgence is a sweet and savory blend of organic licorice and cool peppermint that tingles your mouth and gives off a refreshing aroma.
The Vitamin Shoppe
3261 Peachtree Road N.E.
Atlanta 30305
404.262.0400
vitaminshoppe.com
3. White Christmas (2 oz., $7)
Boasting a collection of more than 160 teas from around the globe, the warm and welcoming ZenTea tea shop hosts daily high tea service and weekly tastings and classes. Holiday flavors such as White Christmas, a combo of white tea with orange peel, almonds, rose petals, cinnamon and apple, is an excellent low-caffeine holiday blend that can be purchased year-round. Adding a little milk and sugar will turn this into a slightly richer drink, but it will still be a nice break from eggnog.
ZenTea
5356 Peachtree Road
Chamblee 30341
678.547.0877
zenteaco.com
4. The Republic of Tea, Harvest Stackable Trio (36 bags, $14)
This tasty trio is the perfect way to experience seasonal favorites. Hibiscus Cranberry is a tangy blend of New England-harvested red cranberry with added cinnamon, ginger, cloves and star anise. Hot Apple Cider combines apple pieces, cinnamon, orange peel, rose hips and cloves for a delightful scent that lingers in your cup. Pumpkin Spice is a blend of black tea, cinnamon, ginger and nutmeg; add some milk and drink your pumpkin pie in a cup.
Whole Foods
77 West Paces Ferry Road N.W.
Atlanta 30305
404.324.4100
wholefoods.com
5. Paromi Hibiscus Berry (15 bags, $9.99)
This fruity cornucopia of flavor is reminiscent of mulled wine on a cooktop. Tropical hibiscus infuses tang to hints of raspberry and blackberry, while the ruby color adds an elegant, beautiful flair to a holiday table or party. And it's naturally organic and caffeine free.
The Fresh Market
4405 Roswell Road
Atlanta 30342
404.250.0852
freshmarket.com
STORY: Jessica Dauler
PHOTO: Sara Hanna