A sampling of great eats in and around Buckhead.
BY: Wendell Brock
PHOTOS: Sara Hanna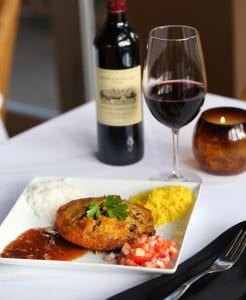 10 DEGREES SOUTH
After 15 years on the scene, this Roswell Road establishment is a highly original destination where food and wine from the tip of the Southern Hemisphere are celebrated with flair. Before we could pose the server with a query on the peri-peri, we got the hard sell on South African reds— particularly the Rupert & Rothschild 2009 "Classique." The big, full-bodied R&R was the perfect match for the luscious, spicy food that followed. I may not be an expert on South African cuisine, but I'll wager that nobody makes bobotie (the national dish) like 10 Degrees South. The dish consists of tantalizingly sweet curried ground beef topped with a custardy crust. It's time to get your head out of the sand and indulge in the kind of stuff our parents enjoyed when "Continental" cuisine was in vogue.
Appetizers: $10-$16
Entrées: $21-$38 10
degreessouth.com
---
BUCKHEAD DINER
This indispensable, neon-splashed diner is a jewel in the crown of the Buckhead Life Restaurant Group, which includes the Greek temple-like Kyma next door and the Atlanta Fish Market down the street. For 27 years, fans have flocked here for the house made chips with Maytag blue, the "sweet heat" Thai-chili calamari, juicy burgers and the decadent white chocolate banana cream pie—all classics. Simply by virtue of the way it lights up Piedmont Road, this diner has always been, and will always be, a star.
Appetizers: $6-$12
Sandwiches and burgers: $13-$16
Entrées: $17-$30
buckheadrestaurants.com/ buckhead-diner
---
CAFÉ SUNFLOWER
In a town that's burger-crazed and churrascaria-packed, chef-owners Lin and Edward Sun's casual, mid-priced kitchen is an anomaly: a veggie haunt that samples freely from world cuisine with mainstream diners in mind. Here, patrons take delight in consistently delicious salads and soups; soy-based replicas of everyday grub like burgers and ravioli; and a stellar lineup of original dishes. The food is freshly prepared, beautifully presented and accessible to both hardcore vegans and omnivores.
Lunch entrées: $9-$12
Dinner entrées: $12-$18
cafesunflower.com
---
DAVIO'S NORTHERN ITALIAN STEAKHOUSE
With its handmade pasta, terrific steaks and foundation of classic Italian dishes, the Atlanta outpost of Massachusetts-based chef-preneur Steve DiFillippo sets a higher-than usual standard for a mall restaurant. Fine-food lovers flock to Phipps Plaza for Davio's delicious fried calamari, tagliatelle Bolognese, and warm spinach salad like ravenous shoppers on the hunt for Louis Vuitton bags, Tiffany silver and Dior gowns. And they can do no better than the buttery medallion of impeccably grilled top sirloin, slathered with Gorgonzola and paired with wilted spinach and sea-salt and  truffle-oil fries. No wonder the Davio's menu is as tantalizing as the shoe department at Nordstrom.
Appetizers and salads: $9-$16
Pastas, entrées and steaks: $18-$48
davios.com/atl
---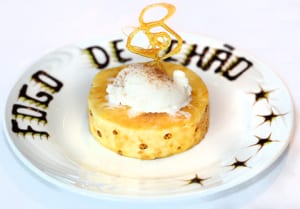 FOGO DE CHÃO
You don't have to brave the pampas of South America or the wilds of Africa to witness the most primitive form of cooking—and eating—on the planet. Every day of the week, deep in the heart of Buckhead, hunks of meat sizzle over an open fire, and grown men smack their lips and engage in gluttony as a kind of participatory sport. At this Brazilian churrascaria, you can sip caipirinhas and nibble cheese bread; graze from a beautiful, bottomless salad bar; then indulge in an endless parade of meats, carved straight onto your plate by servers in gaucho drag. It's all quite delicious, though the place can get Vegas crazy at times, so just be prepared for a mob.
The full experience: $51.50 (dinner); $32.50 (lunch)
Salad bar only: $24.50 (dinner); $22.50 (lunch)
fogodechao.com
---
GEORGIA GRILLE
Twenty-two years after its opening, Georgia Grille remains true to Atlantaborn owner Karen Hilliard's original vision, which means she still splashes the bright flavors of Santa Fe onto the plates of her happy and devoted customers. The French-trained Hilliard dresses her creations in voluptuous cream sauces accented with smoky poblanos or tart tomatillos—and drizzles them with colorful squirtbottle squiggles of flavor. We dug her smoked-pollo enchiladas, which are stuffed with onion and sour cream, smothered with green-chile sauce and tomato salsa and served with a little salad in a taco-shell cup. The flat-iron steak, rubbed with salt and spices and cooked until its crust is charred, was another solid choice. Atlanta has plenty of regional restaurants, but a good Southwestern place is hard to find. Hilliard, who lives in nearby Peachtree Hills, knows what her neighbors want, and she dares not let them down.
Entrées: $15-$31
georgiagrille.com
---
JALISCO
After nearly three decades, Jalisco remains a giddy, guilty pleasure trip through a tunnel of cheese. This Tex-Mex institution at Peachtree Battle is better than an El Paso taco kit, but not exactly a showcase of the sophisticated techniques and ingredients of the Mexican larder. Without apology, Jalisco is what it is, a place with consistently good, standard- issue burritos, enchiladas, fajitas and even a "Hamburguesa Mexicana." (It's topped with nacho cheese.) This is not a place where the kitchen thrives on change and creativity. For the most part, the menu is the same as it has been since Jalisco opened in 1978.
Lunch specials: $5-$9
Entrées: $9-$13
404.233.9244
---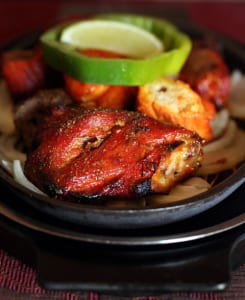 PANAHAR BANGLADESHI CUISINE
Anyone who has a passing familiarity with Indian food will feel right at home at this exotic-yet-homespun Buford Highway hole-in-the-wall. The $9.99 lunch buffet is a delicious way to sample the flavorful, aromatic cuisine of Bangladesh, which often uses less spice and more coconut milk than its sister region in Northern India. At dinner, you may take advantage of the BYOB policy, bringing wine or beer to wash down the highly appealing biryanis, kormas, tandooris and other delights of the Bengali table, including many here with beef.
Appetizers: $4-$6
Entrées: $11-$15
panaharbangladeshi.com
---
PASTA VINO
You can surely find trendier pizza parlors or posher places to eat Italian in Atlanta. But if you are looking for old-fashioned linguini with clam sauce or chicken Florentine in a relaxed and inviting atmosphere with a loyal following, this Buckhead favorite has got you covered. The restaurant is beloved by many for its home-style cooking, casual ambiance, reasonable prices and a staff of servers who have acquired faithful customers of their own. Owner Nancy Powell treasures her crew, most of whom have been on the job for more than 10 years. Given the refined state of Italian dining in America today, Pasta Vino is not likely to win any awards for innovation or inspiration. But it remains a perfectly fine, frequently delicious, middle-of-the-road trattoria.
Starters and salads: $2-$10
Entrées: $10-$22
pastavinoatlanta.com
---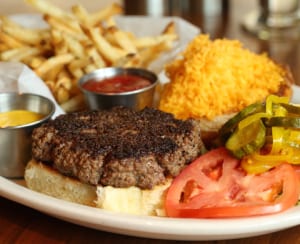 SMASH KITCHEN & BAR
When it came to Smash, Tom Catherall— the Atlanta chef behind the Here To Serve restaurant empire—had little to prove. The British native designed the place himself, hanging portraits of Lennon and McCartney around a room of earthy brick, vinyl booths and shiny red kitchen tile. The menu plays like the chef's greatest hits: skillet-fried chicken, juicy steaks, shrimp and grits. Burgers are among the best in Buckhead. Try the one with pimento cheese and bacon or the simply dressed version with lettuce, tomato, pickles and American cheese. With a glass of Terrapin Hopsecutioner, a Smash burger is a terrific excuse to spend an hour or so at the bar.
Starters and salads: $4-$18
Entrées: $14-$34 h2
sr.com/smash
---
WOODFIRE GRILL
After a three-hour, four-course dinner with cocktails and wine, we can report without hesitation: The Woodfire team remains at the top of its game. We decided to investigate by checking in on a crucial Tuesday. Woodfire is closed on Mondays, so Tuesday night is the swing shift, when the week's new dishes are being tweaked, wine pairings selected and the staff is on high alert to absorb it all and not go blank when customers ask what the orange mayonnaise-y stuff in the bouillabaisse is. (It's the classic aioli-like French sauce called rouille.) While it could use a bit of a makeover on the design end, the food and service show no signs of wavering.
First and second courses: $8-$18
Entrées: $20-$42
Five-course tasting menu: $70
Seven-course grand tasting menu: $90
woodfiregrill.com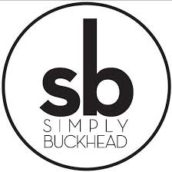 SimplyBuckhead
Simply Buckhead is an upscale lifestyle magazine focused on the best and brightest individuals, businesses and events in Buckhead, Brookhaven, Sandy Springs, Dunwoody and Chamblee. With a commitment to journalistic excellence, the magazine serves as the authority on who to know, what to do and where to go in the community, and its surroundings.