A sampling of great eats in and around Buckhead,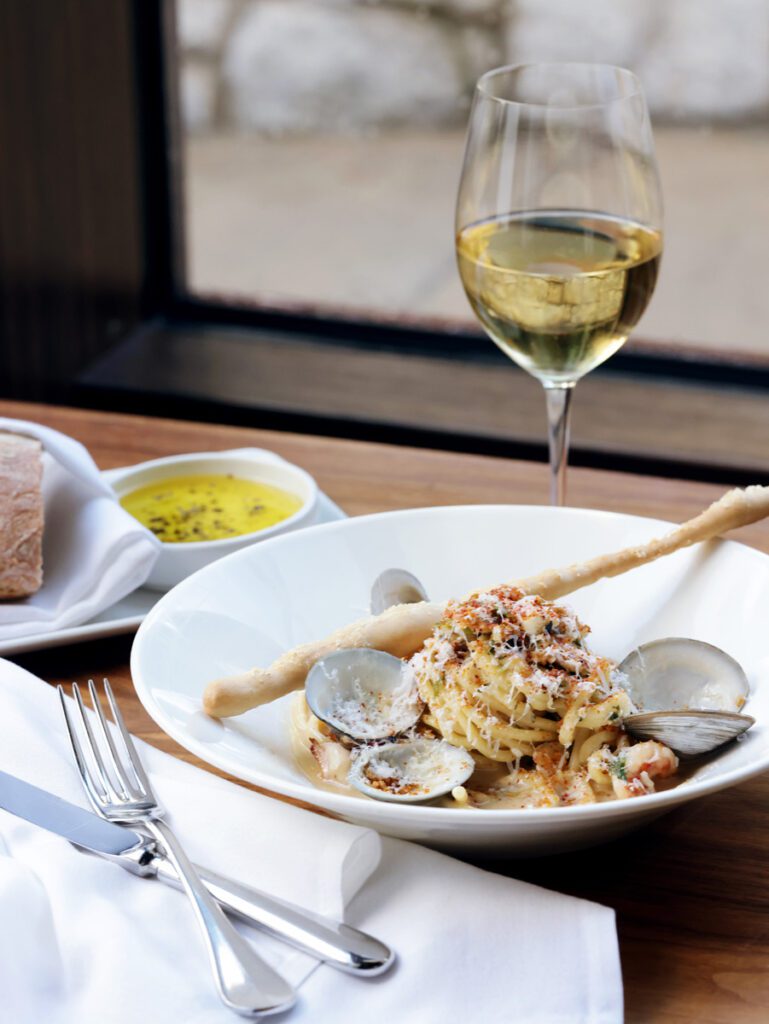 THE ALDEN
Chamblee's popularity as a residential and dining destination seems to be on the rise, and Chef Jared Hucks is here to make sure diners eat like royalty. Winning starters include a homemade bread plate with prosciutto butter and cheddar pimento cheese, silky sweet potato bisque and sashimi quality seared scallops. For mains, go with the cold smoked salmon, Moroccan-spiced shrimp and grits or the hickory smoked Brasstown coulotte steak. Desserts are deliciously unique. If you've got belly room to spare, be sure to witness the chef's gastro-theatrics with the banana bread pudding service. Our favorite was the lunar chocolate, which the chef calls his "dessert moonscape."
Smaller dishes: $11-$21
Larger dishes: $23-$45
Desserts: $9-$15
Chef's tasting menu: seven courses/$95
BABYLON CAFÉ
When Iraqi native Saad Marwad and his wife, Kelly Rafia, opened Babylon Café in 2014, the city's foodie community started to buzz about the couple's fresh, flavorful repertoire of Middle Eastern classics, from falafel and hummus to kebabs and baklava. While the starters are quite good—try the fattoush salad, the lentil soup and the eggplant badenjan— the earthy, long-simmered stews are unlike anything else in town. We like the herb-based qurma sabzi with super-tender lamb shank and the bamia (okra and tomatoes) with oxtail. Don't leave without a sip of the anise-flavored aperitif called arak and a bite of kanafeh, a sweet made of shredded phyllo, housemade sweet cheese, rose- and orange-water syrup and pistachios.
Appetizers and sides: $2-$7
Entrees: $12-$20
BIG SKY BUCKHEAD
The laid-back cattle ranch decor in this West Village hotspot is the perfect foil for top-notch Tex-Mex-meets-Deep-South eats. Specialty cocktails served up by fresh-faced mixologists combined with events such as Wednesday trivia nights, game-day viewing parties and weekend brunches with all-you-can-drink mimosas make Big Sky Buckhead a favorite urban escape. Best-in-class dishes such as the Big Sky Nachos, Goose Island IPA wings, Original Burger and Buffalo Chicken Sandwich are good enough to brand this place in your memory forever. Good to know: Big Sky is a cashless establishment, so don't forget your alt-currency. Also, free on-site parking spots are limited, so consider carpooling or ridesharing.
Starters: $4-$12
Salads, sandwiches and tacos: $11-$13
Entrees: $15-$19
Brunch items: $12-$15
CASI CIELO
Casi cielo translates to "almost heaven," and it's a fitting description for this sophisticated Sandy Springs Oaxacan eatery. You'd be loco to miss the tender, charcoal grilled octopus, earthy portobello or mahi-mahi tacos, the crunchy plantain croquettes or buttery Chilean sea bass. Equally enticing is the world-class mezcal collection and the exotic cocktails made with favorite brands such as Alipus, Nucano and Gracias a Dios. The gracious staff epitomizes high-bar professionalism.
Appetizers, soups and salads: $6- $18
Quesadillas, tacos and bowls: $12- $18
Main dishes: $15-$43
Desserts: $9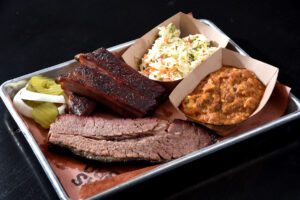 DAS BBQ
In 2016, Stephen Franklin had a dream to make Georgia the most "inclusive, creative barbecue experience in the country," and that's just what he did at DAS BBQ. Whether it's the rosy, smoke-ringed brisket, equally pink and juicy St. Louis-style ribs or the spicy, smoked chicken wings, every bony bite is a testament to Franklin's focus on the art and science of smoked meats. Bring the whole family and don't pass up housemade sides of decadent cream corn, mac 'n' cheese and stick-to-your-ribs Brunswick stew. Dig into white chocolate banana pudding after if you're willing and able.
Meats (whole, half and sandwich): $7-$28, sausages $5/link
Wings: $9/$18 for half dozen/dozen
Side dishes (in regular, pint or quart): $3-$23
Desserts: $3-$5
ECCO BUCKHEAD
Meals at Ecco in Buckhead have the elegance and spontaneity of a spin around the dance floor, thanks to the hyper-seasonal approach to the menu. The kitchen shines in creative interpretations of European cuisine with dishes such as Spanish octopus with Castelvetrano olives, grilled pork tenderloin with beet top risotto, and tortellini stuffed with butternut squash and mascarpone. Perennial favorites such as fried goat cheese with honey and cracked black pepper and the Allora flatbread (with its San Marzano tomato sauce, still bubbling mozzarella, hot sopressata and pepperoni) don't fail to impress. Paired with expert service, a nicely curated wine list and an atmosphere that's at once sleek and cozy, this Phipps Plaza-adjacent eatery warrants a visit. Bottom line: If you find something you crave, visit soon to get it before it's gone.
Small plates: $9-$18
Flatbreads: $15-$21
Pasta and mains: $19-$36
Sides: $7-$12
Desserts: $6-$9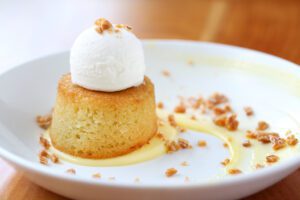 KR STEAKBAR
Atlanta chef Kevin Rathbun's only Buckhead restaurant feels customtailored for the community. A contemporary nocturnal cubbyhole where small plates rule, wine flows and the air bristles with excitement, the fashionable "steakbar" concept finds Rathbun and chef de cuisine Jessica Gamble fusing two venerable concepts: meat and Italian. Here, nearly everything speaks with a perky Mediterranean lilt: amari-kissed cocktails, steak doused with espresso sauce, heavenly olive-oil cake with almond brittle and citrus cream. (Pastry chef Kylie Akiyama is terrific.) Hidden touches, like the speakeasy-style bar behind the kitchen and a patio that feels like a sunken garden, make us want to continue to explore this romantic spot.
Antipasti: $6-$19
Pasta: $12-$16
Entrees: $18-$68
LE COLONIAL
Le Colonial's website describes this upscale French-Vietnamese restaurant as "a luxurious escapist oasis," and we'd agree. Amidst potted palms, starched white tablecloths and whirring vintage fans, glitzed-up diners are transported back to 1920s Vietnam and enjoy the culinary synthesis of the era. Favorite street fare such as banh mi thit nuong (chargrilled pork sandwich) and pho bo (beef noodle soup) get the white glove treatment with chef Richard Lee's skillful way with Asian herbs and spices. Classic favorites of crispy panseared chicken dumplings, garlicky beef rice noodle rolls and curried green papaya salad will have you hankering for a one-way ticket to Saigon.
Small plates: $12-$24
Soups and salads: $10-$18
Large plates: $14-$60
Sides: $4-$11
Desserts: $12-$14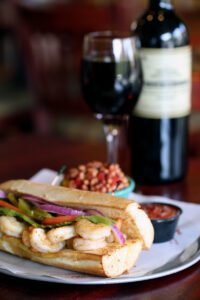 NEWK'S EATERY
This Mississippi-based chain has popped up in the Atlanta market, and though it looks like a fast-food joint, it tastes like homemade. Salads—from shrimp remoulade salad to a delicious steak-and-blue-cheese version to old-fashioned chicken salad—are a standout. At this casual, familyfriendly, crowd-pleasing spot you can also get sandwiches, pizzas and mac and cheese but, refreshingly, no burgers. We are pretty crazy about the sausage-and-pepperoni pie, with its thin crust and warm and gooey toppings. And who can resist a crispy rice treat with chocolate and peanut butter? Not us.
Salads, sandwiches and pizzas: $7-$11
R. THOMAS DELUXE GRILL
Open 24/7 and bedecked with '70sstyle disco lighting, beaded curtains and groovy plastic walls, this Buckhead favorite feels like a throwback to the days when the health food craze was in its genesis. Whether you go for the sizzling bone-in hot wings or Dr. Joe's Mango Salad with a side of raw cashew "cheese," R. Thomas lives up to its promise to "treat carnivores and vegetarians with equal respect." More menu favorites include the quinoa-rich Thai Express bowl, the classic Thomas Burger with sprouts and guacamole, the curry coconut seafood linguine, Southwestern-style R.'s Quesadilla and an unforgettable peanut butter chocolate pie.
Breakfast: $9.75-$14.75
Appetizers: $4.50-$17.50
Sandwiches, salads and veggie mains: $5.99-$17.50
Entrees: $13.25-$20.75
Desserts: $6.50-$8.75
SOUTHBOUND
A "welcome to the neighborhood" vibe lingers throughout Southbound in Chamblee, whether you sit at the bar stocked with artisan spirits, on a comfortable chair in the main dining room or under an umbrellaed picnic table on the patio. Weathered wood, exposed bricks and dangling light bulbs give the space casual elegance. The menu presents Southern comfort food with some creative international flavors and influences. Variety means there's something for just about any preference, diet, budget and hunger level. The menu changes about three times a year, but popular favorites remain, including the double-stack burger, Southern ramen, smoked short rib, Chamblee hot chicken and wild Georgia Shrimp.
Small plates: $4-$18
Mains: $14-$33
Sides: $4-$6
Desserts: $6-$9
TAKA SUSHI AND PASSION
Chef Taka Moriuchi learned from perhaps the most famously finicky and cult-inspiring Japanese chef Atlanta has ever known: Sotohiro Kosugi, owner of Buckhead's legendary (but now shuttered) Soto Japanese Restaurant. Today, Moriuchi holds court at his own sushi bar, where his impeccably fresh fish and hot and cold appetizers compare to the best Japanese food in town. The only difference: His prices won't shipwreck your budget. Among our faves, the UPS roll is a delicious nod to the Atlanta-based Big Brown fleet, and the black cod and okra tempura are packages you'll be happy to see arrive at your table.
Appetizers: $6-$20
Nigiri: $2.50-$11
Sushi rolls: $4.50-$19.50
Note: Prices and menu items may have changed since original publication.
BY: Wendell Brock, Rebecca Cha, Jennifer Bradley Franklin, Angela Hansberger, Hope S. Philbrick
PHOTOS: Sara Hanna, Joann Vitelli
Angela Hansberger
Drinks columnist at Simply Buckhead. Food, spirits, and culture writer.