THE ROCK GOD.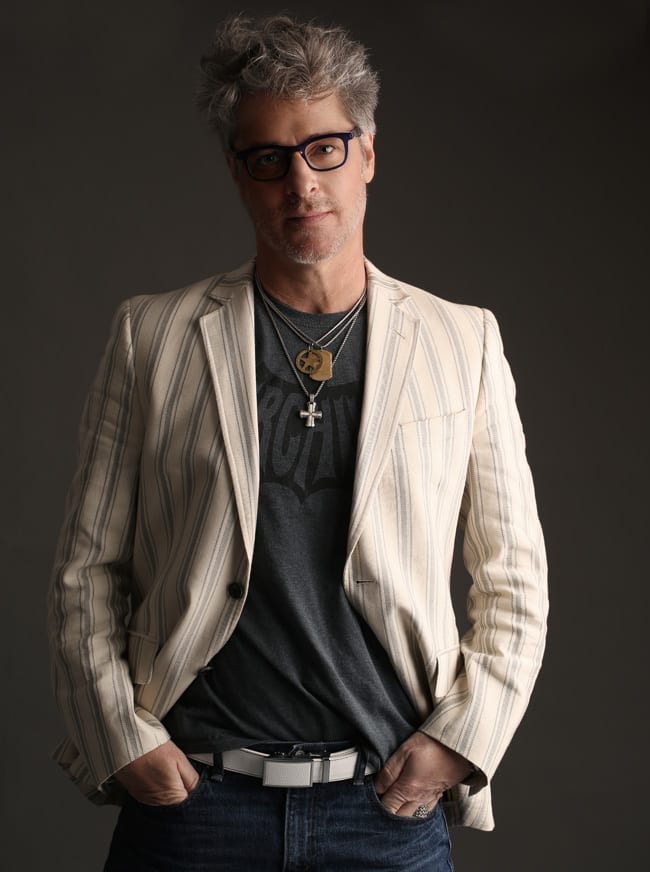 HAIR & MAKEUP: Richie Arpino
Apologies in advance if this next sentence makes you feel old: Collective Soul reached its 20th anniversary in 2014. To celebrate, the band is releasing its ninth studio album, See What You Started By Continuing, in March.
"I thought it was interesting after 20 years that we're continuing where we started," says frontman Ed Roland of the title's meaning. "Making the same kind of music we always have, with a lot of loud guitars. We made a conscious effort to focus on rock riffs … The only thing that has changed over the 20 years is that we've gotten better."
Originally formed in Stockbridge, Georgia, to record a songwriter's demo for Roland, Collective Soul was signed to Atlantic Records during the mid-'90s alt-rock boom and went on to record seven No. 1 hits (including breakthrough single "Shine") and sell more than 10 million records. Despite going to Boston's Berklee College of Music and touring the world, Roland (who also fronts a new band, the Sweet Tea Project) insists he's never even considered living anywhere other than Atlanta.
"I love Atlanta's culture and diversity," he says proudly. "My family and friends are here. My children are here now. I love having a place like Atlanta to raise a family. And if I need to go anywhere on this planet, I'm just one flight away with Delta. This is a very forward-thinking city, but with deep roots in Southern culture."
Another thing Roland loves about Atlanta is its sense of community, to which he frequently gives back because "that's what you're supposed to do as a neighbor." In recent years he's helped raise money for the T.J. Martell Foundation (which funds AIDS research) and Chastain Park Conservancy (he lives in the neighborhood). He also performs two charity shows a year at Eddie's Attic, a tradition he started nine years ago.
"[The band was] gone so much that I thought it would be good to see my friends and make them pay money to give back to the community," Roland recalls with a laugh. "This year, for the first time, I did it [to raise money] for individuals. I did one for a cousin that was seriously injured and had doctors' bills, and another for Sunshine Diaz after her husband, Paul (who owns Tree Sound Studios), had a brain hemorrhage. I love that if you ask for something from your community they really do it from the heart."
SimplyBuckhead
Simply Buckhead is an upscale lifestyle magazine focused on the best and brightest individuals, businesses and events in Buckhead, Brookhaven, Sandy Springs, Dunwoody and Chamblee. With a commitment to journalistic excellence, the magazine serves as the authority on who to know, what to do and where to go in the community, and its surroundings.