Buckhead Life Restaurant Group's long time guitarist plays with heart and soul.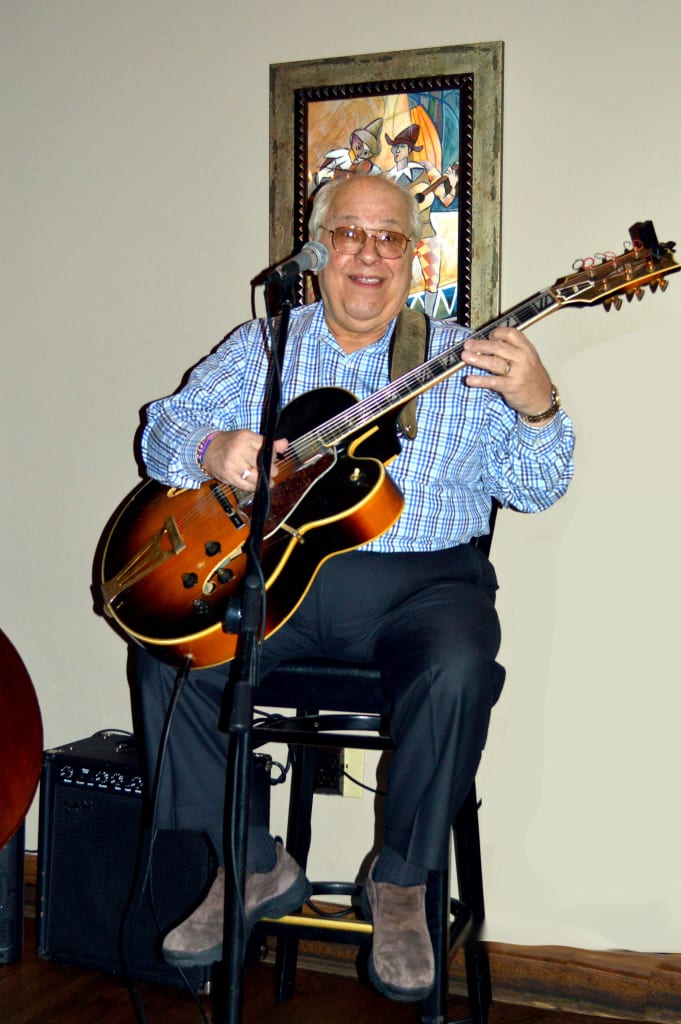 STORY & PHOTO: Alexa Lampasona
The perfect pairing with your meal at a Buckhead Life restaurant? Sal Gentile.
If you've dined at Pricci on Thursday, Veni Vidi Vici on Friday or Sunday, or Bistro Niko during brunch, chances are you have heard Gentile. His guitar performances, ranging from jazz to swing to blues, have accompanied evenings and brunches at Buckhead Life restaurants for more than seven years.
The managers and chefs see Gentile as a staple at their restaurants—not only filling the air with vibrant tunes but bringing humor and passion for his craft along with them. He amiably meanders around the dining room during his performance breaks, interacting with patrons and cracking jokes with the regulars.
Gentile began playing the guitar when he was 10. His Italian family lived in New York, and he followed in his father's footsteps. Music was present at gatherings as his father played guitar and mandolin. At 13 years old, Gentile began taking guitar lessons from famous jazz musician Joe Monk and began performing around the Big Apple in his teens. It was at one of his shows that he met his wife of 34 years, Roe.
The couple moved from New York to New Orleans in 1973, where Gentile booked gigs six to seven days per week. He has called Atlanta his home since 1985, and is still professionally active today. When he is not performing at Buckhead Life restaurants, he is teaching guitar lessons or playing private gigs, such as weddings, anniversaries and birthday parties. Many heavyweight jazz musicians, such as local Atlantans Russell Gunn and Joe Gransden, choose Gentile as guitarist for their Atlanta shows.
When he performs, his fingers pluck the strings with skill that can only come from decades of daily practice. "It takes a lifetime to learn to play the guitar. The only way you get better at your craft is to work on it every single day of your life," he says. The guitarist still takes ear-training lessons, where he learns to identify pitches, melodies and other basic elements of music by sound, from Atlanta jazz musician, composer and teacher Kevin Bales.
Gentile is inspired by the likes of Tony Bennett and Frank Sinatra, incorporating their style of music into his. While jazz is his favorite, the musician's repertoire expands to swing, American pop, blues, country and ethnic (world music). His guitar of choice is the Gibson Super 400 wide body jazz guitar. One of his favorite memories: James Brown joining him on the bandstand at the Hilton Atlanta for a rendition of "Georgia."
"I'm doing what I love, and making a living as an entertainer," Gentile says. "If asked when I plan to retire, I say, 'I'll retire when I'm dead.
SimplyBuckhead
Simply Buckhead is an upscale lifestyle magazine focused on the best and brightest individuals, businesses and events in Buckhead, Brookhaven, Sandy Springs, Dunwoody and Chamblee. With a commitment to journalistic excellence, the magazine serves as the authority on who to know, what to do and where to go in the community, and its surroundings.