VCA BUCKHEAD ANIMAL HOSPITAL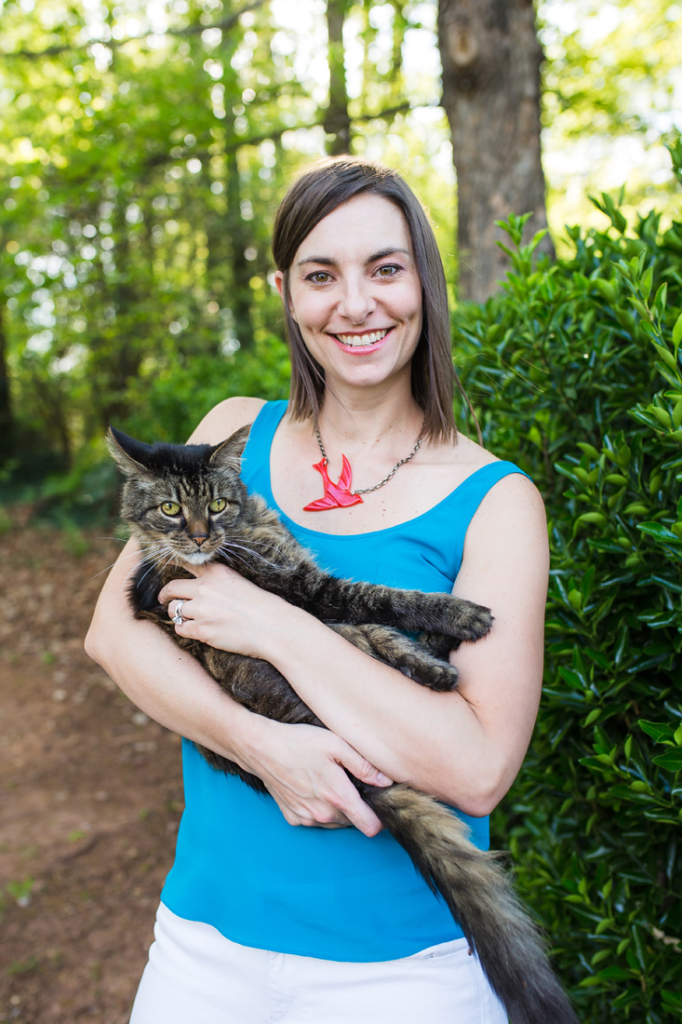 Dr. Heather Krohne's cat is proof that with the right home and some age, you can overcome a checkered past. Mr. Rosie is a 15-year-old Maine coon mix that, like many of his breed, has a strong hunting instinct.
"In his younger days, he had a tendency to hunt chipmunks outside the home of his first family," says Krohne, a veterinarian at VCA Buckhead Animal Hospital. "He'd leave them in the bed of the family's little girl. Cats hunt and provide for those they think can't, so really, he was just showing his love for this little girl. But understandably, it was freaking her out."
The girl's father decided the cat had to go and gave it to the man who serviced the family's large fish tank. That was Zach Krohne, owner of Krohne Tanks and Ponds, and later Heather's husband. Although the little girl had named the cat Rosie, Zach added "Mister" to make it more appropriate for a boy. When Zach and Heather got together in 2009, they had to introduce Mr. Rosie to Heather's boxer, Moxie.
"The first meeting did not go well," she remembers. "I had to be at the office, so I left Moxie and Mr. Rosie together and came back to find Moxie had a corneal scratch." With Heather's medical attention and some TLC, the scratch healed. And time has healed much for this ever-growing family.
The Crazy Krohne Circus, as Heather calls her family, lives in Marietta. The Circus now includes a second boxer, Murdoch; six backyard chickens; a 230-gallon fresh water tank of South American discus and other river fish; and a 9-month-old baby girl, Evelyn.
The chickens started out as a gift for Krohne's mother-in-law.
"Zach bought some chicks to give her for Mother's Day, but we fell in love with them and kept half for ourselves," Krohne laughs.
Everyone appears to coexist just fine, but the cat is the head honcho.
"Mr. Rosie is king of us all," Heather laughs. "He bosses around the dogs and tells us when he expects to be fed."
Time has also mellowed him.
"He's 15 now, so not as interested in hunting chipmunks. He's more interested in the wet food he gets because of his thyroid condition."
Heather believes the blend of her family is complete.
"Mr. Rosie is now my cat, and the dogs prefer my husband," she laughs
STORY: Daryn Kagan
Photo: Celina DeSantis Photography