The leading ladies of an all-female surgical team are equal parts business partners and "sister-friends."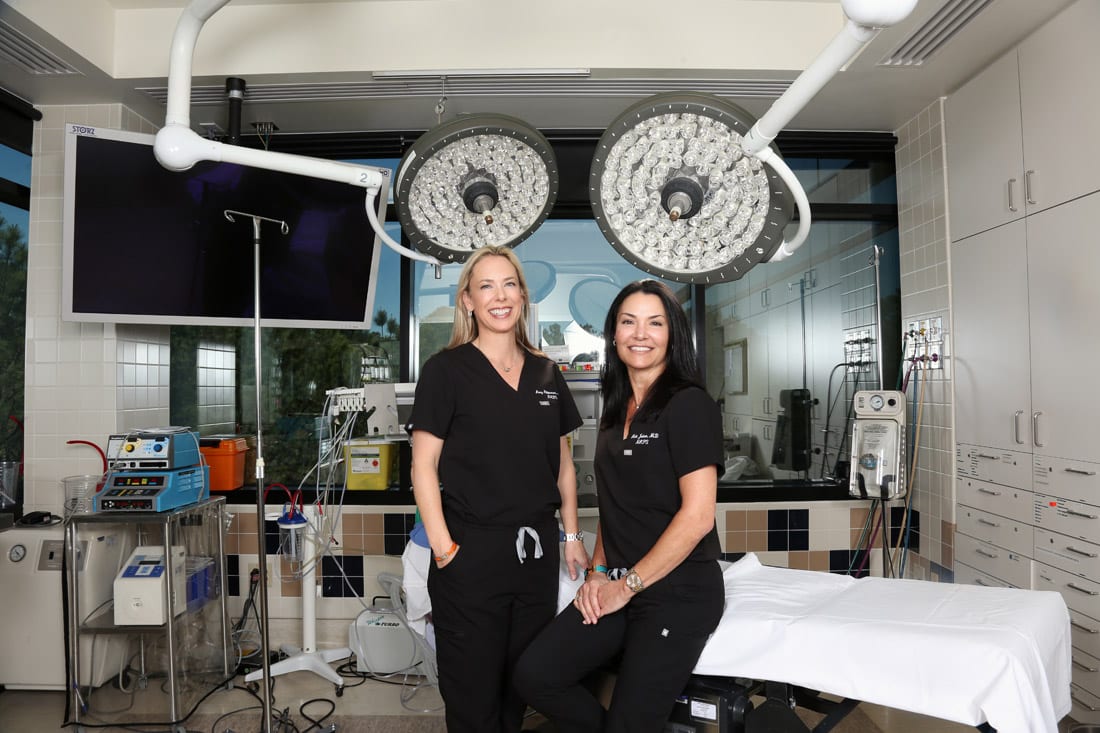 STORY: Karina Antenucci
"We became fast friends almost on day one," says Amy Alderman of meeting Aida Joiner almost nine years ago at their previous plastic surgery practice. Last March, after eight years of teaming up on surgeries, the two doctors decided to go into practice together and launched North Atlanta Plastic Surgery in Sandy Springs.
"We are aligned in our vision for the practice and really care about patient care, and our patients feel that," says Alderman of their winning partnership.
Alderman, a board-certified plastic surgeon specializing in breasts and body for more than 10 years, and Joiner, a board-certified anesthesiologist for 25 years, took a leap of faith that their unique friendship and approach with an all-female surgical team would be well-received by their majority-female patients. And it has been. "We thought we'd have a ramp-up time, but we have yet to ramp up. We have just been going full-speed ahead!" says Joiner, an Atlanta native. Alderman adds, "I left my previous practice on a Friday afternoon, put a Facebook post up about our new launch that got 400 responses, and then between Monday and Wednesday of the following week, we had 200 people call our office. There hasn't been a day since we opened our doors that we haven't had a full day of surgery."
In a typical plastic surgery practice, the patients may only interact with their surgeon; the anesthesiologist doesn't see most patients except right before surgery. At North Atlanta Plastic Surgery, a patient gets to know not only Alderman, but also Joiner and their nurses. "One of my favorite things now is to be able to see patients after their surgeries and how thrilled they are with the results," says Joiner. "I enjoy meeting them on their initial visit when Dr. Alderman pulls me into a consultation. It's added a new dimension to my role." Adds Alderman, "We want to provide customized, individualized care where patients feel really special."
The doctors also have opened The Spa at North Atlanta Plastic Surgery, a nonsurgical arm of the practice that offers cosmetic treatments such as Botox and CoolSculpting (a fat-freezing procedure). Later this year, they will debut another location in Alpharetta, where all of the surgeries will be performed. "We offer both surgical and nonsurgical options because it's not one-size-fits-all for everyone," explains Alderman. Despite their instant success, opening a new practice hasn't been all smooth sailing. Managing the office is one aspect that has been a challenge. "The good news is we know what we're not great at and have found someone who's better than we are to handle it," says Joiner.
Busy with work and with their families, Alderman and Joiner still find time to socialize outside the office. To stay connected as friends, they go out to dinner once a week, and "the rule is we don't talk about work," says Alderman. The two have also traveled together to Paris three times so far, hence the new Alpharetta location will boast a Parisian theme, and they often ride bikes together or race each other virtually on their Peloton exercise bikes at home. "We're best friends," says Alderman. "It's like we're sisters."
Karina Antenucci
Managing Editor and Kids Columnist at Simply Buckhead. Wellness & Beauty Writer, Certified Holistic Health Practitioner and Mother.