Once recognized as an "immortal health elixir" by ancient Chinese culture, kombucha (pronounced come-boo-cha) today is known for its abundant antioxidants and active probiotics.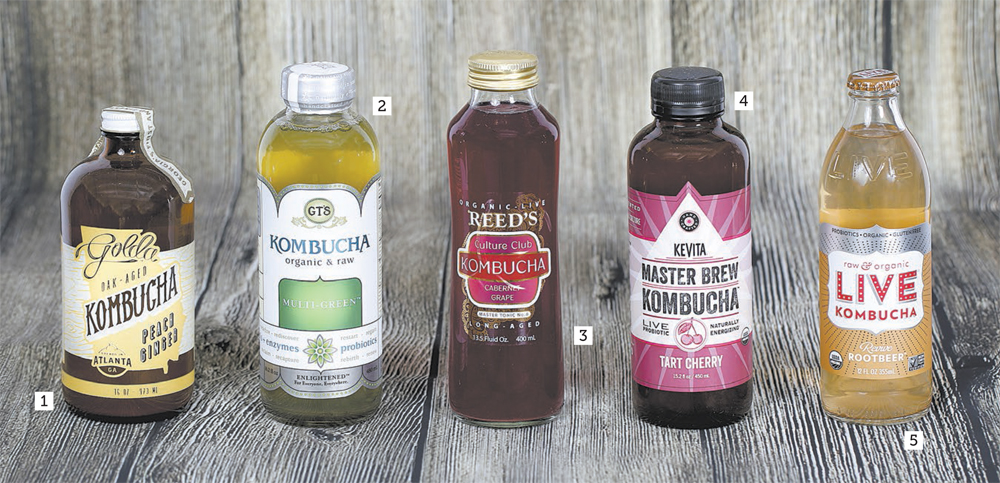 This fermented black or green tea with a peculiar name and taste has a slightly tangy flavor that varies by brand and blend. Find a flavor that appeals to you and start to experience health benefits, such as improved digestion, weight loss, increased energy, detoxification and immune support.
1. Golda Kombucha Tea: Peach Ginger ($5.69)
Georgia's first sparkling kombucha tea company, Golda Kombucha, is handcrafted locally. Its best seller, Peach Ginger, is made with a green and black tea blend that is aged in oak barrels. The flavor of fresh Georgia peaches is intense followed with a zing from spicy ginger and a lingering finish from the oak barrel.
Nuts 'n Berries
4274 Peachtree Road N.E.
Atlanta 30319
404.254.0330
nutsnberries.com
2. GT's Organic Raw Kombucha: Multi Green ($3.49)
Kombucha fans are most likely already familiar with GT's, one of the most widely available brands on the market. It is 100 percent organic and raw, and low in sugar content without sacrificing flavor and fizz. Multi Green is an organic blend of blue green algae, spirulina and chlorella, and provides an easy way to add the detoxifying and alkalizing benefits of these superfoods to your diet.
Publix Super Market
104 Town Boulevard N.E.
Atlanta 30319
404.233.7475
publix.com
3. Reed's Culture Club Kombucha: Cabernet Grape ($3.39)
Reed's is a good choice for beginning consumers of kombucha. The flavor is created by blending 60 percent kombucha and 40 percent organic juice with fizz. The Cabernet Grape has a sparkling and refreshingly tart, grape-y flavor that satisfies a sweet tooth, wine or fruit craving. The only downside is that, at 11 grams per bottle, the sugar content is a bit high compared to other varieties that pack fewer than 6 grams.
Whole Foods Buckhead
77 West Paces Ferry Road N.W.
Atlanta 30305
404.324.4100
wholefoodsmarket.com
4. Kevita Master Brew Kombucha: Tart Cherry ($2.99)
The combination of tart cherry juice and effervescent kombucha blends well to smooth out the typical vinegar flavors common in most kombucha cultures. Semi-savory and lip puckering, this brew has a crisp hint of ginger and a kiss of sweetness from the stevia.
Target
2539 Piedmont Road N.E.
Atlanta 30324
404.720.1081
target.com
5. Live Kombucha Soda: Root Beer ($2.49)
This is not your standard root beer. Made from the purest ingredients, this hybrid of carbonation and kombucha is a healthy choice for soda drinkers and may add some familiarity to the taste buds of the drink's newbies. It's packed with all the health benefits of raw, organic kombucha and tastes like a traditional, satisfying root beer but with less sugar.
Sprouts Farmer's Market
4600 Roswell Road
Sandy Springs 30342
678.954.5294
sprouts.com
STORY: Jessica Dauler
PHOTO: Sara Hanna