Break out the oven mitts; it's the holiday season, and for many of us that means slaving away in the kitchen preparing food for all the get-togethers with friends and family. Here, three Buckhead chefs offer some insights into perfecting your holiday feasts.
Roasting a turkey may seem like a daunting task, but fear not, St. Cecilia Executive Chef Craig Richards has a full-proof technique for tender meat, crispy bronzed skin and, most important, a memorable meal.
"My favorite cooking holiday is Thanksgiving," says Richards. "My mom and I always cook the turkey together. We've tried a few different stuffings and temperatures, and found this works the best. We buy a fresh, kosher bird because it retains its moisture so well. We season it generously with salt, then stuff it with halved oranges, fresh bay leaves, sliced red onions and rosemary. I roast it at a pretty high temp, 450 degrees, for about an hour, then rotate it and cook it until the thigh reads 150 [degrees], then give it another one and a half hours or so. I read that Thomas Keller [of Napa's The French Laundry] roasts his at this high temperature, and when we did it last year, it turned out great, with a crispy skin and super moist meat."
Richards bastes the bird about three times during the cooking process. If he's feeling fancy, he slips some black truffle butter underneath the breast skin before roasting. He buys black truffle juice and mixes it with a couple cloves of garlic and a pound of softened butter in a food processor, then chills it.
"I usually try different things every year—maybe different herbs, basting/not basting," says Richards. "That's the fun of this holiday."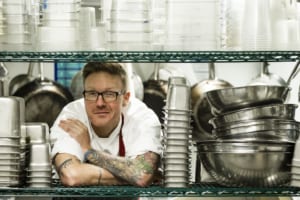 ZEB STEVENSON
WATERSHED ON PEACHTREE
Watershed Executive Chef Zeb Stevenson demonstrates that you don't have to go big to make a holiday meal memorable. He usually prepares a small dinner for two to four people and tries to make it fun, relaxed and lighthearted.
"Last Thanksgiving I got inspired by a recent trip to Mexico, so we smoked a small turkey and pulled the meat off to make tacos," says Stevenson. "It was super fun. We made fresh salsas and grilled tortillas from homemade masa."
His idea would also be a great way to use those leftovers from a big bird. Atlanta has plenty of good options for fresh tortillas, though, so you wouldn't necessarily have to make homemade ones.
Chuck those store bought jars of gravy. Saltyard chef Nick Leahy has tips for ladling the good stuff at your holiday table.
First, make your roux with the fat drippings from the turkey (or whatever bird you're cooking). Then add flour, stirring constantly for a couple of minutes; you want the mixture to turn light brown but not burn. Add broth using homemade stock if you can, then add salt and pepper, and continue to stir for three minutes. The sauce should be getting thicker at this point. Add something fresh to it, such as slivers of garlic, fresh thyme, rosemary, sage or jalapeño. Finally, get it drunk. Gravy loves white wine, brandy, bourbon, etc.
STORY: Angela Hansberger
Photo: Andrew Thomas Lee
Angela Hansberger
Drinks columnist at Simply Buckhead. Food, spirits, and culture writer.