A CUSTOM BROOKHAVEN HOME HAS PERSONAL TOUCHES IN EVERY CORNER!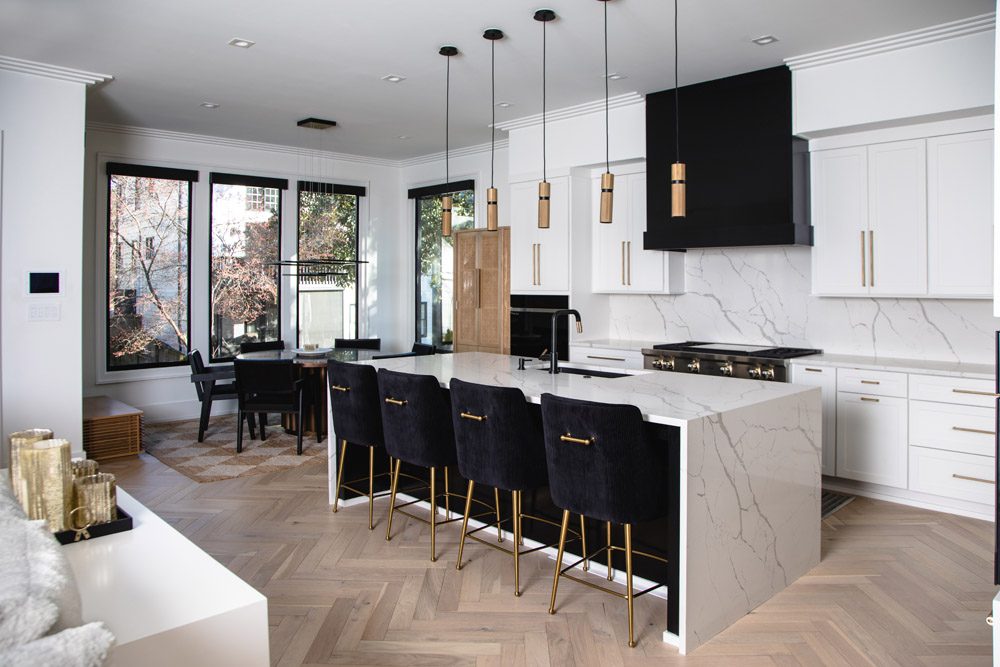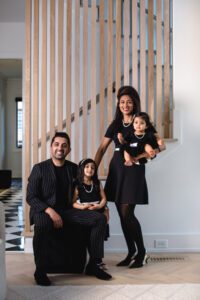 Sonia and Jibin Thomas dreamed of a modern custom-built home, anticipating the joy of creating the property. When they started the Brookhaven project in 2019, they were met with hiccups from codes and staffing to supply chain shortages.
"I wanted 10-foot ceilings on each of our three floors, but there's a maximum structure height because DeKalb-Peachtree Airport is so close," Sonia says. "There were a lot of issues we did not anticipate. We had no idea these issues would impact us years later. For example, our dishwashers are still backordered!" The couple persevered with their eyes on the prize: a home done to their exact requirements.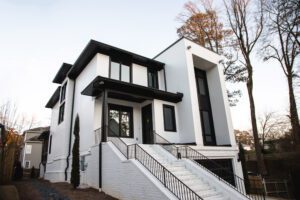 "The entire house was completely designed and decorated by us, with zero outsourcing," says Jibin. "We worked with the architect and builder to ensure our vision would work, and they helped us stay within code and budget. But we designed the floor plan, the dimensions and the finishes. We prefer it that way due to our specifications, our vision and our extreme attention to detail." That means every piece of decor has something the couple loves or has a connection to, often with layered meaning.
Sonia, who is an associate professor of pharmacy practice, a clinical oncology specialist pharmacist and a health coach, loves the marble checkered tile in the foyer, inspired by Blair Waldorf's house on Gossip Girl. The gold lion door knocker harkens to Sonia's love of Gucci and her astrological status as a Leo. While a few disputes arose ("we have similar styles but sometimes different tastes," says Jibin), there was always a compromise.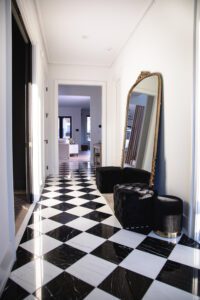 This level of detail doesn't happen overnight. The project took three years and is still a work in progress, with the groundwork for the design laid and cultivated over the years. The couple scoured websites like Houzz for ideas and watched "endless hours of HGTV and YouTube," says Sonia, noting that Jibin was keen to take advantage of a custom-build to make every detail fit—with a twist. Almost every furnishing except the sofa was bought online, sight unseen. "This requires a lot of patience and the ability to visualize," says Jibin, who works in software as an IT senior manager of data analytics. "We have zero background in design, but both of us have a love for fashion. I also have a passion for interior design," he says, noting that he's addicted to home design television, particularly ones that highlight interiors in Paris, New York and Los Angeles.
A few pieces transferred from their previous home, which was just down the road: A vintage French balloon chair now holds a place of honor in their eldest daughter's room. But for the most part, the decor was new. "We tried to sell almost everything from our previous home because we wanted to start from scratch," Sonia says.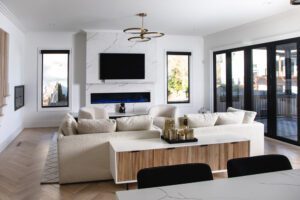 Showstopping design starts in the foyer and continues throughout. The primary bedroom and bathroom were a combination of Sonia's love of all-white and Jibin's preference for darker, moodier environs. "During the pandemic, we had a lot of time to think about the decor and changed many plans. Somehow we flip-flopped!" says Sonia. "We ended up with black. It's definitely a moody vibe in there." The bathroom is a reflection of the couple's travels, particularly to the Grand Hotel Villa Serbelloni on Lake Como, Italy.
"We'd never seen so much marble in a bathroom done so tastefully," Jibin says. "Although recreating that was out of our budget, we designed it in a way that evokes the feeling of being back in Italy." They used large, white and gray marble-like porcelain tiles on the floors, back wall and on all four sides of the shower, with a shower floor laid in a herringbone pattern.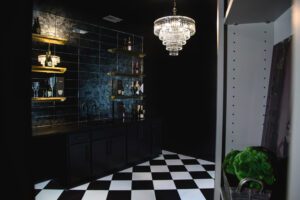 In the main living spaces, the two wanted warmth to blend seamlessly with contemporary styles. "We didn't want anything too trendy like an all-white look," Sonia says. They settled on a white, gold, brass and black theme for the heart of the home, with an all-important appliance: a Wolf double griddle stove. "It was on our wish list prior to building," she says. European white oak herringbone floors add a touch of Paris, and the sherpa fabric sectional and goop x CB2 ivory bouclé chairs keep things modern. A custom fireplace by Keystone Millworks with fluted hidden storage underneath and bespoke wine storage nearby rounds out the first floor.
The playroom for the couple's two daughters is a study in creative problem-solving. They wanted it to be vibrant but sophisticated and functional, so they added a Murphy bed to transform the space into a guest room if needed. As always, the two focused on the home holistically. "When you walk in the front door and see the black and white foyer, it's complemented by bright and bold colors on either side: blue and yellow in the playroom/guest room and green in the study," Sonia says.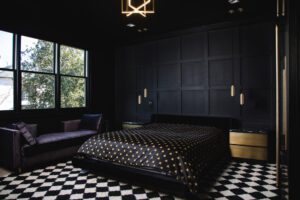 Another area of creativity: the speakeasy, a hidden room reflecting the couple's love of The Great Gatsby. "We wish we lived in Paris in the '20s [like F. Scott Fitzgerald]," says Jibin, noting that neither are huge drinkers, but they love the conversation that is often a product of sharing cocktails. Taking inspiration from the St. Regis hotels in Atlanta and New York, they plan to commission a large mural to reflect their cosmopolitan tastes.
When looking for a location, the couple found Brookhaven was a happy compromise, tying together Sonia's love of Manhattan and Jibin's affinity for Los Angeles. "I wanted to live closer to Buckhead, and Jibin wanted to be in an area that allowed for more space and bang for our buck," Sonia says. Jibin located the lot while browsing Zillow and presented it to the builder.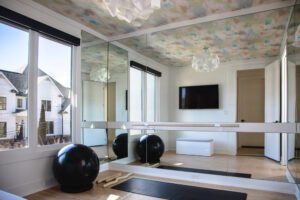 Despite the obstacles, the couple is thrilled with their home. "This house will always be an integral part of us, our family and our future," Jibin says. "We are extremely blessed to be where we are. Loving where you live is something we try not to take for granted. It provides peace, security and that 'home is where the heart is' feeling."
STORY: Lauren Finney Harden
PHOTOS: Erik Meadows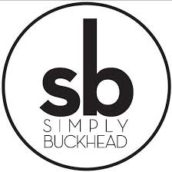 SimplyBuckhead
Simply Buckhead is an upscale lifestyle magazine focused on the best and brightest individuals, businesses and events in Buckhead, Brookhaven, Sandy Springs, Dunwoody and Chamblee. With a commitment to journalistic excellence, the magazine serves as the authority on who to know, what to do and where to go in the community, and its surroundings.