United for 25 years, it's a hub for creative energy and history.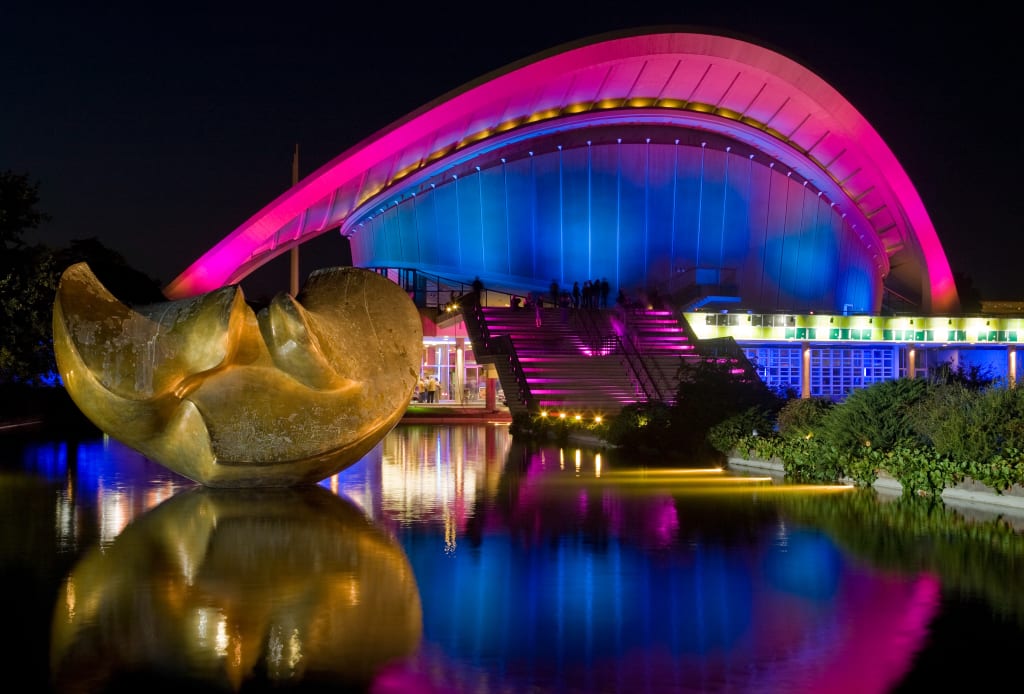 STORY: Ava Roxanne Stritt
There's something special about Berlin, Germany—a charisma, a charm, a stunning aliveness. You can feel the creativity, history and heart in everything from Berlin's hotels and gardens to spas and even the people.
Berlin recently celebrated the 25th anniversary of the fall of the Berlin Wall, which makes this the hotspot of Europe to visit in the coming year to see the limited-time special exhibits. The Berlin Panorama, for example, is a painting from artist Yadegar Asisi who lived beside the wall during the Cold War and is on exhibit until the end of the year just steps from Checkpoint Charlie. For many, it is time to rediscover "Deutschland" or uncover the depth of this cultural mecca for the first time.
The best way to travel to Germany is on the nation's flagship airline, Airberlin (depart from any city with its U.S. partners American Airlines and US Airways), preferably in business class. First the flight attendant welcomes you with a flute of Champagne and helps you get acclimated to your pod-like seat. The amenities are topnotch, right down to a chair-massage option on its new lay-flat reclining chairs.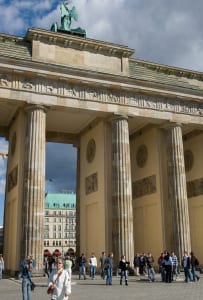 For your stay in Berlin, choose the Westin Grand Berlin to take advantage of the special "Tear Down the Wall Package." It's a once-ina-lifetime opportunity to take a hammer and chisel to a piece of the actual Berlin Wall just as Berliners did 25 years ago. The almost 12-foottall piece was relocated to the hotel and now resides on a movable platform on the outdoor patio beside the entrance. As part of this package, which will be available until the last chip is hammered, the Westin will serve you a Berliner's favorite, Currywurst, a Berlin-style curried sausage, along with a flute of Champagne— a hearty meal after all that hammering.
And while you are there, choose a spa suite from the Westin's 400 new rooms to embrace wellness during your stay. They're beyond luxurious, all the way from soaking tub- level TV remote controls down to the custom Swarovski crystal lighting in the bathrooms. They were so bright and sparkly that I almost wanted to put my sunglasses back on while in the bath!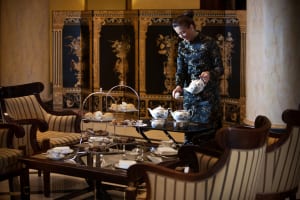 For those who adore afternoon tea, one dining option not to miss is the delightful, authentic "Afternoon Tea" ceremony, called "Mariage Frères," at The Ritz-Carlton, Berlin. Hot herbal teas in dainty teacups are served with a side of finger sandwiches and a scone—a delicious way to relax after a long day of shopping near Potsdamer Platz. Here, I found that tea could last for hours (as do all meals in this country). Coffee or tea is never to-go in Germany, but rather enjoyed in a proper cup along with a slice of cake, a pastry or at least a biscotti.
After a day of sightseeing and dinner, I was invited to grab a nightcap at the hottest spot in town, Fragrances, located inside The Ritz-Carlton. It features cocktails developed by visionary master mixologist Arnd Heissen. His creations are part science project and part edible art—Fragrances is the first cocktail lounge to combine the world of perfumes and aromas.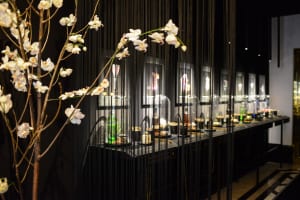 A very upscale club lounge with big comfy sofas, soft lights and spotlights exhibit the shadow-box displays showcasing the perfume bottles and essences, teas, flowers and herbs that make up the ingredients of the drinks. Many are familiar scents—like my favorite, from Guerlain—and tastes. You then select your drink based on your choice of scent and the ingredients that go into the liquid version of your nose's desire. It arrives in a vessel as creative as the drink itself, such as a little house with smoke rising from the chimney (molecular gastronomy at its finest).
Another sensory-appealing highlight of my trip was Berlin on Bike, which arranges fun group or private tours. Don't miss the Fairy Tale Fountain along your cycling journey, with over 100 sculptures of German fairy tale characters. I almost forgot I was in the city until we rolled past Berlin's famed street art. The city is everyone's canvas— Berlin embraces and celebrates street art, and, unlike the U.S., there are no fines.
Before the fall of the wall, East Berliners had their creativity stifled. Since the wall came down, their new found freedom to express themselves has never been taken for granted. The aftereffects: a flourishing art scene and seemingly unlimited imagination. Berlin preserves the past, while creating beauty for the future.
IF YOU GO:
AirBerlin
airberlin.com
Berlin on Bike
berlinonbike.de/en
The Ritz-Carlton, Berlin and Fragrances
ritzcarlton.com
The Westin Grand, Berlin, starting at $170
westingrandberlin.com
Visit Berlin
visitberlin.de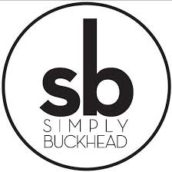 SimplyBuckhead
Simply Buckhead is an upscale lifestyle magazine focused on the best and brightest individuals, businesses and events in Buckhead, Brookhaven, Sandy Springs, Dunwoody and Chamblee. With a commitment to journalistic excellence, the magazine serves as the authority on who to know, what to do and where to go in the community, and its surroundings.