Float the remaining days of summer away on one of the season's hottest trends: luxury inflatable rafts, which prove as practical as they are stylish and are continually endorsed by celebs on social media.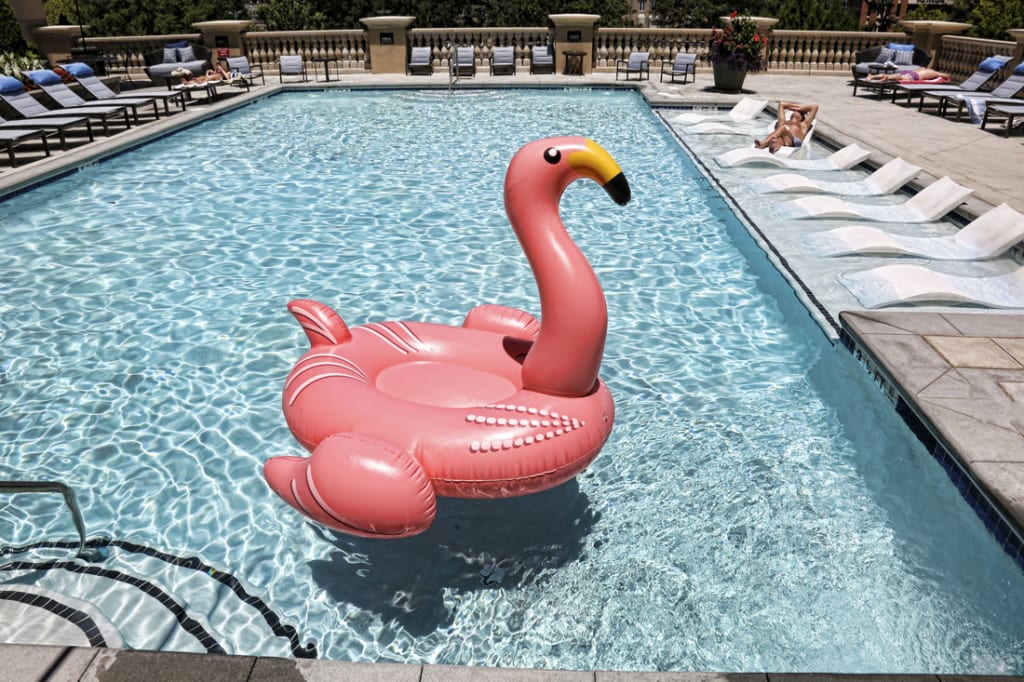 These picture-perfect adult floats will have you ready for end-of-summer BBQs, beach outings and pool parties. Ride-on, lie-on, float or play, having fun in the sun has never looked better.
1. Swimline Giant Flamingo Pool Float ($119)
Since making its debut on celebrity Instagrams, Swimline's perky pink bird has become the status quo of summer pool parties. It's big enough to fit two adults or a trio of kids, and the flamingo's wings give it extra stability so you don't go flying off into the deep end.
Brookstone
Lenox Square
3393 Peachtree Road N.E.
Atlanta 30326
404.841.9004
brookstone.com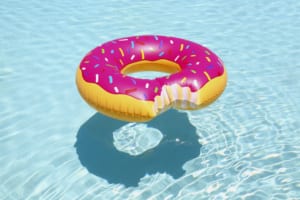 2. Giant Strawberry Frosted Donut with Sprinkles Float ($19.99)
Take a bite out of summer with this tasty donut float, complete with icing and sprinkles. A far cry from the traditional black tube, it will have your inner child swooning. It's more than 4 inches thick and made with durable vinyl. Floating down the Hooch has never been so fashionable.
Bed Bath & Beyond
1 Buckhead Loop N.E.
Atlanta 30326
404.869.0457
bedbathandbeyond.com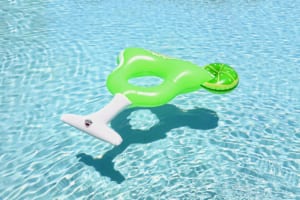 3. Margarita Pool Float ($24.99)
Skip the hangover, kick back and drink up the sun on this 6-foot-long margarita, sans the salted rim. It's great for the pool, as a Snapchat prop or a fun gift for that friend who loves to throw back a cocktail or two.
Total Wine
3954 Peachtree Road
Brookhaven 30319
404.816.7249
totalwine.com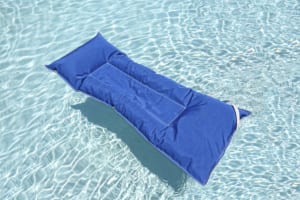 4. Kai Water Hammock ($99)
Forget the blow-up float. The Kai Water Hammock is like a waterbed that provides stable, cushioned comfort in the water or on the deck. It has millions of buoyant microbeads to keep you afloat and at ease. Lie back, relax and enjoy easy, even support and built-in pillows for your head and legs.
Frontgate
Phipps Plaza
3500 Peachtree Road N.E.
Atlanta 30326
404.841.7170
frontgate.com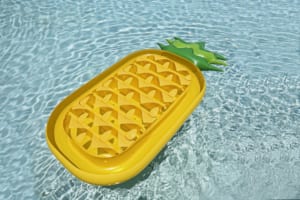 5. Sunnylife Luxe Lie-On Pineapple Float ($60)
Add a tropical vibe to the pool or beach with this festive, fruity float. Sturdy and colorful, it invokes visions of piña coladas and palm trees swaying in the breeze.
Swoozie's
4285 Roswell Road N.E.,
Suite #10
Atlanta 30342
404.252.7979
swoozies.com
STORY: Jessica Dauler
PHOTOS: Sara Hanna