This husband and wife team are breathing new life into the family jewelry business—and their careers.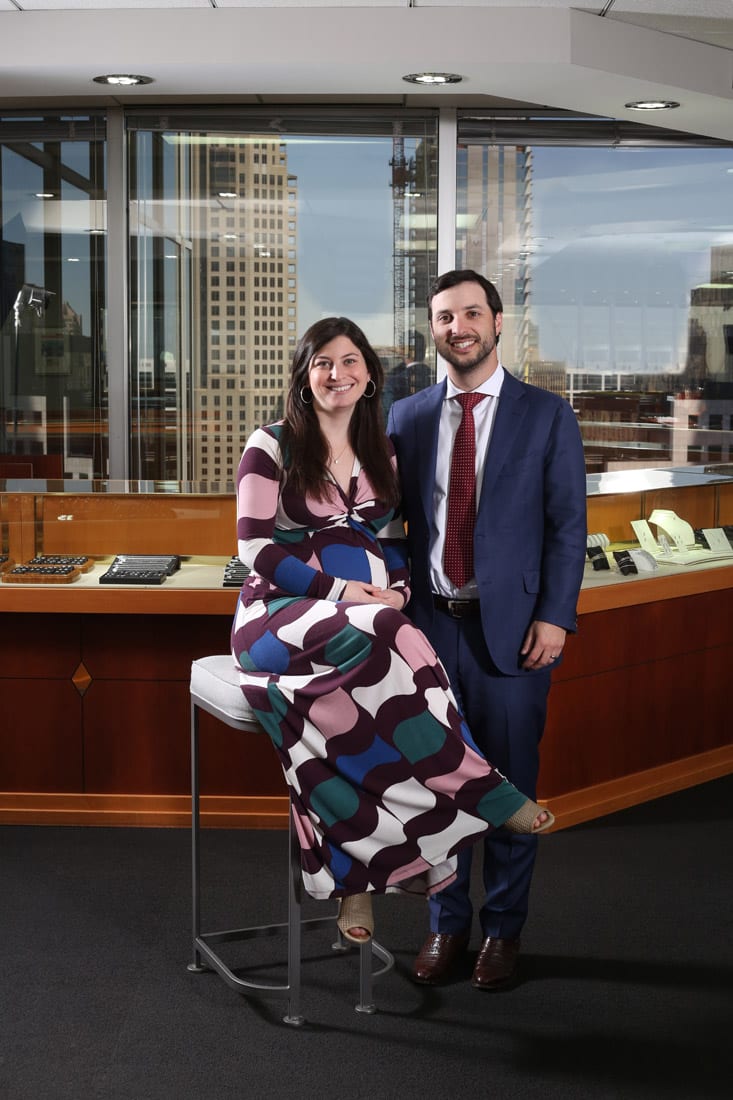 STORY: Karina Antenucci
Neither Jaron nor Alli Solomon planned on joining the family business. The married couple, who started dating 10 years ago during their freshman year at the University of Georgia, were following different paths. Alli was in public accounting at Deloitte; Jaron was going through the management program at E. & J. Gallo Winery, selling wine and liquor to distributors. But when Ivan, Jaron's father and the co-founder of Solomon Brothers Fine Jewelry, became ill in 2009, Jaron began lending a helping hand. In 2012, he came onboard full-time, at first as salesperson, then in 2017, after his father passed, taking the reins as the company's president.
"It certainly has been the greatest honor of my life," says Jaron of the jewelry business that's been a fixture on the Buckhead scene for more than 35 years. "My father was the oldest brother of three, and growing up he made us all feel like it was our company. Our whole family, including my two brothers, looks out for the business and supports us. We're all trying to carry on what my dad started." Jaron's uncle, Anthony, is the CTO and CFO, and his mother, Rayna, continues to consult and handle HR for the company.
Alli, who assumed the role of controller in 2018, adds, "The real dynamic duo is Jaron and his dad, because his dad started it from the ground up. To see Jaron show it the same love and nurturing and passion now is really something."
Jaron jokes that he doesn't think he really gave Alli a choice in the decision to join the business. "Alli brought to the table tons of data," says Jaron. "She's a qualified CPA, but what she's bringing to the table is new inventory controls and a transformation of the inventory itself. We now use analytical data on what's trending. The company is running a lot differently in the last 12 months than it has in the last 20 years."
The next-gen Solomons are looking at various ways to bring modern-day touches and a "user friendly experience" into an old business. They are exploring a complete rebrand and remodel of the store by Christmas. "Our biggest challenge is how to get people to have fun jewelry shopping," says Jaron. "Yes, it's important to have the best price and quality, but that's not enough anymore. People want the experience as well."
With the goal of attracting more customers between 25 and 40 years old, store updates could include brightening up display cases, offering a "diamond bar" where you can try on jewelry without a salesperson hovering and putting games on the store TVs during football season and offering discounts that align with team scores. In addition, they are focusing marketing efforts on Instagram and Pinterest as well as influencers to share their experiences.
Even the company name is changing. It will be Solomon Brothers Jewelers, losing the "Fine" to be more representative of the array of jewelry selections across all price ranges. "We are on the 17th floor of a Buckhead high-rise and are called 'Fine Jewelry.' It can seem to some as high-end and unaffordable, and that's not the case," says Alli.
The couple, who got married in Alli's hometown of Savannah in 2015, are expecting their first child this June. "Even though we're having a baby, the business is kind of like our baby, too. It's been nice to focus on it together and see what we can start to make happen," she says.
While the business can easily dominate their conversations and time (Jaron currently works seven days a week), the Solomons make it a point to go out to dinner and talk about something else. "We spend a lot of money on food," jokes Jaron. "On a Saturday night, we go to places like Bones or Chops. We love the Buckhead restaurants."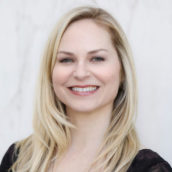 Karina Antenucci
Managing Editor and Kids Columnist at Simply Buckhead. Wellness & Beauty Writer, Certified Holistic Health Practitioner and Mother.