Buckhead CEO named "Father of the Year"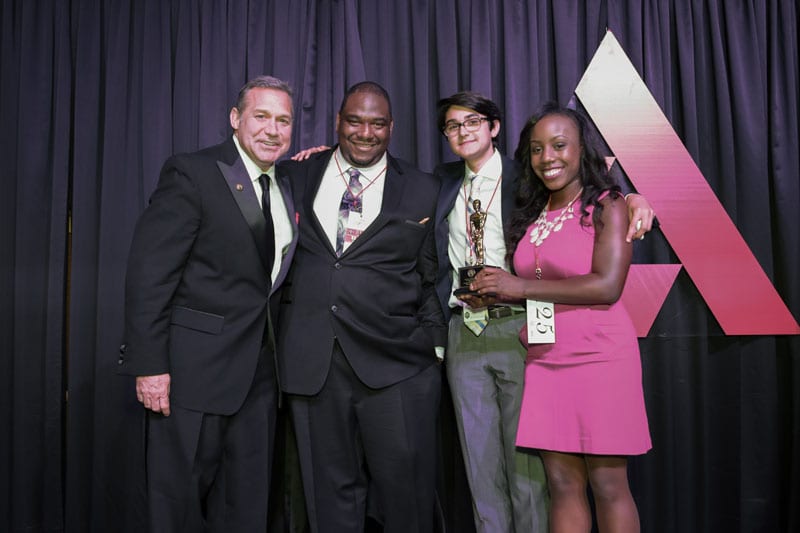 When Vince Thompson, CEO of Melt, a Buckhead-based sports marketing firm, was named "2015 Atlanta Father of the Year" by the American Diabetes Association, his adopted family—Gwen Johnson, her son, Stefhan, and daughter, Chelsea—led the applause.
Thompson was nominated by his colleagues for helping "raise" the Johnson kids, as well as successfully co-parenting his 15- year-old son, Carter Jackson, with his ex-wife, Tracey. He also serves on the board of The Showcase Group, which mentors kids in the Georgia juvenile justice system, and is a fundraiser for the American Diabetes Association, the Arthritis Foundation, and Wellspring Living, an organization that assists victims of sexual trafficking.
"To me, he's not extended family; he's my brother, a wonderful person with a heart of gold," Johnson says. The families met in 2000 when Johnson filled the role of babysitter for Thompson's son. Caught between paychecks with little food, she asked for an advance of $20. "Instead, Vince gave me a check for $150 and told me to let him know if we were ever in need of anything," Johnson recalls. "I had never met anyone like him. Within a short time, we became one family."
Fast forward to 2015. Johnson, who now oversees childcare for Melt, recently bought her first home. Her kids are also excelling—Stefhan is a student at DeVry University and works at Melt; Chelsea graduated from Georgia State University and is applying to law schools.
"The Thompsons changed the direction of our lives and helped us become who we are," Johnson says.
Thompson shrugs, "If everyone helped one family break the cycle of poverty, the impact would be enormous and many societal problems would disappear."
BY: Mickey Goodman
For more information, visit meltatl.com, diabetes.org
Mickey Goodman
Award-winning Ghostwriter, Journalist, Content Creator.