Kate Waddell brings her whimsical still life paintings to Atlanta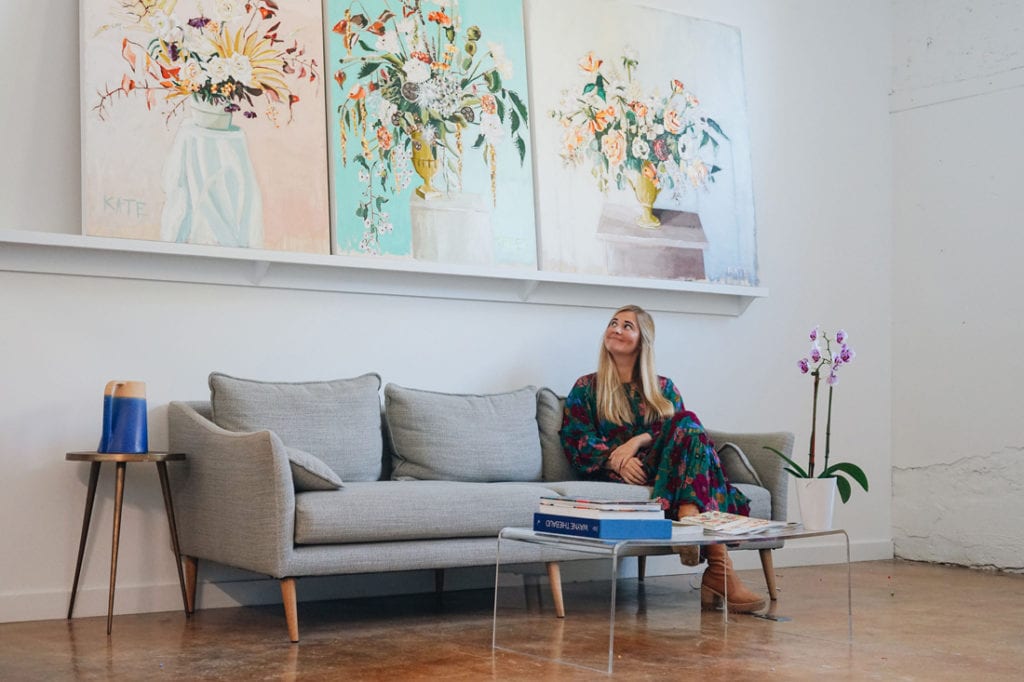 Kate Waddell's art journey almost ended after her first painting class at the College of Charleston. The session, which involved painting a draped towel, revealed Waddell's classmates "smooth and classic lines and gradients." Her painting, however, looked much more geometric and saturated. "When I stepped back to look at mine, it looked like it belonged in the Cubism movement. I saw immediately that I innately painted differently than everyone in the class, and I didn't know until later that that was actually a good thing," she recalls. Thankfully, she returned for more lessons and earned her degree in Studio Art. Today, Waddell captures a whimsical and colorful world with subjects ranging from flowers to fruit.
The 27-year-old Columbus, Georgia native and burgeoning artist recently moved to Atlanta to further her career. She set up shop in Buckhead within Tula Art Center at 75 Bennett Street, which shares a space with The Museum of Contemporary Art of Georgia, and houses several other artists. It is exactly what Waddell was looking for when she chose to move here. "I was always intimidated by living in such a big city like Atlanta, but after frequent visits to see friends, I really fell in love with it and all it has to offer for creatives," she explains.
Waddell's most striking works are her large-scale flower still lifes. Using inspiration photos of arrangements found on Pinterest, she paints their organic shapes. Stems bend with frond weight, leaves spill over edges and petals protrude from various angles. Her work, which is sold through her eponymous website and at Gregg Irby Gallery on the Westside, is playful and youthful yet elegant and poised. Waddell often chooses punchy background hues such as peacock or chartreuse to complement her splashy florals painted in pinks, oranges and purples. "As my style continues to evolve, I think what makes it consistently my own is my innate stroke and use of high-contrast colors. I am thankful for how different my style continues to be!" she says.
Instagram has played a key role in gaining the up-and-coming artist some attention. There, Waddell showcases her work and tips off her 14,000 followers to new releases. "I doubt that without social media I would be where I am today with my art. It's great to be able to connect with others and to be exposed to such different styles. Social media has made it much more possible for people to be professional creatives," she says.
Recently, Waddell has been drawn back into portraiture and has been especially enamored by post-Impressionist painter Vincent Van Gogh. "I fell in love with painting through portraiture, so I would love to revisit them for a collection," she explains.
Coming first, however, is a summer florals series, her first collection completed since her move, that the artist hopes to release this season. After that, she aspires to start her own line of textiles and fabric for home decor. Either way, Waddell won't be straying too far from her roots. "I'm very drawn to bold and high-contrast color combinations, and I think I will always want to paint flowers. I can't seem to stay away from them!"
KATE WADDELL
katewaddellart.com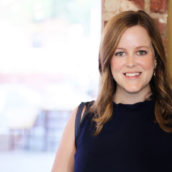 Nicole Letts
Wellness columnist at Simply Buckhead and dog columnist at Atlanta Pet Life. Lifestyle writer specializing in women's interests, travel, people and interiors.