1Kept offers a cool vibe and contemporary flair.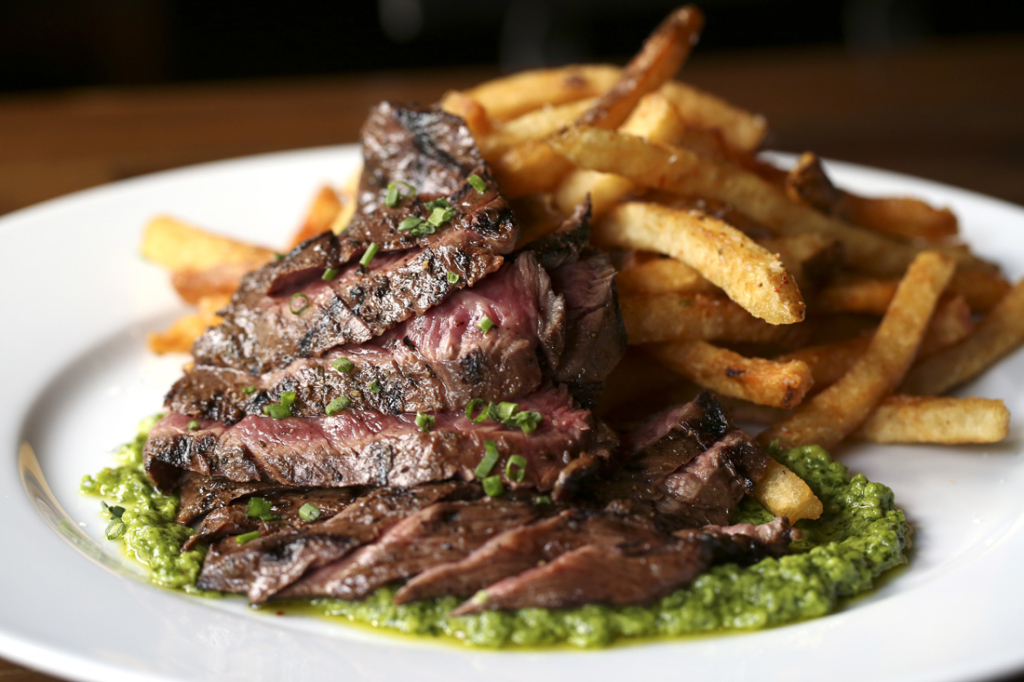 To get to this Peachtree Road restaurant, you have to drive down a steep hill next to Moroccan mainstay Imperial Fez and bear left into a parking lot where there is no valet. The owner, a tall, American-born dude who lived in Germany as a youngster and later attended the Atlanta International School, is liable to be standing on the balcony. He may notice you secretly cussing as you try to get your car into one of the tight spaces. He's with you, bro. He just wants you to come in and relax, to see what he's done with this hidden, club-like space that for years housed the old-school French restaurant Toulouse.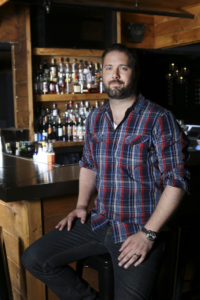 Our one-man welcoming committee is proprietor Thaddeus Keefe, a restaurateur who resists structure, formality and pigeonholing at this tucked-away spot— appropriately named 1Kept. Before he set up shop here just a little more than three years ago, the 33-year-old former Army brat was a partner at Tuk Tuk Thai Food Loft just down the street. He got into the industry young, washing dishes at Mellow Mushroom in Tucker at 14. Over the years, he's honed his philosophy. 1Kept, where the cooking reflects everything from Keefe's time in Stuttgart to his years in the American South, is untraditional in many regards. Keefe, as evidenced by his hearty welcome, believes in customer service and hospitality and eschews hierarchy. You won't find a pedigreed and pampered executive chef here. 1Kept's kitchen is manned by three cooks who work as a collaborative team; there is no beverage program manager, either. Servers, even Keefe himself, roam the room, taking orders, checking in on diners, maybe offering a complimentary bar nibble or dessert.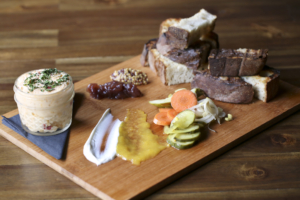 As I discovered here on two recent visits, 1Kept tries very hard, sometimes too hard, and mostly succeeds in its aim to be one well-kept neighborhood secret and haven of cool. (Though I try to keep up with Atlanta restaurant comings and goings, I had never heard of this place until colleagues mentioned it recently.) A big, warehouse size room with a bar at the center and an open-kitchen on one side, it felt, on the early Sunday evening I dropped in with friends, like a disco waking up from a weekend hangover—an appealing vibe for a Sunday fun day. The crowd, which skews in the 30s, may have thought we were Toulouse holdovers, but no one cared.
It was cocktail hour. My Sazerac hit the spot. The pimento cheese board, with toasted sourdough and house-made pickles, jam, mustard and a fruity ketchup-style condiment, was perfect for sharing. A seasonal salad of beets and fresh strawberries on a bed of arugula, with bits of blue cheese and candied pecans and hints of rhubarb and Meyer lemon, was bright, pristine, lovely and so delicious.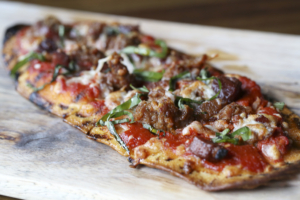 On a second visit, I was smitten, too, with the succotash and bone marrow, a mélange of charred cabbage, Jerusalem artichokes, red pepper and vaquero beans. The dish comes with a giant, sawed-in-half beef bone on top that the server scraped and tossed into the pile, suggesting I take the bone home to my pooch. (And let me tell you: She loved that bone!) A warm kale salad, in which chorizo, quinoa, carrots and raisins are tossed with chili-oil vinaigrette, wasn't warm enough to soften the greens. It needed more time and patience for the flavors to meld. The Hogs of War flatbread, topped with chorizo, bacon, mozzarella and more of that chili oil, was a decent nibble yet hardly memorable. (The "arrabbiata sauce" was a tad sweet, redolent of tomato paste.)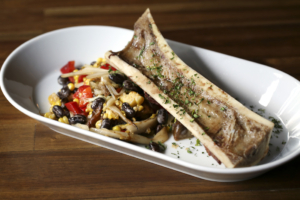 On the whole, I found the food and craft cocktails here rather labored—too many ingredients and flavors for the true flavors to shine. The Heart of Rye cocktail—a mix of Aperol, Cynar, sweet vermouth, bitters and rye whisky—was not bad, but tasted a bit like cola syrup, and slightly watered down at that. The secret ingredient of My Mai Tai was German amaro" (aka Jagermeister), which made the silver rum, orgeat, orange and lime concoction more cloyingly sweet than a classic rum-and-pineapple Mai Tai. Not my thing. And if you are an Old-Fashioned purist, you might not like the addition of walnut, unless it's winter.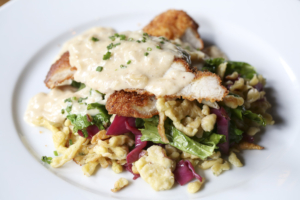 Moving along to entrees, chicken schnitzel with a creamy herb spaetzle was tasty yet so complicated in its presentation (braised red cabbage, green beans and heavy slathering of caramelized onion cream) that I didn't know where to begin to put the fork. Ditto the fried Maryland soft-shell crab. It tasted good, though the crab was over-breaded and seasoned and surrounded by quite a 1Kept is an exercise in collaboration, with three cooks manning the kitchen. busy pile of stuff (grits, creole broth, cucumber relish). Still, the warm bottle of house-made Fresno chili hot sauce was a nice touch.
Though the cooks rarely keep a dish simple here, when they do, it tends to work and work well. This applies to a terrific Cabernet-marinated skirt steak, with perfect fries, a swirl or two of chimichurri and black-garlic aioli. If there's a better steak-frites in town, I'd like to know where.
Unlike the rest of the fare, the desserts don't try so hard to be modern. The approach pays off. I very much enjoyed a homespun piece of pecan pie a la mode; a palate-cleansing pair of not-too-sweet sorbets ("wildberry" and mango); and an exquisite, warm caramel brownie with a scoop of vanilla. The latter arrived at the end of our long Sunday respite. We already had three desserts on the table, but Keefe couldn't help himself. "I just wanted y'all to try it," he says, plopping the brownie before us, gratis.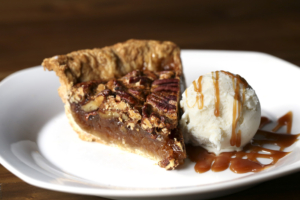 So here's the takeaway: Keefe, it would seem, is living the dream. His place may have a front door in back of a building on a noisy little strip of Peachtree. But by God, he wants you to get inside this place and give it a go. I'm down with that. And all minor culinary quibbles aside, I think you will be, too.
1KEPT
2293 Peachtree Road, Suite B
Atlanta 30309
404.254.1973
1kept.com
Prices: Salads, starters and flatbreads, $6-$14 Entrees: $20-$27
Recommended: Sazarac cocktail. Pimento cheese board. Beets and strawberry salad. Succotash and bone marrow. Steak frites. Pecan pie. Caramel brownie. Sorbets.
Bottom line: A stylish spot for the young and affluent.
STORY: Wendell Brock
PHOTOS: Sara Hanna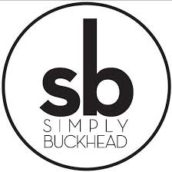 SimplyBuckhead
Simply Buckhead is an upscale lifestyle magazine focused on the best and brightest individuals, businesses and events in Buckhead, Brookhaven, Sandy Springs, Dunwoody and Chamblee. With a commitment to journalistic excellence, the magazine serves as the authority on who to know, what to do and where to go in the community, and its surroundings.