A sampling of great eats in and around Buckhead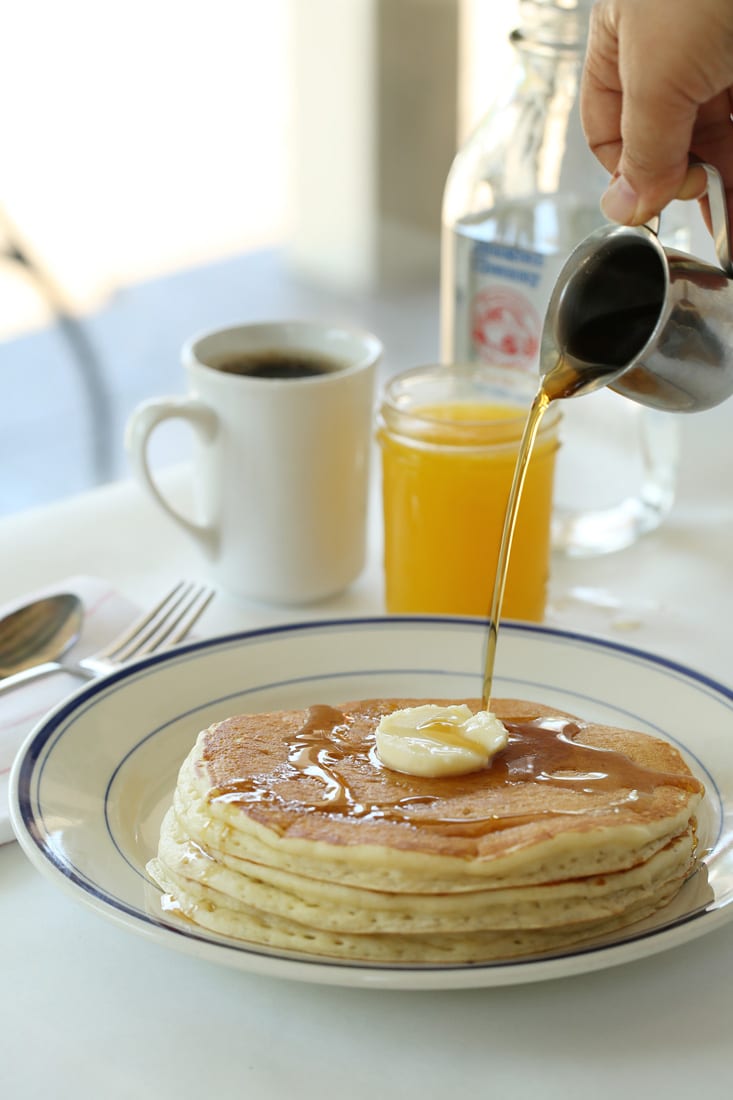 BY: Wendell Brock, Rebecca Cha and Angela Hansberger
PHOTOS: Sara Hanna
1KEPT KITCHEN & BAR
This hidden, club-like space took over the home of old-school French restaurant Toulouse in 2013. Manned by a trio of chefs with equal authority, the collaborative kitchen strives to keep up with the contemporary culinary game. When they nail it—with the likes of pimento cheese boards, fresh seasonal salads, old-fashioned pecan pies, killer brownies and what is surely the best steak frites in town—you'll find yourself sated and happy. Start with a classic Sazerac. Then drink in the ambience. Proprietor Thaddeus Keefe attended Buckhead's Atlanta International School as a lad, and this is his vision of the neighborhood of today: young, prosperous and ready to embrace the good life.
Salads, starters and flatbreads: $6-$14
Entrées: $20-$27
BANGKOK STATION
Of all the restaurant staffs in Buckhead, these folks may be our favorite. Polite and accommodating to a fault, they make it nearly impossible not to enjoy its exotic comfort food. Whether you eat in the cavernous dining room or out on the sexy, music-infused patio, starters such as peek gai tod, thoong-thong and Crying Tiger will crush any doubt you may have about whether there's good Thai food down South. For more substantial but no less authentic fare, dig in to the massaman and panang curries, Drunken Man noodles or our favorite Thai chicken dish, gai yang som tum. Save room for homemade coconut cake; it's as sweet and genuine as the staff's warm invitation to return again soon.
Starters, soups and salads: $7-$23
Curries, sautés and noodle and rice dishes: $14-$23
Main entrées: $19-$32
Desserts: $5-$9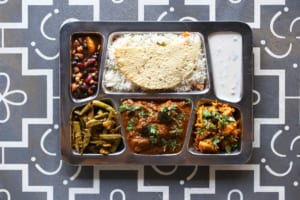 BHOJANIC
After a couple of meals at this North Indian restaurant, we've come to admire the flavorful, long-simmered, aromatic home cooking. The samosa chat was a wonderful smash-up of potato-and-pea samosas topped with tamarind and mint chutneys and cool yogurt. As for the entrées, we loved the intensely flavored goat curry and wanted to sop up every drop of the gravy with rice. This second location of Archna Becker's beloved Decatur restaurant is an appealing minimalist space, and it's easy to get in and out and have a solid and affordable meal.
Tapas and appetizers: $4-$9
Entrées: $12-$18
BUTTERMILK KITCHEN
Chef Suzanne Vizethann offers thoughtfully handcrafted food in a room as pure and simple as its namesake drink. Southern classics are the foundation of this Roswell Road breakfast-and-lunch spot, and you can't go wrong with the Brunswick stew, chicken salad, pimento cheese or the fried chicken biscuit with pepper jelly and pickles. Vizethann's love of sweet confections really shines at weekend brunch, when folks line up in front of the inviting brightblue cottage for the likes of toasted blueberry coffee cake and poppyseed pancakes with strawberries and lemon curd.
Breakfast dishes: $8-$13
Salads and sandwiches: $8.25-$11.50
CAFÉ LAPIN
Like a Parisian patisserie with a bit more legroom, Café Lapin is a lovely place to savor handmade baked goods or spoon to the bottom of a definitive, cheese-encrusted crock of French onion soup. A small business surviving largely on word of mouth, Café Lapin is a casual, moderately priced restaurant where lunch is never an afterthought. You may get a serious cheeseburger and fries or an elegant slice of asparagus tart. Quiches are standard setting— the crust is arguably the best in town—and selections vary daily, from Lorraine to mushroom and onion to ham and asparagus. Café Lapin is such a delightful addition to the city … only problem is, it might be habit-forming.
Lunch entrées: $7-$12
Dinner entrées: $10-$22
ECLIPSE DI LUNA
At the tail end of Miami Circle is one of the most convivial joints in town. Head over for happy hour Monday through Thursday when most drinks and tapas are half price, and there's live music. Yummy small plates of habanero-spiced ahi tuna ceviche, smoky sun-dried-tomato mac and cheese (made with three different cheeses) and refreshing Granny Smith apple salad are some of our favorites. Still hungry? It's hard to pass up the succulent balsamic-y spare ribs and flavorful, crunchy calamari. If you're with family (or a family of friends), consider the exquisite saffron-infused paella, made with authentic Calasparra rice.
Tapas: $2.95-$14.95 (most in the $5- $8 range)
Large plates (for two or more): $20-$24
KATANA TEPPANYAKI & SUSHI
Inside the pan-Asian playground that is Katana, you'll discover a level of service and professionalism that's rare these days. Located on the busy Lenox Road strip, Katana is a serene haven where you can sip on exquisitely crafted cocktails while nibbling signature sushi rolls with names such as Sex and the City and Chanel Replica, as well as small plates of bang-bang shrimp and JG poke. If dining and theater are your pleasures, head back to the teppanyaki room and watch the chef toss and juggle ingredients, whipping up entrées of mouthwatering lobster tail, sea bass, filet mignon and more.
Lunch appetizers: $4-$10
Lunch mains: $10-$18
Dinner appetizers and salads: $4-$35
Signature sushi: $12-$20
Teppanyaki and mains: $18-$42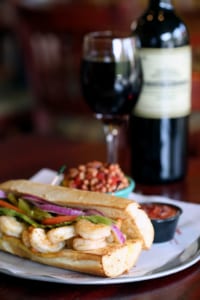 NEWK'S EATERY
This Mississippi-based chain has popped up in the Atlanta market, and though it looks like a fast-food joint, it tastes like homemade. Salads—from shrimp remoulade salad to a delicious steak-and-blue-cheese version to old-fashioned chicken salad—are a standout. At this casual, family-friendly, crowd-pleasing spot you can also get sandwiches, pizzas and mac and cheese but, refreshingly, no burgers. We are pretty crazy about the sausage and pepperoni pie, with its thin crust and warm and gooey toppings. And who can resist a crispy rice treat with chocolate and peanut butter? Not us.
Salads, sandwiches and pizzas: $7-$11
THE ONE SUSHI +
This glam space wedged in the back corner of Brookhaven's Town Village is a neighborhood hot spot for Japanese small plates. The freshest fish flown in from Japan's Tsukiji Market will impress the discerning sushi eater, while colorful rolls with clever names please the occasional dabbler. Sharable offerings and inspired snacks of zesty, yellowtail jalapeño shots and crispy fried bangbang rock shrimp are as fun as they are tasty. The drinking experience is worth celebrating as well, with a large selection of sake, shochu and whisky. We recommend the smoked toro, tender slices of tuna served under a dome of hickory smoke and the bulgogi-like Gangnam-style roll.
Dinner: $6-$37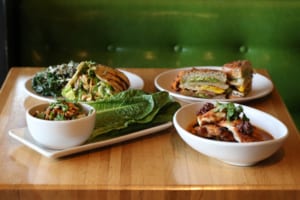 TRUE FOOD KITCHEN
Don't be put off by the mobs of hipsters waiting for a table or the funky menu items with unfamiliar ingredients such as hemp, flax and chia. Though it could easily be mistaken for an ephemeral, crunchy beardo hangout, True Food Kitchen is here to stay—not just because of its good intentions and exemplary karma, but because of its tasty eats. Favorites include the shiitake lettuce cups, spring asparagus toast and the T.L.T. (tempeh, lettuce and tomato) sandwich. Good for the uninitiated are the margherita pizza, steak tacos and Mediterranean chicken pita. Recommended drinks include the non-alcoholic Cucumber Cooler and Medicine Man tea or the buzz-inducing lemongrass margarita, citrus skinny margarita and Strawberry Smash.
Starters and vegetable plates: $7-$13
Salads and bowls: $10-$14 (added protein $3-$9)
Pizzas and sandwiches: $12-$16
Entrées: $14-$26
THE WHITE HOUSE
At this venerated breakfast nook, you'll find Atlanta movers and shakers in ties and starched shirts huddled over omelets and pancakes. But regardless of a guest's status, owner Demos Galaktiadis, who came to America from Greece in 1966, treats everyone the same. He has run this Peachtree Road institution for 45 of its 68 years, and over time, the food has evolved into a unique combination of home-style Southern and Greek standards. At lunch, you might have moussaka and collards or fried grouper and a Greek salad, finished off with a dish of banana pudding. But breakfast is king here. We recommend the Olympic omelet, stuffed with spinach, tomatoes, onions, mushrooms and peppers and served with a side of tzatziki, or a breakfast sandwich laden with sausage, cheese and egg.
Breakfast: $6.40-$15.30
Lunch: $6-$16.70
404.237.7601
Angela Hansberger
Drinks columnist at Simply Buckhead. Food, spirits, and culture writer.