A sampling of great eats in and around Buckhead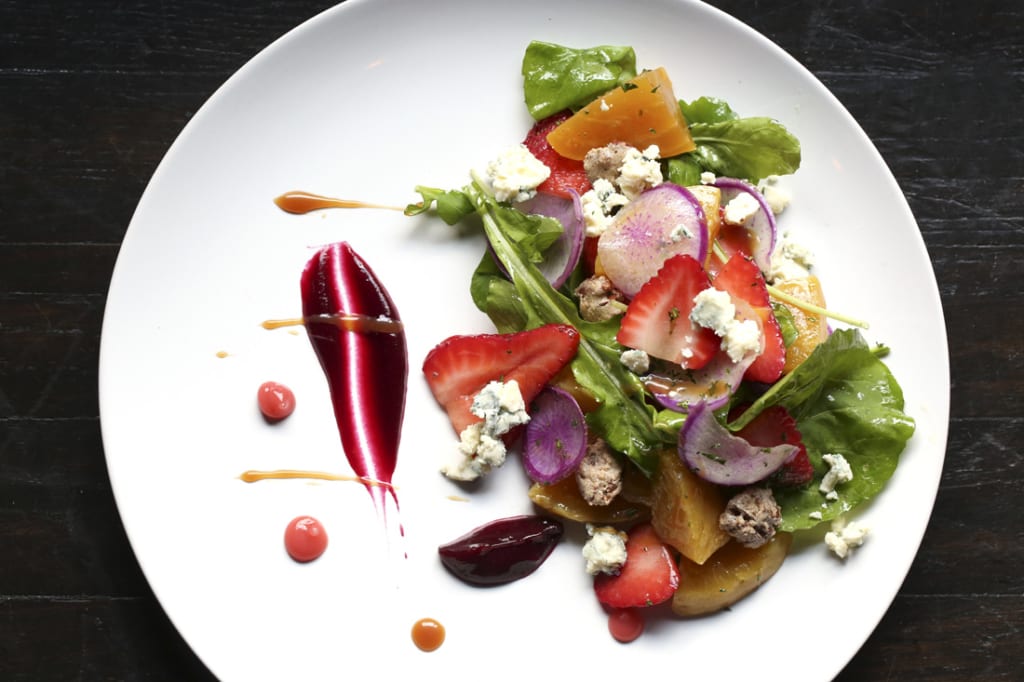 BY: Wendell Brock, Rebecca Cha and Angela Hansberger
PHOTOS: Sara Hanna
1KEPT KITCHEN & BAR
This hidden, club-like space took over the home of old-school French restaurant Toulouse in 2013. Manned by a trio of chefs with equal authority, the collaborative kitchen strives to keep up with the contemporary culinary game. When they nail it—with the likes of pimento cheese boards, fresh seasonal salads, old-fashioned pecan pies, killer brownies and what is surely the best steak frites in town—you'll find yourself sated and happy. Start with a classic Sazerac. Then drink in the ambience. Proprietor Thaddeus Keefe attended Buckhead's Atlanta International School as a lad, and this is his vision of the neighborhood of today: young, prosperous and ready to embrace the good life.
Salads, starters and flatbreads: $6-$14
Entrées: $20-$27
1kept.com
BANGKOK STATION
Of all the restaurant staffs in Buckhead, these folks may be our favorite. Polite and accommodating to a fault, they make it nearly impossible not to enjoy its exotic comfort food. Whether you eat in the cavernous dining room or out on the sexy, music-infused patio, starters such as peek gai tod, thoong-thong and Crying Tiger will crush any doubt you may have about whether there's good Thai food down South. For more substantial but no less authentic fare, dig in to the massaman and panang curries, Drunken Man noodles or our favorite Thai chicken dish, gai yang som tum. Save room for homemade coconut cake; it's as sweet and genuine as the staff's warm invitation to return again soon.
Starters, soups and salads: $7-$23
Curries, sautés and noodle and rice dishes: $14-$23
Main entrées: $19-$32
Desserts: $5-$9
bangkokstationthaifood.com
BHOJANIC
After a couple of meals at this North Indian restaurant, we've come to admire the flavorful, long-simmered, aromatic home cooking. The samosa chat was a wonderful smash-up of potato-and-pea samosas topped with tamarind and mint chutneys and cool yogurt. As for the entrées, we loved the intensely flavored goat curry and wanted to sop up every drop of the gravy with rice. This second location of Archna Becker's beloved Decatur restaurant is an appealing minimalist space, and it's easy to get in and out and have a solid and affordable meal.
Tapas and appetizers: $4-$9
Entrées: $12-$18
bhojanic.com
CAFÉ AT PHARR
New Orleans owns the po'boy. Philadelphia has its cheesesteaks. Maine gave us the lobster roll. So … what about Buckhead? The neighborhood's defining dish is chicken salad, the classic bird-and-mayo spread that can be crammed in your mouth between slices of bread or eaten daintily with a fork. Thanks to the entrepreneurial zeal of Johnny Liu—whose Taiwanese immigrant parents opened the original Café at Pharr in 1993—this comfort food has become a new fast food. You have to love the story of Café at Pharr. An enterprising family comes up with a formula that charms and beguiles the locals: Fresh food served in an accessible and unfussy environment that never loses its friendly neighborhood feel.
Entrée sandwiches and salads: $7.50-$9.50
cafeatpharr.com
CAFÉ LAPIN
Like a Parisian patisserie with a bit more legroom, Café Lapin is a lovely place to savor handmade baked goods or spoon to the bottom of a definitive, cheese-encrusted crock of French onion soup. A small business surviving largely on word of mouth, Café Lapin is a casual, moderately priced restaurant where lunch is never an afterthought. You may get a serious cheeseburger and fries or an elegant slice of asparagus tart. Quiches are standard setting— the crust is arguably the best in town—and selections vary daily, from Lorraine to mushroom and onion to ham and asparagus. Café Lapin is such a delightful addition to the city … only problem is, it might be habit-forming.
Lunch entrées: $7-$12
Dinner entrées: $10-$22
cafelelapin.com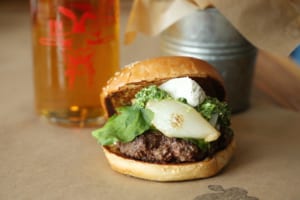 FARM BURGER
Of the locally pastured gourmet-burger chains, Farm Burger, which has a Buckhead shop on Piedmont Road near Tower Place, has long been a favorite. And it's hard to imagine a more decadent list of toppings for your grass-fed, dry-aged patty than oxtail marinade, apple slaw, red-bean chili, pork belly, bone marrow, cured lardo, bacon, fried egg or the six kinds of cheese. Keep your eye on the blackboard for seasonal specials, too. In spring, you might get a burger decked out with Vidalias and pesto; in summer, a dollop of peach chutney. While we don't normally pass on beer-battered onion rings, Farm Burger's sweet potato fries are irresistible.
Snacks: $2-$4
Burgers: $6.75-$8.50
farmburger.net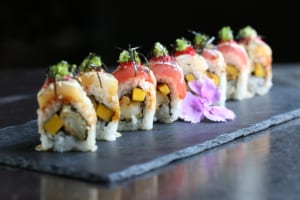 KATANA TEPPANYAKI & SUSHI
Inside the pan-Asian playground that is Katana, you'll discover a level of service and professionalism that's rare these days. Located on the busy Lenox Road strip, Katana is a serene haven where you can sip on exquisitely crafted cocktails while nibbling signature sushi rolls with names such as Sex and the City and Chanel Replica, as well as small plates of bang-bang shrimp and JG poke. If dining and theater are your pleasures, head back to the teppanyaki room and watch the chef toss and juggle ingredients, whipping up entrées of mouthwatering lobster tail, sea bass, filet mignon and more.
Lunch appetizers: $4-$10
Lunch mains: $10-$18
Dinner appetizers and salads: $4-$35
Signature sushi: $12-$20
Teppanyaki and mains: $18-$42
katanaatl.com
NEWK'S EATERY
This Mississippi-based chain has popped up in the Atlanta market, and though it looks like a fast-food joint, it tastes like homemade. Salads—from shrimp remoulade salad to a delicious steak-and-blue-cheese version to old-fashioned chicken salad—are a standout. At this casual, family-friendly, crowd-pleasing spot you can also get sandwiches, pizzas and mac and cheese but, refreshingly, no burgers. We are pretty crazy about the sausage and pepperoni pie, with its thin crust and warm and gooey toppings. And who can resist a crispy rice treat with chocolate and peanut butter? Not us.
Salads, sandwiches and pizzas: $7-$11
newks.com
ONE SUSHI PLUS
This glam space wedged in the back corner of Brookhaven's Town Village is a neighborhood hot spot for Japanese small plates. The freshest fish flown in from Japan's Tsukiji Market will impress the discerning sushi eater, while colorful rolls with clever names please the occasional dabbler. Sharable offerings and inspired snacks of zesty, yellowtail jalapeño shots and crispy fried bangbang rock shrimp are as fun as they are tasty. The drinking experience is worth celebrating as well, with a large selection of sake, shochu and whisky. We recommend the smoked toro, tender slices of tuna served under a dome of hickory smoke and the bulgogi-like Gangnam-style roll.
Dinner: $6-$37
theonesushiplus.com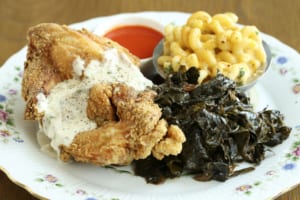 THE SOUTHERN GENTLEMAN
Both Southern food newbies and aficionados will take to this sexy gastropub, as smooth and easy as the finish of one of its primo bourbons. (If you're old school, go for the gloriously icy Resurgens mint julep; if not, there's no shortage of cocktail possibilities.) When your whistle's wet, dig in to favorite starters of spicy charred okra and PEI mussels in a whiskey cream sauce. Both will leave you smitten. Classics such as the shrimp boil, Springer Mountain half fried chicken and shrimp and grits with New Orleans barbecue sauce are all mouthwatering. And it wouldn't be Southern if there weren't sweets to make your toes curl in delight. Leave room for a nibble or two of brown butter cake or the favorite at our table—almond nougat semifreddo.
Small plates: $6-$12
Salads and sandwiches: $6-$13
Large plates (including brunch entrées): $13-$28
thesoutherngentlemanatl.com
WHITE HOUSE RESTAURANT
At this venerated breakfast nook, you'll find Atlanta movers and shakers in ties and starched shirts huddled over omelets and pancakes. But regardless of a guest's status, owner Demos Galaktiadis, who came to America from Greece in 1966, treats everyone the same. He has run this Peachtree Road institution for 45 of its 68 years, and over time, the food has evolved into a unique combination of home-style Southern and Greek standards. At lunch, you might have moussaka and collards or fried grouper and a Greek salad, finished off with a dish of banana pudding. But breakfast is king here. We recommend the Olympic omelet, stuffed with spinach, tomatoes, onions, mushrooms and peppers and served with a side of tzatziki, or a breakfast sandwich laden with sausage, cheese and egg.
Breakfast: $6.40-$15.30
Lunch: $6-$16.70
whitehousediner.com
Angela Hansberger
Drinks columnist at Simply Buckhead. Food, spirits, and culture writer.