Stately Buckhead hotel offers abundant opportunities for relaxation and luxury.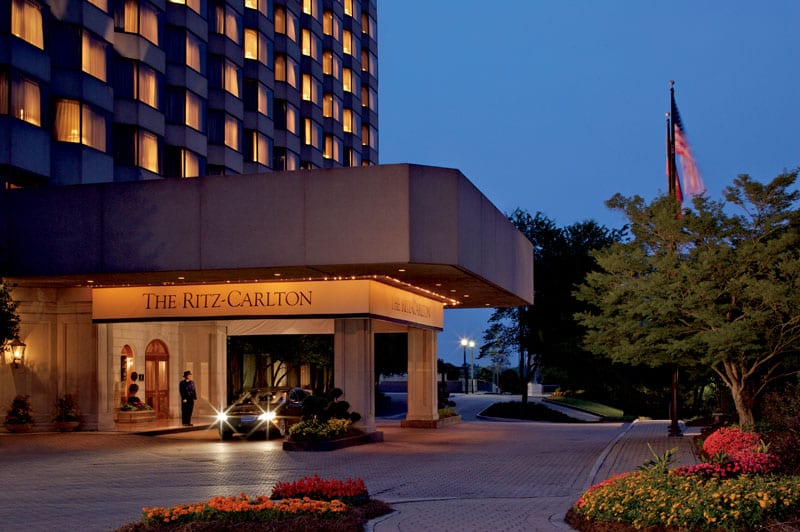 Give me a hotel where I can squirrel away for a weekend, hidden from civilization, and I am a happy camper. The crisp white sheets, the room service, the blackout shades, the "do not disturb" signs. Bellhop, take me away!
Disappearing for a day or two doesn't have to be complicated, either: Just set up an out-of-the-office email; send the dogs and kids to a sitter; throw some comfy clothes into a bag; call Uber and—voila!—vanish.
On two different occasions over the past year, I've essentially done just that, indulging in a bachelor weekend par excellence at the regal Ritz-Carlton, Buckhead.
Hotels always fascinate me. The lobbies and public spaces pulsate with people on the go, but behind every closed door is a story, a narrative, a sense of mystery. Once you step inside a Ritz elevator, each with its own little crystal chandelier, you are whisked away to a private, "members-only"-style experience where the hustle and bustle give way to elegant luxury.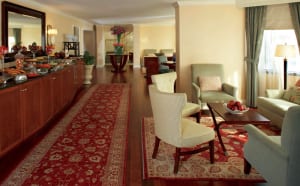 Open since 1984, the 22-story hotel boasts 510 handsomely appointed rooms and suites. The most magnificent digs on the property, the Ritz- Carlton Suite, comes with a grand piano, billiard table, panoramic city views and a whopping 1,800 square feet of space. (That's bigger than many homes, including my own.)
Depending on your mood, you can ensconce yourself on the Club or Wellness Level and never leave. If you want a massage, just tiptoe down the 9th-floor corridor of the spa wing, and let the healing hands soothe your aches. If you don't feel like dining out, the Club Level Lounge, on the 18th floor, operates like a cruise-ship buffet, offering breakfast, lunch, afternoon snacks, evening hors d'oeuvres and a decadent pre-bed dessert bar.
Such options are highly enticing when you want to wrap your head in a turban, don sunshades and channel your inner Garbo. (Privacy, please!) Should you feel like dealing with people (God forbid), there is world-class shopping at both Lenox Square, directly across Peachtree, and Phipps Plaza, across Lenox Road. You won't encounter crowds at the Ritz's commodious indoor saline pool, but you will find butler service on weekends. (Free sunglass cleaning, anyone?) And on Saturdays at 8 p.m., families can enjoy a Dive-In movie with popcorn.
With these and many other amenities in mind, here's a look at a few experiences that made my recent Ritz- Carlton stay-cations truly memorable.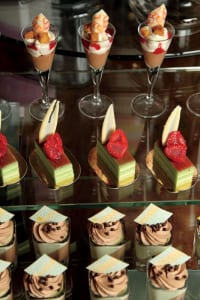 TYING ONE ON
Bow ties are de rigueur at the Ritz. Yet how many guys can knot one correctly? With that in the mind, the hotel offers bow-tie tutorials from 6 to 7 p.m. each Friday and Saturday in the main lobby. To help you soothe out the frayed edges, a bottle of bourbon sits at the ready. If bowties aren't your thing, it's amusing to watch from the couches nearby. I got myself in a dither trying to follow the kind-hearted instructor's gentle lesson, but in the end, patience paid off. A couple of fellows milling around sheepishly admired the tangerine-colored bow around my neck. "Nice job." My reward: A glass of Four Roses Small Batch on the rocks.
If the bourbon gets you all tingly, consider moving on to the Lobby Lounge. The beautifully decorated, wood-paneled room is one of the city's great hotel bars. Here you can sip a Sazerac or a Ritz Tea (mint and chamomile-and-citron-infused vodka with lemon and ginger beer) and nibble from delightful little dishes filled with cheese wafers, nuts and other salty snacks. From the vantage point of a leather armchair, you may also enjoy everything from crab cakes to steak-frites until quite late in the evening. High tea is poured Wednesday through Sunday afternoons, and some seriously good jazz can be heard Thursdays through Sundays.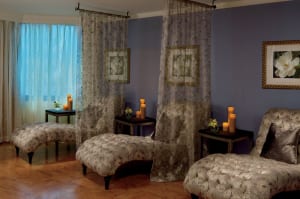 SPA BLISS
The minute you step from the elevator into the Wellness Level, the therapy begins. That's because the air of the entire spa floor is saturated with the soothing aroma of body products made of fragrant rosemary and mint. What a heavenly smell. While the rooms are equipped with yoga mats, inspirational reading material and videos, the spa itself is just down a hall so quiet you can hear a pin drop. Arriving at 9 a.m. on a Sunday morning, I was offered champagne or a mimosa and ushered into a beautiful relaxation area decorated with gauzy curtains and tufted chaise lounges. I wanted to linger here all day. Jill, my masseuse, had other plans. Her brisk handiwork revealed shoulders knotted up like that bowtie. But 50 minutes later, I had been reduced to putty. After forcing myself to take a long walk down Peachtree, I was ready for brunch. Or was I?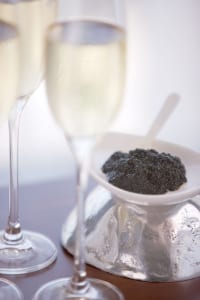 FOOD OF THE GODS
Two words of advice: Pace yourself. I had heard great things about the Ritz's famous Sunday brunch, but I had no idea how sumptuous it would be. Champagne and caviar. A seafood bar piled with oysters, shrimp, smoked salmon and crab. I would have been happy with these cold delicacies alone. But then I would have missed the endless presentation of charcuterie and cheese, omelets and waffles, pastries and bread, salads and sushi, yogurt and fruit, and hot foods galore: prime rib, roasted duck, shrimp and grits, and the most luscious creamed corn ever. (It was loaded with bacon.) And for dessert: killer crème brûlée, key lime tart, chestnut cake, eclairs. Three hours later, my guest and I managed to waddle off without assistance. Quite a memorable finale to a fantasy getaway. The only downside: It was time to go home.
THE RITZ-CARLTON, BUCKHEAD
3434 Peachtree Road N.E.
Atlanta 30326
404.237.2700
ritzcarlton.com/buckhead
STORY: Wendell Brock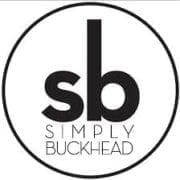 SimplyBuckhead
Simply Buckhead is an upscale lifestyle magazine focused on the best and brightest individuals, businesses and events in Buckhead, Brookhaven, Sandy Springs, Dunwoody and Chamblee. With a commitment to journalistic excellence, the magazine serves as the authority on who to know, what to do and where to go in the community, and its surroundings.