Sip waterside at the Hilton Head Island Wine & Food Festival… March 6-12, 2017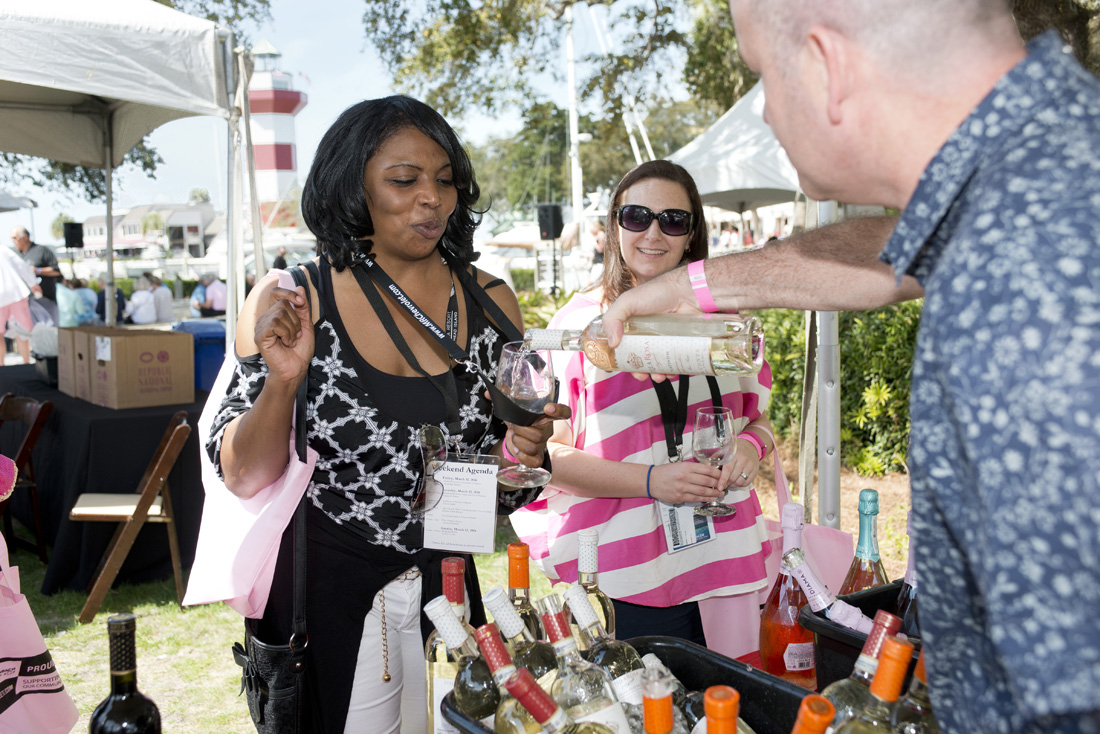 In March, the coastal town of Hilton Head, South Carolina, is at the height of its beauty—sans the hectic summer crowds. So when I was invited to attend last year's Hilton Head Island Wine & Food Festival at The Sea Pines Resort, I gave an enthusiastic yes.
Started 31 years ago (2017 marks the 32nd year), the festival is a weeklong affair punctuated by a number of tastings, workshops, dinners and presentations scattered around the island. When I attended with my mom last March, we opted to visit the festival's two biggest events: the intimate Grand Tasting on Friday evening, and the sprawling alfresco Public Tasting on Saturday.
The Grand Tasting was held at the handsome Harbour Town Clubhouse at The Sea Pines Resort and balanced elegant intimacy with relaxed Southern hospitality. After our drive from Atlanta (a 5-hour trip that weekend traffic bumped to more than 6), it was the ideal kickoff to the weekend. Though we couldn't sample all of the wines represented by the 30-plus wineries present, the breadth of options and the open dialogue among presenters and attendees made for a unique experience that was both delicious and educational.
Saturday's Public Tasting was, and is, the event of the festival and warrants the road trip. At the Public Tasting, dozens of wine distributors and representatives from around the country touting more than 250 wines from around the world took over the grounds of Harbour Town Yacht Basin. Armed with keepsake wine glasses, we were presented with an insurmountable number of wines to try that ranged from delicate, high-caliber blends to rosé-in-a-can (also delicious). In addition to the wine, there was live music, a silent auction and a cocktail competition.
While the wine flowed heavily and constantly with the price of admission, the food options were minimal. Last year, there was a food area where you could purchase a small bite from a handful of local restaurants for approximately $3 to $7. You're better off waiting for a cooking demonstration: Several throughout the day were held during the Sysco Outdoor Gourmet Challenge as part of the Public Tasting. Or take an Uber ride to local winners such as Coast or Ela's Blu Water Grille before or after the tasting.
If you can swing it, stay on the Harbour so the festival and area eateries are within a short walk, bicycle trip or car ride away. My mom and I stayed in one of The Sea Pines Resort's villas in Harbour Town within walking distance of the Public Tasting, Grand Tasting and area restaurants. Given the convenience, I'd stay there again; just note that the walls are thin, so if you're next to a group of partiers, you'll hear it all.
DEATILS:
Hilton Head Wine and Food Festival
hiltonheadwineandfood.com
The Sea Pines Resort
seapines.com
Villa rates starting at $229 a night; minimum two-night stay
STORY: Kelly Jordan
Photo: Rob Kaufman