Local company turning 85 performs 85 acts of kindness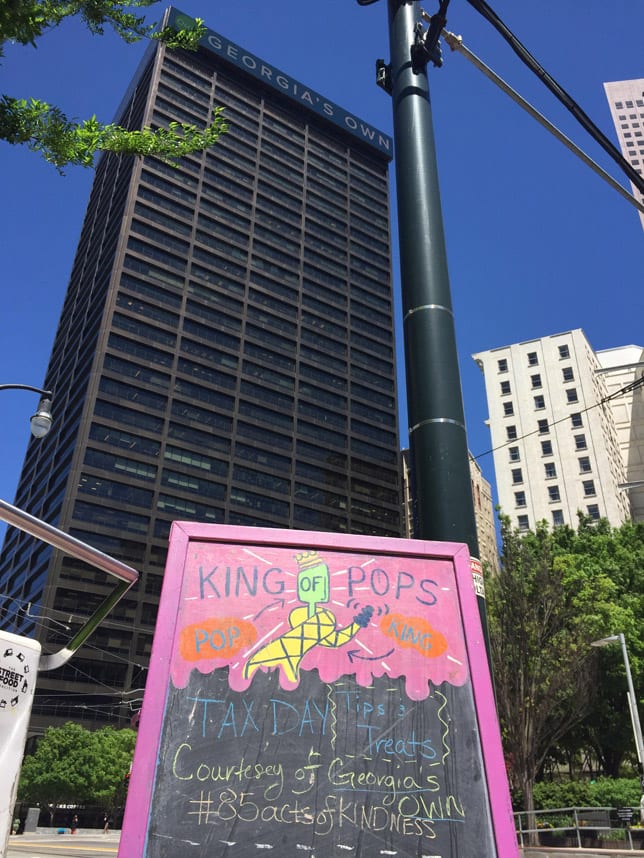 STORY: Mickey Goodman
As the 85th anniversary of Georgia's Own Credit Union approached, its leaders cast about for a significant way to celebrate. "In keeping with our foundation's mission 'to serve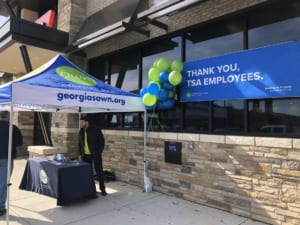 the public good in unique and unexpected ways,' we decided to perform 85 acts of kindness throughout the year to give back the community that has always been so good to us," says Marin Kraushaar, executive director of Georgia's Own Foundation, the philanthropic arm of the full-service, not-for-profit financial institution that boasts 35 locations throughout the state, including a branch on Morosgo Drive in Buckhead.
"Our first act of kindness occurred during the government shutdown in January [of 2019] when TSA employees were working without pay," she says. "We reached out and asked what would help them the most." One of their top issues was gasoline for their cars so they could get to work, so Georgia's Own set up at two RaceTrac gas stations near the airport, where the credit union's employees pumped 8.5 gallons of gas for each of the 400 TSA workers who showed up. "It's my favorite act to date," says Kraushaar.
Another of her favorites was helping fund a five-day trip to Talladega Superspeedway in Alabama in partnership with Bert's Big Adventure. While most chronically and terminally ill children and their families go on an all-expense-paid group trip to Walt Disney World, a young NASCAR fan yearned to go to the races at Talladega, and with Georgia's Own's help, he got his wish.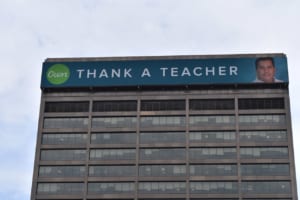 To make April 15 a little sweeter for taxpayers, the company handed out 850 King of Pops popsicles at Woodruff Park and the Marietta branch. Experts were on hand at both locations to provide free financial guidance.
Educators got a lot of love during Teacher Appreciation Week in May. The five Atlanta public school teachers who received the most engagement through Facebook, Instagram and Twitter received more than $150 apiece to buy school supplies. Their pictures were also displayed atop the company's digital billboard at 100 Peachtree St. in the middle of Atlanta's skyline.
Credit union members also benefited when they got a .85% reduction in their mortgages in May. Another initiative encouraged employees to get involved. The first 85 staffers who volunteered were each given $8.50 to do some good in the community, such as buying a meal for a homeless person.
Some acts of kindness were much larger, such as the recent golf challenge that raised $110,000 for L.E.A.D. (Launch. Expose. Advise. Direct), a group that helps transform the lives of young men through baseball. Founded by C.J. and Kelli Stewart, the organization is celebrating its 10th anniversary. "Ninety percent of the prison population in the state comes from three zip codes, and L.E.A.D. is helping turn this around," says Kraushaar. "It's become one of Atlanta's most impactful nonprofits, with a 90% success rate."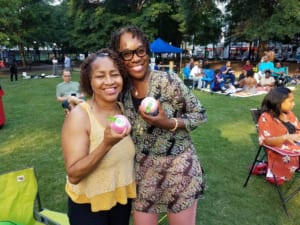 Other acts seem small but bring delight to the recipients, such as partnering with Six Flags Over Georgia on two days in July to select 85 random thrill enthusiasts to jump to the front of the line at the new Pandemonium ride.
At Scoops for Socks held at Woodruff Park in July, the company dished out free scoops of ice cream to customers who brought in new socks or gently worn children's clothing for Threads, a volunteer ministry run by All Saints' Episcopal Church that provides clothing and shoes for kids in need.
To learn more about Georgia's Own Credit Union, visit georgiasown.org. To donate to Georgia's Own Foundation, visit georgiasownfoundation.org.
Mickey Goodman
Award-winning Ghostwriter, Journalist, Content Creator.