Smoky cocktails that will get you fired up for fall.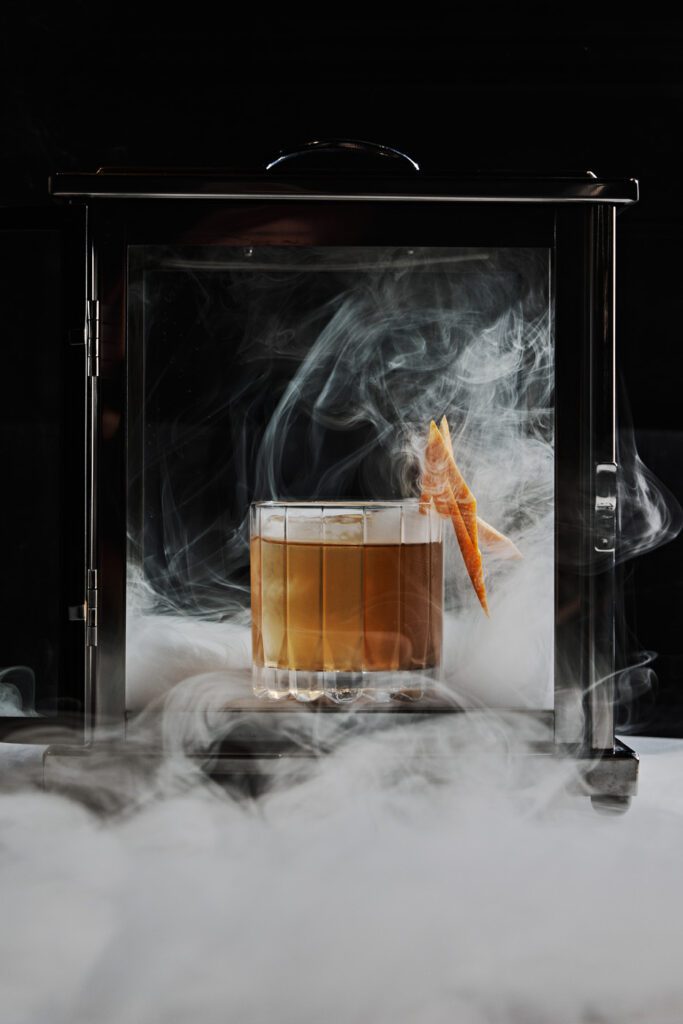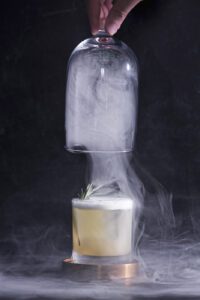 Adding a touch of smoke to a cocktail is a bartender's magic trick, elevating a tasty drink to an experience. The more senses engaged, the more memorable the cocktail. A swirl of billowing smoke heightens the flavors while creating a bit of theater and a photogenic moment.
There are many ways to add those campfire notes beyond employing smoky spirits such as Scotch or mezcal in a sipper. Bartenders have lots of tricks up their sleeves, including smoking guns, smoker boxes, glass cloches filled with clouds, or one of dry herbs and woodchips torched before filling a glass. Traditionally, smoke to order is added to drinks with dark, heady spirits (think whiskey, rum, brandy). Those smoldering aromas add yet another layer to accentuate spirits and set the mood for fall.
At Americano, Scott Conant's new Italian-inspired steakhouse in the InterContinental Buckhead, one of the signature (and standout) cocktails in the playful cocktail program is The Americano Smoked Old Fashioned. After a mixture of whisky, bourbon and tequila are stirred with two types of bitters and syrups and strained over a large cube, it is garnished with a Luxardo cherry and an expressed orange peel. Tableside, the rocks glass is placed into a metal and glass smoking box filled with cherry wood smoke. The elaborate presentation often evokes gasps. The smoke dissipates, leaving behind depth and complexity in the glass.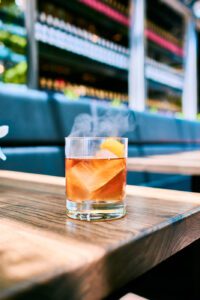 At 5Church Buckhead, the Smoked Old Fashioned uses a different technique and wood smoke. After mixing with bourbon of choice, the bartender lights a cedar plank and places an empty glass over it as it fills with smoldering plumes. The mixture is strained and poured over a large King Cube ice cube and garnished with an expressed orange peel. Enjoy it in the enchanting garden space of the sunroom for an even more spellbinding experience.
The Atlas team at the St. Regis Atlanta is known to wow with food and desserts. The cocktail program doesn't stray from this ethos. The staff fully embraces smoky and sweet flavors in their fall-inspired cocktail by highlighting seasonal ingredients such as apple and autumn spices. Rosemary & Autumn doesn't use one of those aforementioned dark liquors, but instead Englishmade Batch gin that uses bold botanicals such as frankincense and myrrh in its distillation process. The gin, Lillet (aromatized aperitif wine), apple cider vinegar and fall spices get a vigorous shake for a good chill and a frothy head and is then presented under an elegant glass cloche filled with a flurry of rosemary-scented smoke. The glass enclosure is lifted off with dramatic flourish, and the magic trick is complete.
It's easy to do this at home without the fancy tools or presentation.
First, chill the glass, since smoke tends to stick to colder surfaces. Prepare your cocktail in another container and set it aside. To "smoke rinse" the glass, turn it upside down and capture some smoke. This can be achieved multiple ways, including lighting with a kitchen blowtorch or smoking gun, or wood chips/herbs set on fire on a safe surface. Swirl the glass around. It doesn't need much smoke to influence the drink. Pour your cocktail in the glass. Experiment with different types of wood and spirits for different flavor combinations. Just remember: You're playing with fire before you attempt the smoke show.
AMERICANO
404.946.9070
theamericanorestaurant.com
@the_americano_atlanta
ATLAS
404.600.6471
atlasrestaurant.com
@atlasbuckhead
5CHURCH BUCKHEAD
470.819.4841
buckhead.5church-atlanta.com
@5church_buckhead
Angela Hansberger
Drinks columnist at Simply Buckhead. Food, spirits, and culture writer.