STORY: Giannina Smith Bedford | PHOTOS: Sara Hanna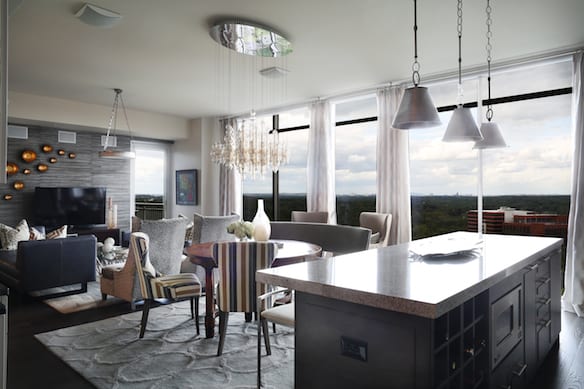 Dan and Julie Waters haven't always been the condo type. But when Julie took a job in Atlanta as payroll director of Koch Business Solutions, they left Birmingham, Alabama—their home of more than two decades—and traded a five-bedroom suburban home for high-rise intown living. They liquidated the majority of their furniture in an estate sale and kept only the pieces they loved. On arriving in Atlanta in January 2013, they looked at various condos within a 10-mile radius of Julie's downtown office. Initially, they planned to lease temporary housing, but fell in love with The Brookwood condominiums on Peachtree Road and decided to buy instead.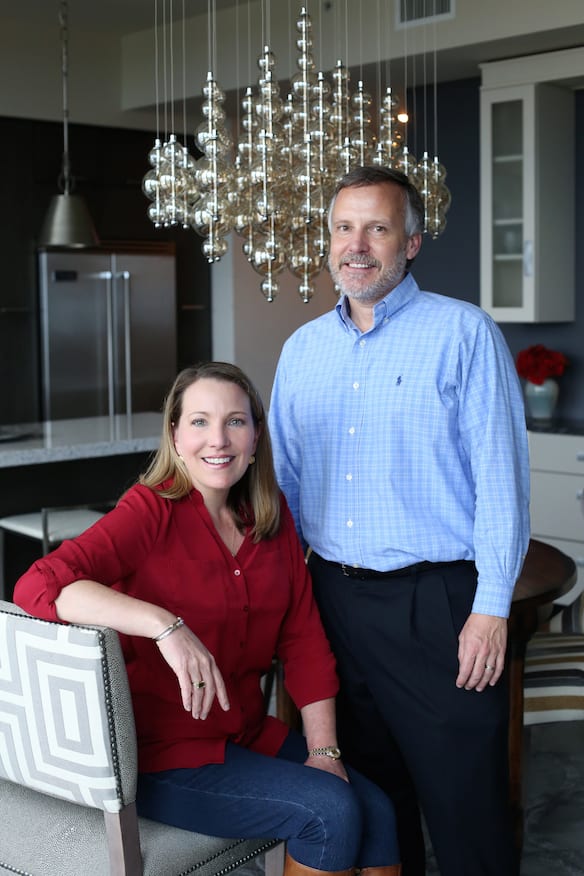 "We were definitely up for more of that metropolitan living, something closer to downtown. It's an experience we never had before," Julie says "We were at a time in our lives where we were ready to downsize so this was a perfect fit."
The couple was sold on the condo's ideal South Buckhead location surrounded by restaurants (three—Watershed, Saltyard and Egg Harbor Cafélocated on the building's first floor), and the gorgeous nature-meets-city view of a green tree canopy and bustling Peachtree Road through floor-to-ceiling windows.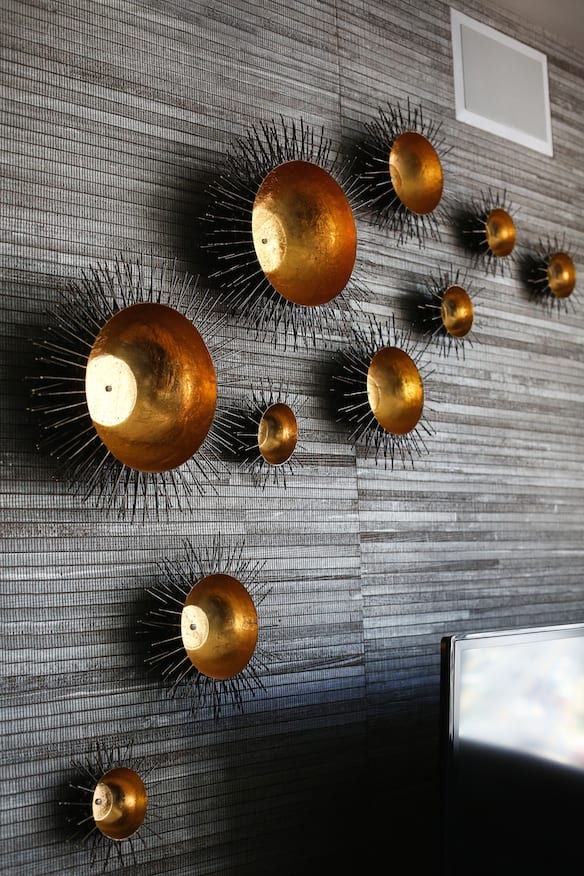 At 1,700 square feet with three bedrooms (one a multipurpose study/guest room) and three full bathrooms, the condo also gave them more than enough space to welcome out-of-town friends and family. Before invitations went out, however, Julie and Dan, a real estate attorney, hired interior designer John Ishmael of Nandina Home and Design to outfit the new space in a sophisticated modern look that stylishly incorporated their artwork and saved furnishings.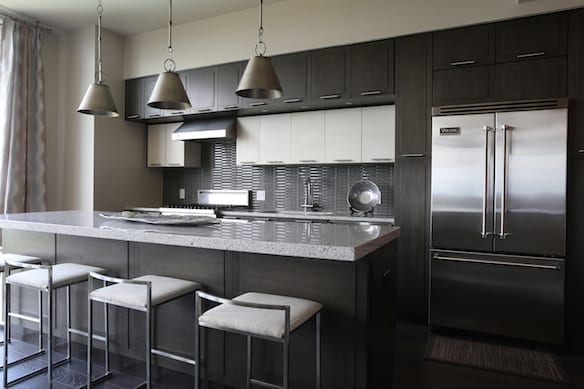 "We were interested in having something brand-new that featured our art pieces and the things we love," Julie says. "We wanted to get someone to help us start with a blank slate and build it from scratch."
Round the corner from the foyer into the main living space and the first thing that catches your eye is the captivating view framing an open kitchen, dining and living room decked out in soft contemporary style. The kitchen, with two-toned gray and white cabinetry, features Viking appliances, granite countertops and pendant light fixtures from Hudson Valley Lighting as well as sleek Nuevo barstools that Ishmael covered in custom fabric. In fact, all the draperies and pillows in the condo are custom by Nandina.
One of the most striking décor items is a Cyan Design light fixture of clustered glass orbs hanging above the main dining table a wood Henredon that was the first kitchen table the couple purchased together. Surrounding this inviting eating spot is a curved banquette from Vanguard Furniture upholstered in two different Kravet Fabrics patterns and striped chairs from Lee Industries. Nearby, a built-in bar designed to complement the kitchen cabinets frames an abstract artwork they acquired at a benefit in Birmingham.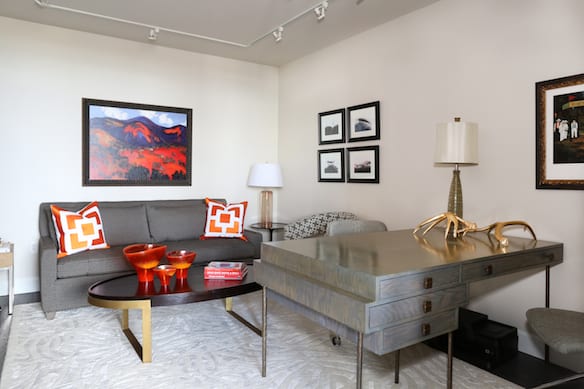 "They have a great collection of art so it was fun to get to emphasize their collection, but be playful with the other things we did so it enhanced the art," Ishmael says.
The wall behind the living room's large flat-screen television is an example of one of these playful touches. Adorned in an Innovations wall covering made of small slats of gray wood, it features an arrangement of black metallic bowls with gold leafed interiors and spiked exterior.
"When you get close to them you'll see they look like little sea urchins," Julie says.
The living room is perfect for watching football and the nearby patio is the spot for viewing stunning sunsets over Kennesaw Mountain and the Buckhead down-town skyline. Although the living room's gray leather Room and Board sofas and Lee Industries chairs might look too pretty to lounge on, Dan and Julie don't hesitate to eat, drink and put their feet up—and encourage guests to do the same.
"Every piece we put in, we made sure it was comfortable for them to sit in, but it looks like a million bucks because of the shape," Ishmael says. "Although the place is big by condo standards, you can't waste space putting something in that people aren't going to use."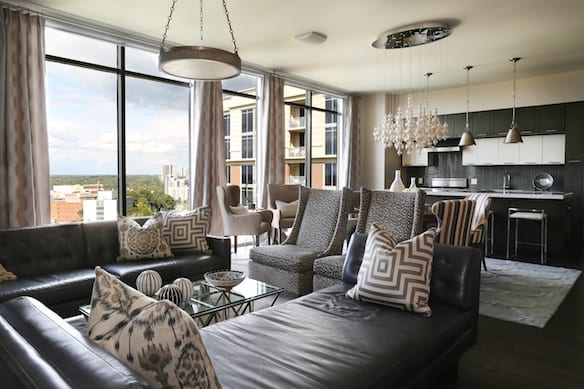 For a quiet place to read, the Waterses head to the study/guest room off the main living area, where a striking orange-hued landscape above the Lee Industries' pullout sofa catches the eye. The piece, which Julie purchased for Dan in Taos, New Mexico, for their 10th anniversary, is the work of artist Lynn Rowan Myers.
Another artistic piece housed in the study is a custom-built partners' desk. Done in oak veneer and a gray wash, it features staggered drawers and thin metal legs.
"We designed the top so they can sit across from each other. It's very much an art piece in itself. It was designed to be very special so it doesn't just look like a home office," Ishmael says.
Although getting rid of years of accumulated furnishings, moving to a new city and embracing a new style of living all at once could prove too much for many couples, Julie and Dan have wel- comed their fresh start with exuberance.
Soon, they will be tackling the design of their master bedroom and guest suite and are excited for the future projects. The experience of redesigning their life has been nothing but smooth sailing so far.
"There is nothing that I've said, 'I wish we would have done this' or 'we made a bad decision here.' There is not one thing," Julie says. "And I can't wait to do more."
Dan and Julie's favorite neighborhood stops:
1. Date night: Lusca
"We love this new restaurant across the street. Dan and I both love fresh seafood. Lusca caters to our dining preference: Order lots of small plates and try a variety of interesting and creative preparations. The octopus and oysters are must-haves."
2. Happy hour: Saltyard
"We typically enjoy traditional martinis or Champagne, but Saltyard's specialty drinks are sipping sensations. My favorite is the "swift kick in the Tito"—vodka, jalapeño, basil, simple syrup and lime. The blend of flavors is truly unique. The atmosphere is always vibrant, dress up or down, making it a perfect after-work stop or a great Friday night start to the weekend. Food is fantastic too."
3. Sunday brunch: Watershed
"It's one of our favorites for brunch. We are lucky to have this right in the building! Chef Joe Truex is from Louisiana and went to LSU, my alma mater. We love the Cajun influence in the food and the jazz band is great. Feels like home. The milk cake is a must-have—the best."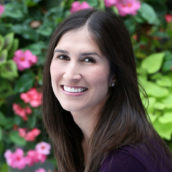 Giannina Bedford
Giannina S. Bedford is multi-faceted writer and editor. Her work covers design, travel, food and business. She's penned Simply Buckhead's home feature since inception and held a variety of editorial roles at the magazine. Her freelance work has appeared in Condé Nast Traveler, USA Today, Virtuoso Life, Hemispheres and TravelandLeisure.com. She also contributes regularly Atlanta Business Chronicle. Fluent in Spanish, Giannina was born in Miami and grew up in Brazil, Chile, Hawaii and Australia. She currently lives in Dunwoody with her two kids and husband.