TERRI MOSS HAS THE EYE OF THE TIGER WHEN IT COMES TO BOXING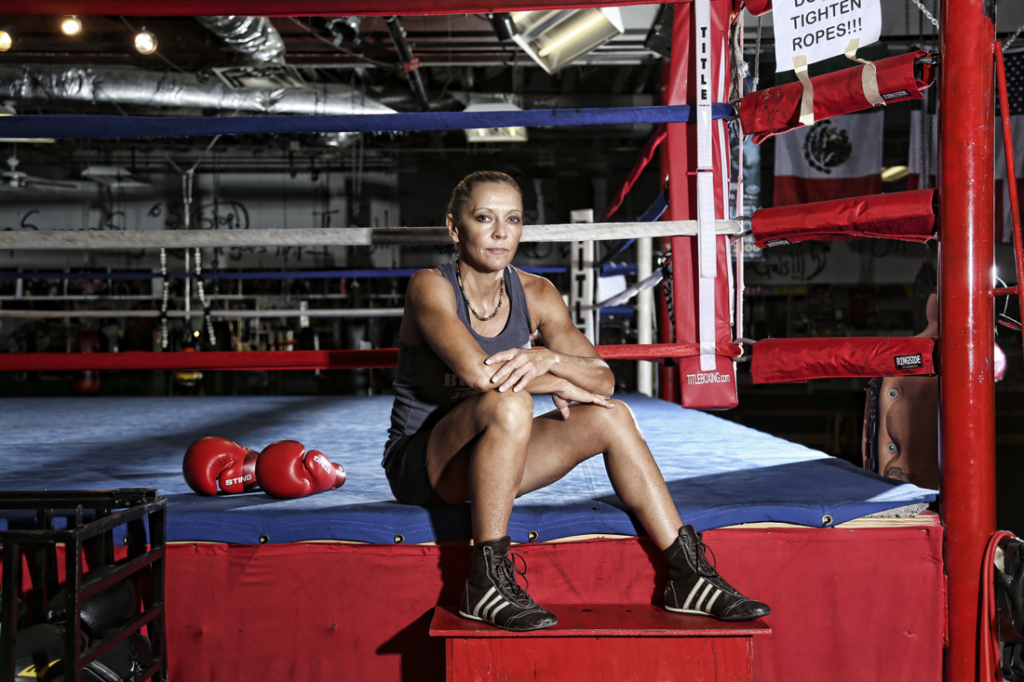 Behind a nondescript door and down a steep set of stairs in a shopping strip off Buford Highway is Buckhead Fight Club. And at the center of it all is Terri "The Boss" Moss.
Moss, 50, a petite blonde who is all of 5-foot-1 and 107 pounds, owns and runs the 15,000-square-foot gym that looks like it could be straight out of a Rocky movie. Here, amid the graffitied walls, fight posters and punching bags, Moss and her crew train a roster of both male and female clients. A few do it just for the fitness aspect, but most are in it for the love of the sport and to compete in events such as the popular Atlanta Corporate Fight Nights Moss puts on each year to raise money for charity.
Moss is no lightweight when it comes to life in the ring. After attending the University of Georgia (she dropped out one semester shy of her degree), she worked in law enforcement for 14 years before leaving to box full-time in her mid- 30s. "I stumbled into the sport," she recalls. A friend of hers had seen the movie Enough, which stars Jennifer Lopez as a woman who learns to box to defend herself against an abusive husband, and talked Moss into trying it with her. "After a month, my friend dropped out, but I was hooked," Moss says. She had her first fight at 36. By her fifth fight, she was ranked No. 2 in the world in the straw weight division. She remained in the Top 10 until retiring in 2008, and just last year she was inducted into the International Women's Boxing Hall of Fame.
In addition to training boxers and running the gym, Moss is also a promoter and particularly passionate about getting women's boxing the recognition it deserves. We met with Moss recently as she was prepping for a Ladies Fight Night event at the gym, and to watch her in action is like watching a mini tornado rip through town. She has the energy of a 19-year-old, and the body of one to match, and it's easy to see how she's accomplished so much in a predominately male-driven sport. Here's how her day unfolded.
9:15 a.m. A crowd is already gathered outside when Moss shows up to open the gym. Among them are youngsters participating in the Georgia Junior Olympic Championships being held there the next day. Moss immediately begins greeting the steady stream of visitors and attending to tasks in preparation for the weekend's worth of events.
10 a.m. The boxers competing in Ladies Fight Night arrive for weigh in. Over the next few hours, Moss is in full-on prep mode, overseeing everything from concessions and lighting to writing the script for the fight announcer. At one point, Moss is on a ladder, hanging a banner from the rafters, then jumps down to direct the deejay and catering folks to their spots in the VIP area. Amidst it all, she is bombarded with questions from the slew of boxers, referees, judges, doctors and other personnel necessary to put on one of these events.
4:30 p.m. Moss is running around— literally—attending to all the last minute things that need to done before the first bell rings.
5 p.m. Moss switches into trainer mode since she has several fighters in the lineup. The main event features Georgia's Golden Gloves champ Kelsey Smith, who also works as Buckhead Fight Club's office manager. Moss begins taping her fighters' hands and warming them up. From seeing Moss's intensity, speed and power as she hits with them, it's clear she hasn't lost any of the skills that made her a champ. As Smith enters the ring for her fight, Moss jumps up on a folding chair and begins shouting encouragement. Between rounds, she works Smith's corner, wiping her down, giving her water and instructing her on technique. Smith wins the bout.
8:25 p.m. The fights may be through, but Moss's night is far from over. Cleanup and administrative stuff still needs to be done. Due back at the gym at 6 a.m. the next day, she opines, "If I can get out of here at midnight, maybe I can get some sleep and be ready to start all over again tomorrow." Does the constant pace ever get to her? It doesn't seem to. "I just love the life in the ring," she says. "There's so much more to do than just box, and I think that's what a lot of people don't understand. It's a whole little universe spinning with excitement, challenge, laughter, insight and triumph, and I seem to have made it my personal goal to experience everything there is to do in the sport, business and experience of boxing."
STORY: Jill Becker
PHOTO: Sara Hanna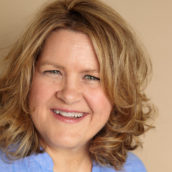 Jill Becker
Award-winning writer and editor who has penned stories for CNN, Woman's Day, Good Housekeeping, and dozens of other outlets.