The Hungry Peach is a perfect respite for peckish design enthusiasts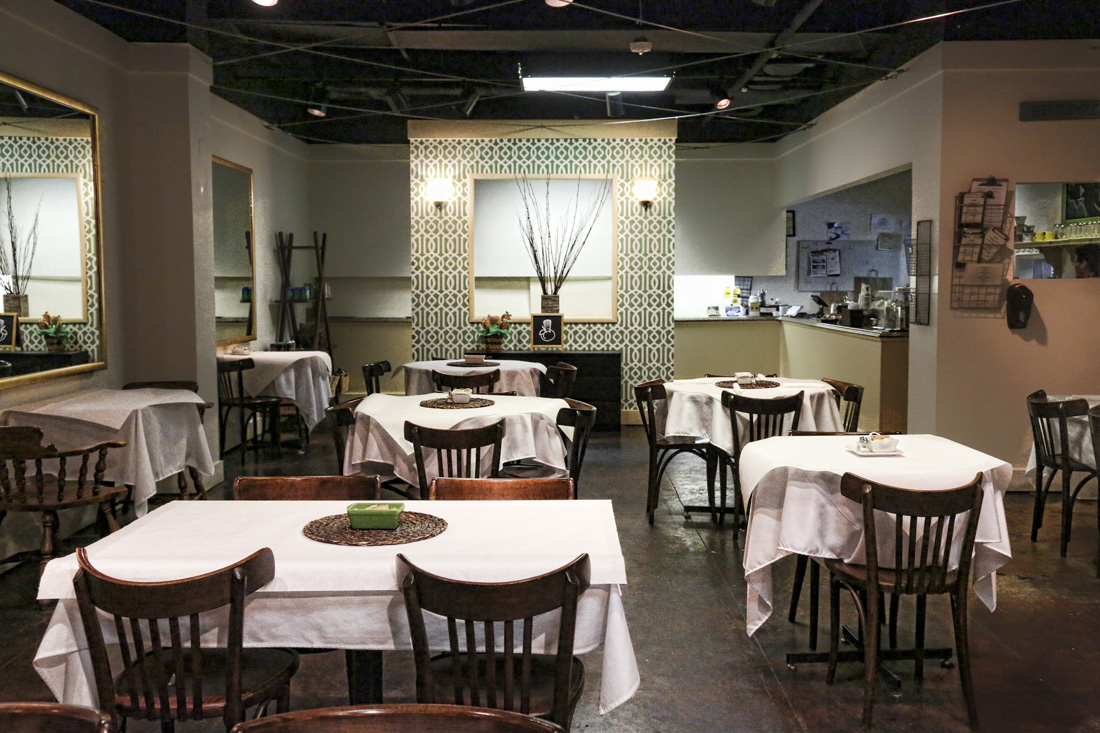 No one loves The Hungry Peach more than I do. Tucked away inside the esteemed halls of the Atlanta Decorative Arts Center (ADAC) in Buckhead, The Hungry Peach is a little bit country and a little bit rock 'n' roll—just the way I like it. Despite the ubiquity of well-heeled diners with their Burberry and Louis Vuitton accoutrements, the cafe itself feels more like a North Georgia diner. The affable servers are free of pretense, songs such as Hot Chocolate's "You Sexy Thing" rock the playlist and ice tea flows faster and sweeter than you can chirp, "Hey, y'all!"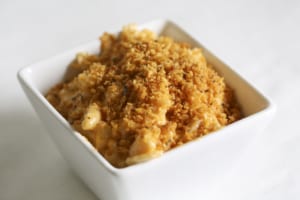 The Hungry Peach is small—46 seats small. Windowless and boxy, and sharing limited square footage with a take-away counter, the room has about the same level of intimacy as the glitzy pink boudoir on display across the hall. Nevertheless, it manages to be bright and uncongested even at peak hours. What's more, your needs will be addressed quickly. When my friend, who has multiple food allergies, needed advice on what to order, the busy GM couldn't have been more helpful, running through every ingredient in the several dishes we asked about.
One of the marvels of The Hungry Peach is that it's able to keep the prices so reasonable while producing consistently delicious, gargantuan portions. The salads are a great case in point. My friend and I decided to go light with main courses and splurge later on dessert. I ordered the beet salad, a testament to haute design and style. Brightly colored Chioggia beets and tender heirloom carrots were juxtaposed with salty toasted almonds, melt-in-your-mouth chèvre and dollops of pungent, sweet harissa (a North African chile paste). It was a masterful, thoroughly appetizing composition. My friend's caprese (tomato and mozzarella) salad was acceptable, though not nearly as inspired. If you're going to give fragrant, sun-ripened tomatoes top billing, you'd better scour the globe for the best.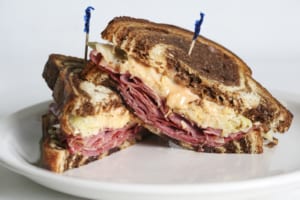 Still, the aromatic basil chiffonade and syrupy ooze of ruby balsamic glaze gave the dish a pleasant zing, although it certainly would've helped to have had some crusty bread on hand. None appeared, however, which we considered an odd oversight for such an otherwise conscientious operation. Things brightened up considerably at dessert time. We sank our forks into a jumbo wedge of fresh coffee cake, shoveling down moist, amber chunks, our faces messy with powdered sugar. We also made short shrift of the decadent fudge truffle brownie, made with top-quality Callebaut Belgian chocolate and a glossy mahogany crust.
At a follow-up lunch, the dining room was as crowded as ever, but even with only one server on the floor, nothing was neglected or overlooked. Everyone at our table seemed to be hankering for sandwiches, but which ones to choose? The corned beef Reuben on toasted marble rye was my first pick, but I was worried I'd be facing down one of those behemoths they serve at the Stage Deli in NYC. Fortunately, what arrived was an altogether ladylike portion with just enough gooey Swiss cheese and snappy sauerkraut to balance the briny, crimson slices of beef.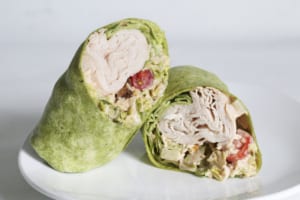 You'd think that after such decadence, ordering an egg salad sandwich would induce yawns. Not so! Chef Zeb Mozley takes as much pride in the less flamboyant plates as anything else, here perfecting the delicate balance of core ingredients: golden, yolky goodness with just the right amount of seasoning, diced celery and fresh mayo. Layer on a few fresh greens and a generous twist of cracked pepper, and you've got another showstopper. When considering the sides— one comes with every sandwich—do not pass up the Cajun mac 'n' cheese. This humble "side dish" deserves a more prominent place on the menu, in my opinion. Mozley's version soothes the soul and the palate with silky, béchamel-rich cheese sauce, a touch of spice and a generous toss of hot buttered breadcrumbs over the top. Yum.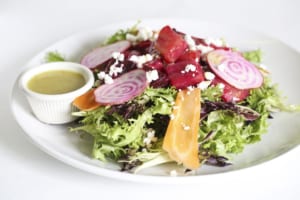 The sandwich trifecta was an all-around win with the addition of an outstanding wrap stuffed to bursting with applewood-smoked bacon, turkey, pepper jack cheese, a smidge of chipotle ranch dressing and a few fresh veggies. No overkill here, though. Each ingredient was in perfect harmony with the others, and we even had some room left to indulge in the scrumptious potato salad, "loaded" with—what else?—sour cream, chives, cheddar and bacon. It was all just enough to sustain our group of design-hungry women through a few hours of postprandial window display lusting. But then it would've been rude to leave without dessert. "There's a coconut layer cake with homemade butter cream," our server informed us. "Oh, it's amazing. Sort of your basic, homespun recipe, but still kinda fancy-schmancy." We couldn't have said it better ourselves—a little bit country, a little bit rock 'n' roll. Maybe we'll take a slice or two.
THE HUNGRY PEACH
351 Peachtree Hills Avenue N.E., Atlanta 30305
404.816.9009
thehungrypeach.com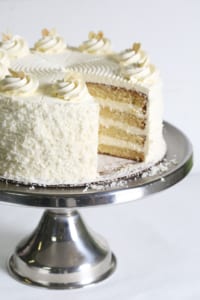 Prices: Starters: $4-$9. Salads and sandwiches: $8.50-$12.50. Desserts: $2.50-$6.
Recommended dishes: Beet salad, Mediterranean Cobb salad, egg salad sandwich, corned beef Reuben, Cajun mac 'n' cheese, loaded potato salad, coconut cake, truffle fudge brownie.
Bottom line: Top-notch hidden gem offering the bonus of being in the midst of Atlanta's finest furniture and textiles showrooms
STORY: Rebecca Cha
PHOTOS: Sara Hanna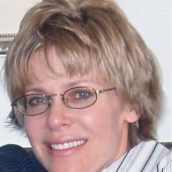 Rebecca Cha
Food, beauty and interiors writer at Simply Buckhead. Linguist, teacher, chef, parent.