A FAMILY OF FIVE MAKES A MOVE TO SIMPLIFY THEIR LIFE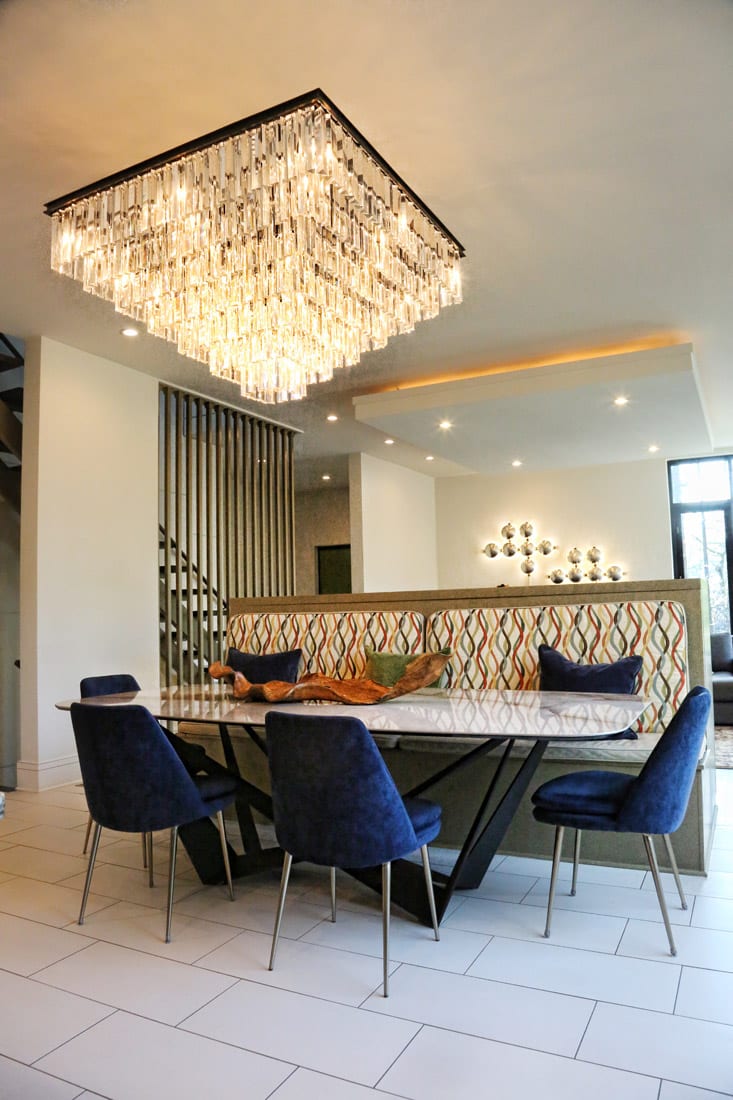 STORY: Giannina Smith Bedford
PHOTOS: Sara Hanna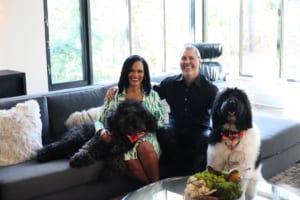 Kevin and Chantel Cohen met in Los Angeles 30 years ago and always admired the modern homes on the West Coast. At the time, Kevin was a story editor at United Artists film studio, and worked on movies such as the Academy Award-winning film Rain Man. His work would later take them to Hong Kong, where they rented a modern apartment with floor-to-ceiling windows overlooking Victoria Harbour. But in 2000, when Kevin went to work for Turner Broadcasting System and the family—then of three—moved to Atlanta, modern homes were not very prevalent. "What passed for modern homes at the time were any structures made out of stucco, and realtors warned us away from those homes because they tended to mold, were not in demand and had low resale value," says Kevin.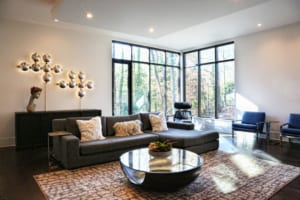 As the Cohen clan grew to five, plus two dogs, the need for space and functionality became more important. So in 2017, they began a search for their dream abode. "In the years since we arrived, there's been an influx of real modern homes, although for some reason most of them look the same," says Kevin, who now runs his own consulting business, DoubleMan Group. "In fact, if you go inside them, they either have very few windows or, if there are windows, they look out over a not-so-pleasant view."
The Cohens toured a 3,000-square-foot home near Phipps Plaza only a few days after it went on the market. They loved the open floor plan and its four bedrooms, four bathrooms and two offices. Plus, the double lot offered lots of space for their dogs to roam, a stunning array of trees and a meandering stream. "We wanted something that was modern, clean, minimalist and that reflected my California style," says Chantel, a therapist and life coach who runs CWC Coaching & Therapy.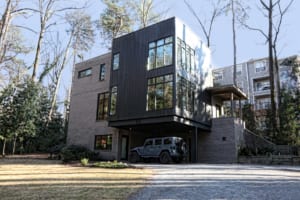 At the time, the home was owned by builder Ray Bongers, who has an affinity for modern structures despite being known as a builder of traditional homes. "This was the second modern home he built," says Kevin. "The Bongers were selling so they could begin work on a third modern home."
Since moving in, the Cohens have embraced a more minimalist lifestyle and are slowly adding distinct accent pieces to personalize the residence. On the main level, the living room features a Restoration Hardware sofa, Mitchell Gold + Bob Williams glass and metal coffee table and blue Milo Baughman chairs. They often sit in the uncluttered space observing hawks, woodpeckers and other creatures through the tall windows, which take up nearly half the room's wall space.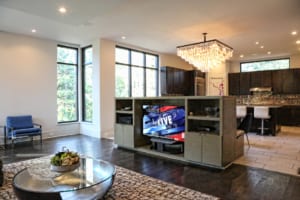 In the adjacent dining area, the Cohens added a dramatic chandelier from Restoration Hardware, which Kevin says "throws off gorgeous rainbows when morning or afternoon sunlight hit the crystals." The chandelier also illuminates the sleek kitchen done with granite countertops and a dining area with a Cantoni table and blue velvet chairs from West Elm. Nearby, a Dutch door opens into Kevin's office, which is anchored by a midcentury modern desk that belonged to his father, William S. Cohen, a former Maine senator and secretary of defense under Bill Clinton.
Next door, Chantel's office strikes a playful vibe with a red sofa from IKEA, a Lucite coffee table and one of the couple's favorite works of art, a mixed-media piece by their friend Leslie Sokolow.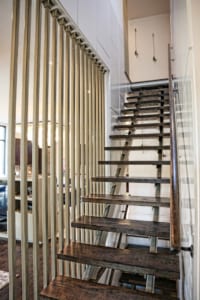 Much of the home's art tells a story and has come from the Cohens' travels around the world. Some of their favorites are works by Choisy, an artist in Saint-Paul de Vence, France, and New Orleans artist James Michalopoulos, who went to Kevin's alma mater Bowdoin College in Maine. A Michalopoulos painting of a woman in red is one of the few pops of color in the third-floor master bedroom. The treehouse like view through the floor-to ceiling windows in the master was one of the home's major selling points, and today it offers the busy working couple a peaceful place to welcome each day and an ideal overlook for daily meditation.
Kevin and Chantel share the third floor with their two youngest kids, 11-year-old Sofia and 14-year-old Jordan, who have also embraced the contemporary style. Jordan's room, furnished with the same leather platform bed his parents have, is done in gray and black with blue neon accent lights and a large black-and-white portrait of a lion from Modani in Buckhead. "He's like a 27-year-old man," says Chantel. "Jordan chose his bed and we chose the exact same one."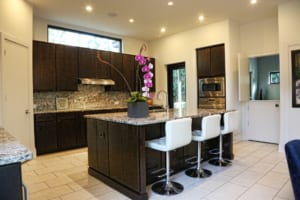 On the first level, the Cohens transformed Ray Bongers' former office space into a bedroom for their eldest son, Connor, who is a freshman at Clemson University. The room features a 1960s-era bed passed down from Kevin's parents, a USA map created through a collage of license plates and steer antlers brought back from Jackson Hole, Wyoming, which speak to Connor's love of the outdoors. An attached storage garage is filled with his hunting, fishing and dirt biking equipment.
The downstairs also has a media room that creates the perfect place for the family to gather for movie nights. Under the nearby stairs, a widened cubbyhole creates a cozy kennel area for the Cohens' black goldendoodle, Thunder, and Landseer Newfypoo (Newfoundland/ poodle mix), Bourbon.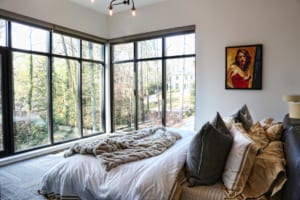 Moving into a modern home, and into Buckhead, has been a big change for the Cohens, but one they are fully embracing. With a more streamlined approach to their living space, Chantel says they are able to focus on the more important things in life. "We wanted to take our lives in a different direction. We wanted something we could grow into as we age. We wanted the focus to be on spending time with our family and growing our business and being able to entertain friends," says Chantel. "Now we have a house where everything works. We can have it looking great in 30 minutes. It's reflective of our partnership and the importance of time with our family and the investment we've put into our careers."
CHANTEL COHEN'S TOP 5 BENEFITS TO LIVING IN A MODERN HOME
1. "It's calming. Research suggests that a cluttered home is a stressful home and a modern home inspires a Zen-like minimalistic approach."
2. "A corollary to minimalism is that the blank spaces lend more weight to the items you do furnish with. As has been said before, 'It is the silence between the notes that makes the music.'"
3. "Soaring windows bring us closer to our surroundings. In our case, that means we can enjoy vibrant wildlife from the ground to the treetops like one would from an observatory tower."
4. "An open floor plan allows for both personal space and a feeling of connection to family in the same room. It supports interaction rather than intrusion."
5. "It's much easier to keep clean. With fewer surface areas available to gather dust, it's easy to maintain."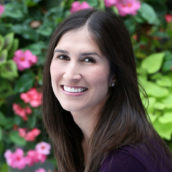 Giannina Bedford
Giannina S. Bedford is multi-faceted writer and editor. Her work covers design, travel, food and business. She's penned Simply Buckhead's home feature since inception and held a variety of editorial roles at the magazine. Her freelance work has appeared in Condé Nast Traveler, USA Today, Virtuoso Life, Hemispheres and TravelandLeisure.com. She also contributes regularly Atlanta Business Chronicle. Fluent in Spanish, Giannina was born in Miami and grew up in Brazil, Chile, Hawaii and Australia. She currently lives in Dunwoody with her two kids and husband.