WALK THIS WAY TO THE PERFECT PAIR OF RUNNING SHOES.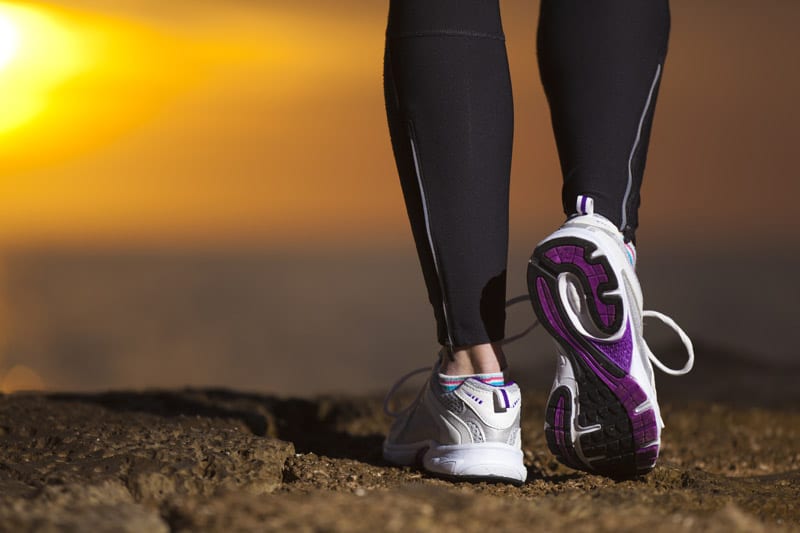 Ever pick out sneakers and think they are the bomb in the store, and then regret the purchase later on? That is the story of this writer's life. It's a challenge to select a pair if you don't know the criteria for getting just the right fit. I am forever changed by my recent custom shoe fit experience (aka Shoe Dog) at RoadRunner Sports in Buckhead. Here's what I found out about running shoes, so you can say sayonara to ill-fitting choices—and hit the trails this season with happy feet.
MATCHMAKER, MATCHMAKER.
Your perfect shoes should not cause your feet to ache, blister or chafe. When selecting running shoes, decide what you are going to use them for the majority of the time. Are you going to be running on pavement or trails? Are you training for a marathon? Different shoes are made specifically for your preferred activity—mine is what I like to call the "walk-run" on city streets and the Path system of trails.
ARCH TYPE.
Once that was established, James Cameron, store manager at RoadRunner Sports, had me step barefoot onto a flat scale of sorts. Thankfully, he wasn't weighing me—instead, it scanned the bottom of my feet and displayed my extremely high arches and pressure points on the store's Shoe Dog flat-screen television. From this, we could ascertain that I needed minimal arch support but might do well with some cushioning. Eighty percent of the population has a moderate arch, which would require medium support, and a low arch would demand the highest amount of support.
FOOT MECHANICS.
Now it was time for the treadmill. I walked on it for two minutes while a camera photographed my ankles and feet so Cameron could check out my gait. As it turns out, I'm pretty straight, but if your ankles or feet roll inward or outward moderately or excessively, it would mean that you need extra ankle support in your shoes.
OTHER DETAILS.
Your custom fit specialist will ask you some additional questions, such as whether you have any injuries or conditions (like bunions), your body frame (small, medium or large) and the type of running you do (low mileage, high mileage with over 25 miles per week or racing). He or she then makes recommendations for your new kicks based on all of the above.
INSOLE ADD-ON.
Some experts are big fans of custom insoles, which go inside your shoes in place of the manufacturer's version. Others believe footwear can work just as well without them. Since I have never found a pair of running shoes to be comfortable after more than 30 minutes on the go, I opted to try a custom insole made by RoadRunner Sports. I'm happy to report that the insoles combined with the correct sneaker felt fantastic and alleviated my previous foot aches.
BEWARE OF BREAK-INS.
It takes about two weeks of wearing your new sneaks on an almost daily basis to break them in, according to Cameron. So don't judge your newbies right away and make sure the store you're purchasing from has a good return policy on the chance that you do want to exchange them. At RoadRunner, you have 60 days for returns (90 days if you are a member of the VIP program).
---
HIKING FOOTWEAR 101
We spoke with REI experts to get the skinny on how to choose hiking shoes. The first big tip: Waterproof membranes are not as effective in Atlanta's high humidity. "The ambient humidity levels in the summer are so high that the membranes do not breathe like they are designed to. Although you will have to be more careful around bodies of water, a well ventilated boot or hiking shoe will keep your feet drier and happier when hiking on hot, clear days in the Southeast," says Daniel Jessee, Atlanta outdoor programs and outreach market manager at REI.
Lightweight models may feel perfect right out of the box while heavier, all-leather models may require weeks to soften up and form to your feet. Make sure the boots you buy feel snug yet comfortable before you take them home and avoid quick-fix approaches, such as getting your boots wet and then walking a long distance to break them in.
Here, Jessee breaks down the types of hiking boots:
Hiking shoes: These are low-cut models with flexible midsoles that are good for day hiking.
Hiking boots: Ranging from mid- to high-cut models, these are intended for day hikes or weekend backpacking trips with light loads.
Backpacking boots: Designed to carry heavier loads on multi-day trips deep into the backcountry, most have a high cut that wraps above the ankles for support and stiffer midsoles than lighter footwear. These boots are suitable on or off trails.
DETAILS
RoadRunner Sports
Powers Ferry Square
3756 Roswell Road N.E., Suite 16
Atlanta 30342
404.855.2424
roadrunnersports.com
REI
1165 Perimeter Center W, Suite 200
Atlanta 30346
770.901.9200
rei.com
STORY: Karina Antenucci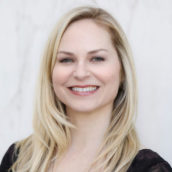 Karina Antenucci
Managing Editor and Wellness Columnist at Simply Buckhead. Blogger at Badass + Healthy.