Lifestyle blogger Heather Metzler showcases a gift for DIY in her casually chic Buckhead home.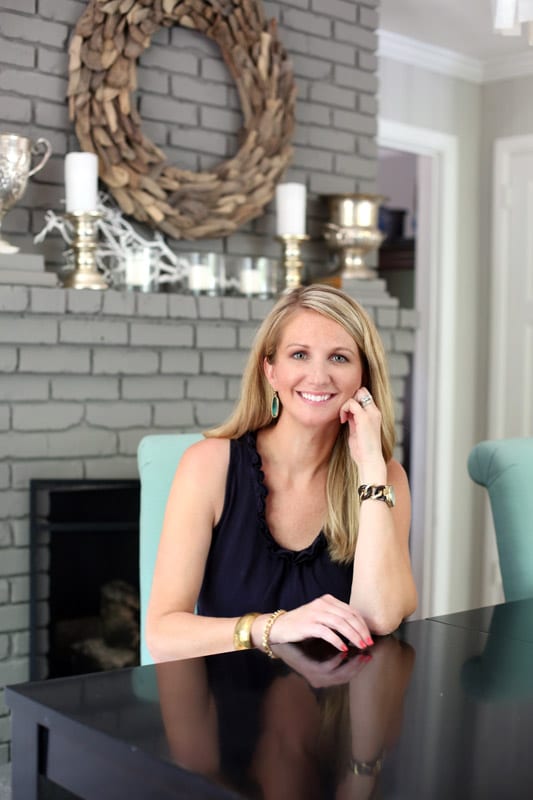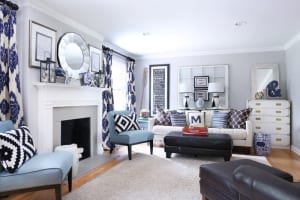 Heather Metzler is a DIY queen. Step into her home and each nook and cranny has her signature touch of budget-conscious, crafty genius. The stay-at-home mother of two boys, 4-year old Parker and 1-year-old Brooks, and former director of brand marketing for Arby's Restaurant Group is the personality behind the blog Southern State of Mind, where she shares the stories of her home projects, family adventures and more. Take a look through her personality-infused site and you'll feel like you just made a new friend—one who gives you tips on how to transform your living space into the comfortable and practical showstopper you've always wanted. After all, that's what she's done with her four-bedroom, two-and-a-half-bath Buckhead residence.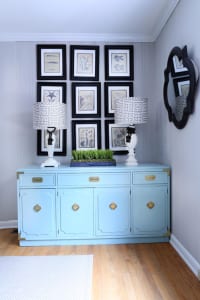 The 1952 ranch had been mostly remodeled when she and husband Brian purchased it in March 2010, but over the past five years the couple has made it their own by converting the formal dining room into a fourth guest bedroom, moving the laundry room from the basement to the main floor, opening the sunroom wall to create a playroom, remodeling the basement and the master bath as well as making a few kitchen updates. They also transformed the formal living room into the family room and former family room into an informal eat-in kitchen.
"The goal was to completely make use of all of the square footage in the house and give the rooms updates according to our taste and style," Heather says. "We love one-story living and a flat lot. There are no 'off-limit' or formal rooms; we use all of the space. I love that the home has evolved with us as our family has grown."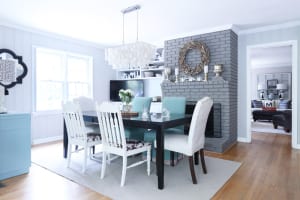 Heather has waved her decorative wand over every room and is constantly making tweaks. She dubs her style—a combination of navy blues, stripes and polka dots with restored vintage finds and rustic touches— "preppy-eclectic."
The foyer perfectly captures this aesthetic with a navy accent wall, Habitat ReStore dresser (scored for $100) that she painted with a driftwood finish, and a large DIY piece of wall art with the words, "Eat Well, Travel Often, Choose Joy." Heather created this piece as homage to her grandparents— one set owned a restaurant and the other traveled the country in an RV after retirement. After deciding on the words, she used PicMonkey, a free online photo editing service, to create the art and had it printed on oversized AutoCAD paper at Kinko's for about $7. A similar process was used for the Georgia-themed subway art in the living room, where the décor also includes an old window (purchased for $1 at a church garage sale), blue and white drapes Heather made from shower curtains, and an old oar from her parents' backyard.
"Our living room is informal and comfortable. I love the DIY subway art and changing out pillows and accessories depending on my mood and the season," she says. "It's a mix of old and new and will always evolve as my taste evolves. I love finding old pieces and making them work in new ways."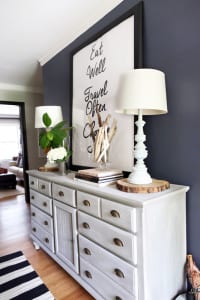 Aside from the living room, the dining room is where the Metzlers spend most of their time over family meals. It's decorated with a no-fuss Ikea rug, black dining table and rectangular West Elm chandelier of white capiz shells—one of the first items Heather and Brian purchased after moving in. The adjoining kitchen, updated with a subway tile backsplash, is decorated in blue-and-white window treatments and a large black-and-white framed print of the Metzler boys that Heather had printed on oversized AutoCAD paper for about $4.
"We use this eat-in kitchen daily and I love that the whole family can sit at the table that directly opens to the kitchen," she says.
Heather's stylish touch continues in the nearby guest room. Here, the drapes are dyed Ikea curtains. The walls, painted in Restoration Hardware's Slate, are decorated with a round mirror from Ballard's Backroom and Goodwill frames showcasing various artworks, including two Heathermade silhouettes of Parker and Brooks.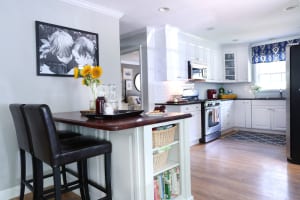 The homemade magic continues in Parker's room where a navy blue and white striped accent wall matches the collection of boyish adornments: a Coca-Cola crate from Scott Antique Markets; vintage Radio Flyer wagon filled with toys; green-and-gray DIY silhouette art of Bella, the family pooch; and colorful embroidered "Atlanta" pillow on the bed's patchwork comforter.
"A lot of love went into making this room, and honestly, the little guy loves it," Heather says. "It's filled with DIY projects, hand-medown furniture makeovers and lots of fun accessories. For me, the key is to remember that it doesn't happen overnight. This room is a year in the making. It is fun to let it evolve over time and enjoy the process."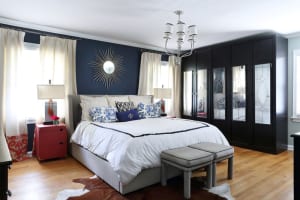 The master bedroom is also a landing ground of gussied-up practical pieces. The brown Ikea wardrobes are mounted with Target mirrors that Heather antiqued to reduce the reflection and decorated with stained glass window paint. She added brackets to the nightstands, which she scored "super cheap" from a model apartment, to give them the look of a campaign chest. She also added the coral and khaki ikat fabric to the bottom of the cream drapes to give them some personality.
"I do not believe that a limited budget should hold you back from having your home make you happy," she says. "This makeover is a tale of repurposing items I already had, finding a few yard sale treasures, a little elbow grease and a vision."
But not everything in the room is refurbished or bought on a dime. The Metzlers' bed, upholstered in gray fabric with a curved headboard, came just like that from Room & Board. "The bed is my favorite thing … that was our big splurge," Heather says.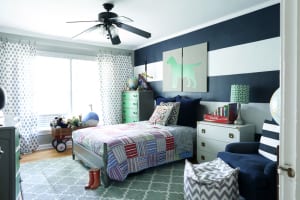 The plush queen bed is a rare namebrand item in the Metzlers' fashionably casual abode. Although their home looks like it belongs in a magazine, guests are more than welcome to put their feet up. With two young boys and a dog, Heather says she doesn't own anything that she has to stress out about.
"Everything is very replaceable and can be lived in and loved," she says. "I'm not going to freak out if something happens.
Heather's 5 simple ways to update your home:
1. I love tweaking my home depending on my mood and the season. An easy and inexpensive way I update my home is with new throw pillows. Go-to spot for throw pillows: HomeGoods on Piedmont.
2. Instantly change the look of a room with paint. Favorite paint colors: Sherwin-Williams Repose Gray and Benjamin Moore Hale Navy.
3. Update old dining room chairs with some spray paint and fabric. Go-to spot for finding chairs: Goodwill on Roswell Road. Go-to spot for fun fabric: Check out Lewis & Sheron. It's fabric heaven on earth.
4. I've never met a mirror I didn't like. They instantly add a chic finish to any spot or room, and are great for those who can't commit to (or afford) art. Favorite Buckhead spot for mirrors: Ballard's Backroom on Defoor Avenue.
5. Who doesn't love fresh flowers in their home? Add some freshness to your home for free by clipping your magnolia tree or boxwood hedge.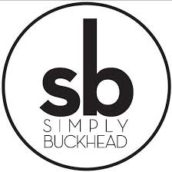 SimplyBuckhead
Simply Buckhead is an upscale lifestyle magazine focused on the best and brightest individuals, businesses and events in Buckhead, Brookhaven, Sandy Springs, Dunwoody and Chamblee. With a commitment to journalistic excellence, the magazine serves as the authority on who to know, what to do and where to go in the community, and its surroundings.