If you ever needed an excuse to indulge in frozen treats, the time is now.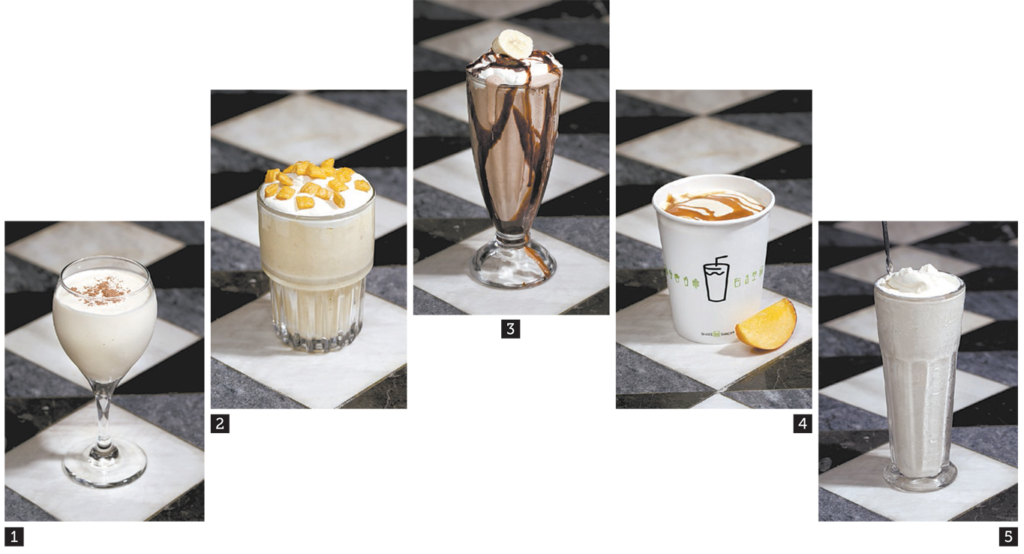 During the hot summer months, a cool milkshake is a delicious way to beat the heat. Along with the traditional favorites, Buckhead restaurants have an impressive variety of milkshake flavors, including booze-spiked concoctions. Read on to get a taste for our most memorable gulps.
1. 10 Degrees South: Don Pedro ($8)
The flavors of South Africa don't end with your entrée. The Don Pedro, the restaurant's signature dessert drink, can double as a sweet finish. It has the consistency of a creamy milkshake with a kick any respectable adult shake should have, thanks to the Amarula, a liqueur created from the fruit of the exotic African marula tree. It's a rare treat after enjoying the many flavors of South Africa.
4183 Roswell Road N.E.
Atlanta 30342
404.705.8870
10degreessouth.com
2. Flip Burger Boutique: Cap'n Crunch ($5.50)
Leave it to a celebrity chef to reinvent a classic. The Cap'n Crunch milkshake is the brainchild of "Top Chef's" Richard Blais. This concoction is clearly the frozen version of a favorite sugary breakfast combination, Cap'n Crunch cereal and milk. But here, the chef coarsely blends the cereal into vanilla ice cream and adds milk and liquid nitrogen—the second coldest substance on earth. The result is an icy-cold shake with an ultra thick and velvety texture. Bonus effect: the liquid nitrogen produces wispy plumes of smoke from the glass.
3655 Roswell Road N.E.
Atlanta 30342
404.549.3298
flipburgerboutique.com
3. Buckhead Diner: Choconana ($5.75)
There's something about pairing the classic flavors of chocolate and banana that never gets old. Each shake is spun to order in a KitchenAid and made with fresh fruit, a key ingredient to a good milkshake. The result is a ridiculously rich, smooth shake with the perfect pleasantly thick consistency that can still be sipped with a straw. It will satisfy that afternoon chocolate craving and is an indulgent way to sneak a banana into your day.
3073 Piedmont Road N.E.
Atlanta 30305
404.262.3336
buckheadrestaurants.com
4. Shake Shack: Peachtree ($5.59)
As the name suggests, Shake Shack knows a thing or two about ice cream beverages. The Peachtree, made with handspun vanilla ice cream, fresh juicy peaches, a drizzle of salted caramel and milk, is a must-try for residents or visitors to the Peach State—especially during the summer peach season. The taste is creamy and light with a genuine peach flavor and enough consistency to feel substantial while still hitting the ideal middle ground between thick and drinkable.
3035 Peachtree Road N.E.
Atlanta 30305
470.809.9201
shakeshack.com
5. Ted's Montana Grill: Salted Caramel ($10)
Booze and milkshakes are never a bad combination, and this adult shake is no exception. Ted's recipe includes Haagen-Dazs ice cream, Jack Daniel's bourbon, salted caramel and whipped cream. The dominant flavor comes from the bourbon, which is a delicious complement to the made-from scratch, salted caramel. Virgin versions are also available and pair perfectly with the bison sliders.
1874 Peachtree Road N.E.
Atlanta 30309
404.355.3897
tedsmontanagrill.com
STORY: Jessica Dauler
PHOTOS Sara Hanna