Sandy Springs company turns pooch photos into fine art.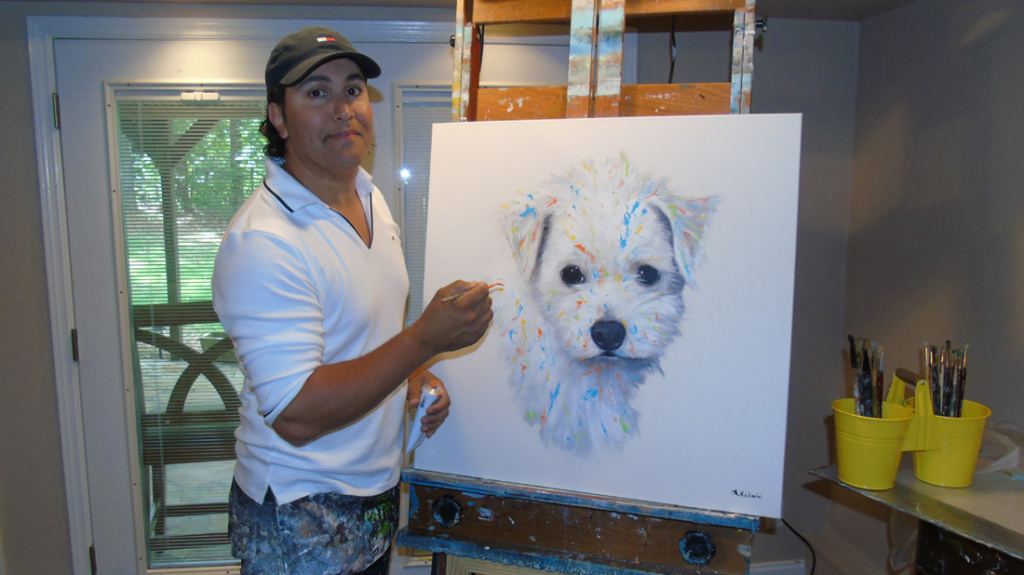 Sandy Springs resident David Lefkovits is an entrepreneur who doesn't own a dog. But he knows a business opportunity when he sees one. That instinct sparked the creation of his latest venture, an online site where owners can have their pets' photos transformed into hand-painted portraits.
The germ of a business idea was planted when a friend posted a photo of his pet on Facebook, and the image garnered so many "likes" that Lefkovits spotted an opportunity. After testing the concept, he launched My Pooch Face 10 months ago. The complete website debuted in May.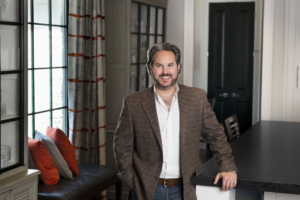 "I wanted a site to target very specialized markets," says the Venezuela native who came to the U.S. to study industrial engineering at Georgia Tech and now considers himself a "serial entrepreneur." "The first thing we did was create a Facebook page for My Pooch Face. We posted images of some whimsical portraits by our master artist, Aziz Kadmiri. The response was phenomenal, with lots of 'likes' and [people] asking how they could commission one of these 'pawtraits' of their own dogs. We then started targeting specific pet-loving Facebook audiences throughout the U.S., and the response was even more significant. I knew then we were onto something big."
Lefkovits has tapped into the strong emotions owners have for their furry companions. To date, almost 1,000 people have ordered personalized portraits that are completed by one of the 12 artists in the company's Woodstock, Georgia studio.
"People love it," Lefkovits says. "Half of our orders are gifts to someone who loves a pet; the other half are folks memorializing their pets. They call us, crying with happiness when they see the portraits. It brings a lot of comfort, and it's rewarding for us to see the passion these owners have."
Each commissioned work begins with an owner registering online and uploading photos of the pet to be painted. A detailed questionnaire aims to zero in on the pet's personality. From the information, an artist produces an acrylic work on canvas that is ready to hang. The entire process takes about four weeks, and, depending on the size of the painting, can cost between $500 and $1,500.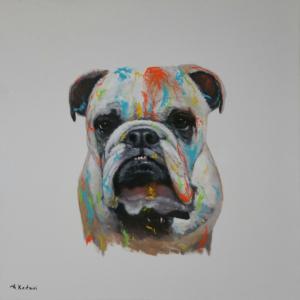 Artist Kadmiri's goal is to give each portrait a unique style that conveys each pet's personality. To do that, he carefully reads the detailed information pet owners upload about their pets. "I love the stories they share," he says. "It helps me know them more. I look at the dog, and he tells me his personality through his eyes. You want to capture the playfulness that these pets have. Reading their stories, I know each dog like my own, and I do everything I can to bring this dog to life on the canvas."
Lefkovits also plans to launch a digital portrait option with prices starting in the mid-$100s.
And even though the company is called "My Pooch Face," it's not just about dogs.
"We've expanded the system we built around dog lovers to other pets," Lefkovits says. "We've already done several cute cats and a zebra."
Information about My Pooch Face is online at Mypoochface.com.
STORY: H.M. Cauley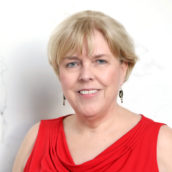 H.M Cauley
Atlanta-based writer and editor contributing to a number of local and state-wide publications. Instructor in Georgia State's Communication department and Emory's Continuing Education division.