Longtime Buckhead landmark Henri's Bakery is slated to be one of the dining options at the new-and improved Andrews Square (formerly East Andrews entertainment complex) when it opens this spring. The cafe and bakery, offering desserts, coffee and sandwiches, will be moving from its Irby Avenue location to a 2,000-square-foot courtyard space on Cains Hill Place.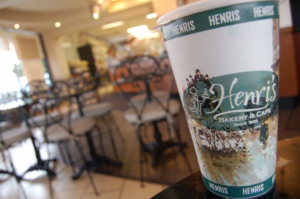 Henri Fiscus opened the popular local lunch spot and bakery in 1929, and he moved locations several times before settling on Irby in 1969. The current owner, Madeline Leonard, is Fiscus' granddaughter and says it was important for Henri's to stay a part of the Buckhead Village community. "We love this community and the special place Henri's has in it. We're excited to relocate to a location that will allow us to continue serving our neighborhood that has so wonderfully embraced us," Leonard says. Coming along to the new location is the iconic metal sign.
Andrews Square developer Edens has put an emphasis on retaining local businesses. "Bringing Henri's to Andrews Square and helping preserve its legacy and its role as an anchor of the West Village is a natural fit for our mission," says Herbert Ames, vice president of Edens Southeast. Until the complex is completed, Henri's will continue to operate in the current location. The eatery also has a Sandy Springs outpost, which will remain open.
HENRI'S BAKERY
60 East Andrews Drive
Atlanta 30305
404.237.0202
henrisbakery.com
---
NEWS CLIPS
YEBO'S SPRING MAKEOVER
Spring has sprung at Buckhead's Yebo. Shedding fire pits and blankets, it has transformed from Yebo Ski Haus, its winter alter ego, to Yebo Beach Haus, its summer doppelganger. As temperatures heat up, the decor shifts to surfboards and feels like an oceanfront summer home instead of its wintery mountain lodge predecessor. The South African-inspired eatery offers crowd favorites, such as biltong beef jerky and bobotie bunny chow, as well as new items such as kabobs and fajitas this season.
Yebo Beach Haus
111 West Paces Ferry Road N.W.
Atlanta 30305
404.869.1992
yebobeachhaus.com
BLUE HERON'S NEW LEADERSHIP
After 16 years of service, Nancy Jones has stepped down from her position at the Blue Heron Nature Preserve in Buckhead. She created a lasting legacy for the community green space, growing it from a grassroots project into a 30- acre haven. Former Project and Operations Director Kevin McCauley has taken over as Executive Director and will continue to protect the neighborhood treasure and its programming, such as children's camps, nighttime hikes and garden club events. He will also be spearheading the campaign to create a blueway trail, a waterway that cuts through the property with points of interest along the way.
Blue Heron Nature Preserve
4055 Roswell Road
Atlanta 30342
404.455.3650
bhnp.org
NEW DELIVERY AND PICKUP APPS
Locals now have two new ways to order their favorite meals and skip the lines. Lenox Square introduces "Lenox Delivered" that uses Zifty to deliver the mall's best dining destinations, including Bantam and Biddy, Wokdragon and California Pizza Kitchen, to your door. Plus, Atlanta is the latest city to have access to Shake Shack's smartphone app, Shack App, that allows hungry users to place to-go orders of burgers, fries and frozen custards with the touch of a button, and pick them up at the Buckhead and Perimeter locations. The app also saves your dining preferences.
Zifty zifty.com/zifty/lenox
Shack App shakeshack.com/app
STORY: Caroline Eubanks
Photo: Erica Dines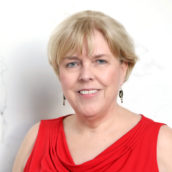 H.M Cauley
Atlanta-based writer and editor contributing to a number of local and state-wide publications. Instructor in Georgia State's Communication department and Emory's Continuing Education division.