A sampling of great eats in and around Buckhead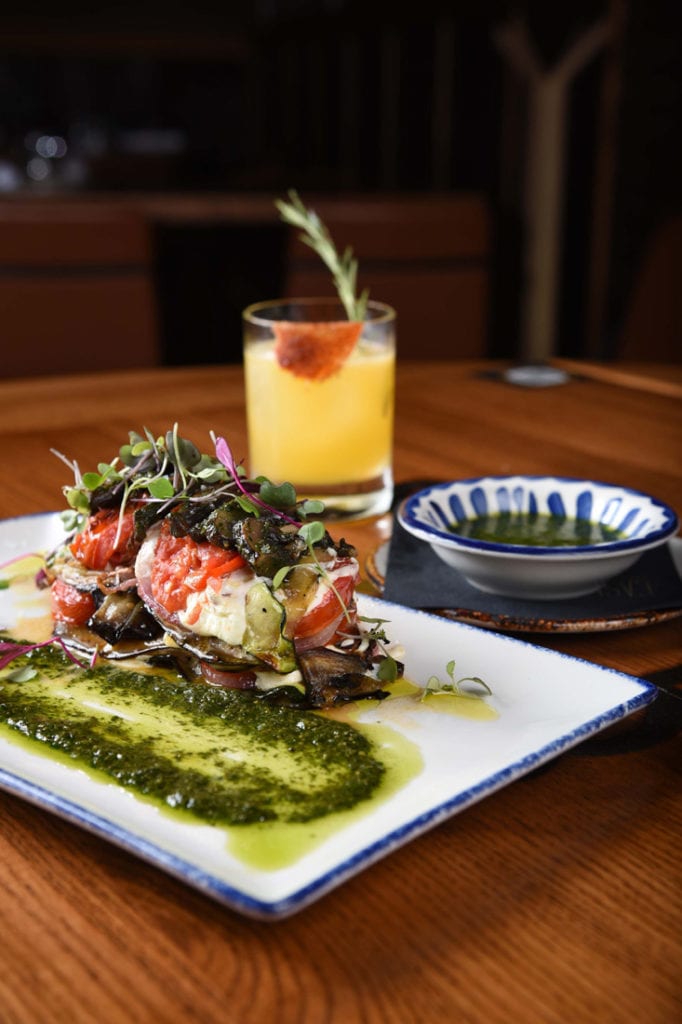 THE ALDEN
Chamblee's popularity as a residential and dining destination seems to be on the rise, and Chef Jared Hucks is here to make sure diners eat like royalty. Winning starters include a homemade bread plate with prosciutto butter and cheddar pimento cheese, silky sweet potato bisque and sashimi quality seared scallops. For mains, go with the cold smoked salmon, Moroccan-spiced shrimp and grits or the hickory smoked Brasstown coulotte steak. Desserts are deliciously unique. If you've got belly room to spare, be sure to witness the chef's gastro-theatrics with the banana bread pudding service. Our favorite was the lunar chocolate, which the chef calls his "dessert moonscape."
Smaller dishes: $11-$21
Larger dishes: $23-$45
Desserts: $9-$15
Chef's tasting menu: seven courses/$95
thealdenrestaurant.com
---
ANIS CAFÉ & BISTRO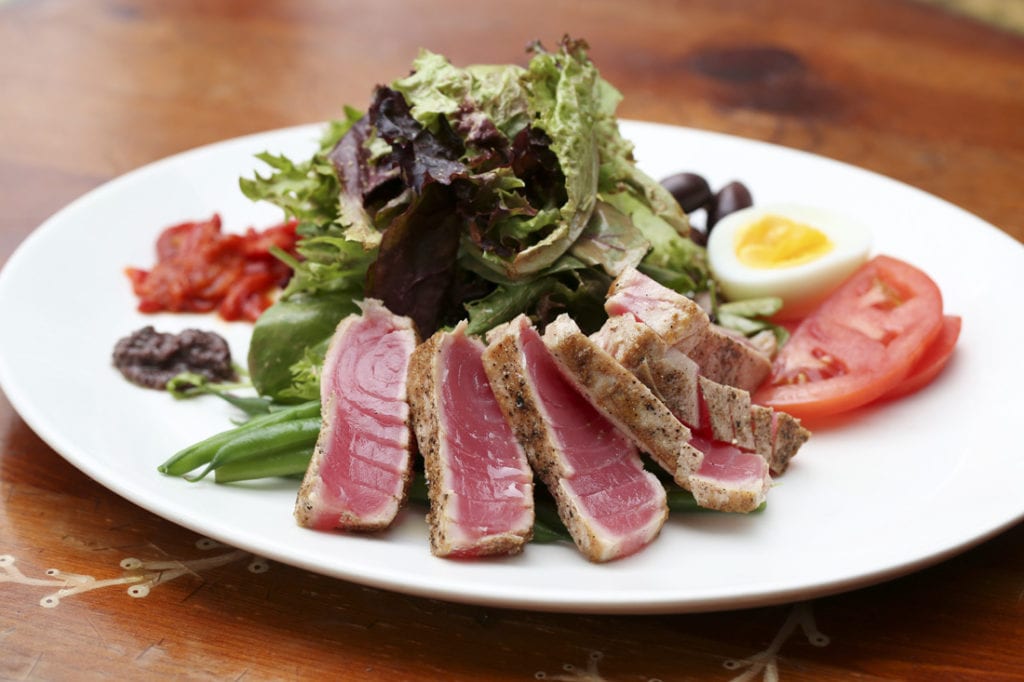 Anis is everything you'd hope to find in a French bistro, without having to buy a plane ticket: traditional Provençal dishes, relaxed patio dining and often a small congregation of French-speaking diners to help set the mood. Grilled North African-style Merguez sausage, coquilles St. Jacques or a bright, crisp salade d'Arnaud (named after the owner) are all winning starters. Entrées of truite meunière, poulet rôti and boeuf au poivre are sure to bring you back to that quaint Provençal village square. Bestin- class items are the croque monsieur, salade Niçoise, moules marinières and not-to-be-missed chocolate mousse.
Lunch prices: $8-$19
Dinner prices: $8-$35
anisbistro.com
---
CASI CIELO
Casi cielo translates to "almost heaven," and it's a fitting description for this sophisticated Sandy Springs Oaxacan eatery. You'd be loco to miss the tender, charcoal grilled octopus, earthy portobello or mahi-mahi tacos, the crunchy plantain croquettes or buttery Chilean sea bass. Equally enticing is the world-class mezcal collection and the exotic cocktails made with favorite brands such as Alipus, Nucano and Gracias a Dios. The gracious staff epitomizes high-bar professionalism.
Appetizers, soups and salads: $6- $18
Quesadillas, tacos and bowls: $12- $18
Main dishes: $15-$43
Desserts: $9
casicieloatl.com
---
FLOWER CHILD
Get your groove on at this 21st century health food haven where bright colors, happy smiles and good vibes abound. Whet your whistle with some refreshingly fruity on-tap kombucha (a fermented tea drink) and treat yourself to starters of tart, juicy tomato toast or creamy avocado hummus. You'll be bowled over by the tantalizing flavors of the Mother Earth bowl, the Glow bowl and other health-friendly bowls, wraps and plates. Menu standouts include the "Forbidden Rice" bowl with grass-fed steak, the Mediterranean quinoa salad and for dessert, the vegan dark chocolate pudding. A limited wine and beer selection is available for those who prefer a cocktail with their quinoa or a tipple with their tofu.
Soups, salads and appetizers: $6.25 – $12.50
Bowls, entrées and wraps: $9.95 – $15.50
iamaflowerchild.com
---
GRINDHOUSE KILLER BURGERS
The Piedmont Avenue location of burger-preneur Alex Brounstein's success story is where you go for a superbly flavorful, juice-dripping, napkin-soaking beef patty with all the trimmings. Though you can customize your sandwich, consider the signature "Cowboy" treatment: cheddar, bacon, barbecue sauce and a beer-battered onion ring—for a slim $7.99. To gild the lily, add an order of Frings (that's fries and rings), and ask for a side of the chipotle ranch dipping sauce. Here you can quaff a draft brew, slurp down a boozy shake, like the banana-flavored Puddin' Out, or sip a "Snooty" cocktail such as the mezcal-based El Guapo.
Starters and sides: $2.50-$5.50
Burgers: $4.50-$7.99
grindhouseburgers.com
---
HAL'S "THE STEAKHOUSE"
Looking on the outside like a high-end strip joint topped with a Bourbon Street balcony, Hal's has built its cachet around its loyal clientele, old-school style, impeccable service and terrific food. Owner Hal Nowak is a New Orleans native, and in his eponymous enterprise—with its shrimp remoulade, oysters bordelaise and booze-soaked bread pudding—he has created Atlanta's answer to Galatoire's. This may be your grandparents' favorite restaurant, but in an age where everything old is new again, it also boasts a youthful clientele that appreciates its straightforward food, strong drinks and speakeasy atmosphere.
Appetizers and salads: $9-$24
Entrées and steaks: $24-$50
hals.net
---
HAVEN RESTAURANT AND BAR
Haven is exactly that—a safe, inclusive place where your every gastronomic need is met. If weather permits, enjoy the serenity of patio dining while indulging your taste buds with crisp Gulf oysters, the Southern cheese board or Timmy's Wild Georgia shrimp. Or go inside and soak up the classy atmosphere while digging into seared Georges Bank scallops or spice-roasted Green Circle Farms chicken, and wrap things up with a warm chocolate brownie with artisan espresso sauce.
Small plates and salads: $6-$15
Entrées: $18-$38
Steaks: starting at $51
Sides and desserts: $7
havenrestaurant.com
---
KYMA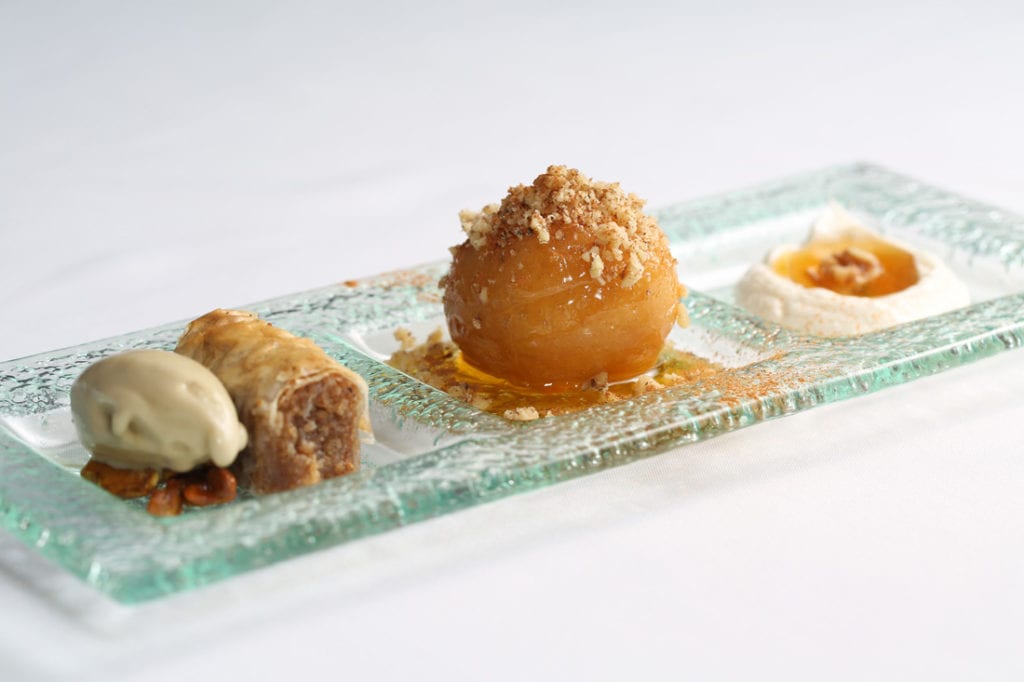 The name means "wave," and making waves is exactly what executive chef Pano I. Karatassos has been doing at his family's stellar Greek seafood restaurant since 2002. From marides (tiny, "French fry"-size white fish) to Greek specimens grilled whole (try the barbounia or bronzino), Kyma excels at delivering the kind of simple, unadorned flavors you'll encounter on a patio by the Aegean. Order a glass of Greek wine (there are many options) and a few classic meze for sharing (we like the dolmades, spanakopita, cuttlefish stuffed with lamb stew and the feta-zucchini fritters), and your meal will go just swimmingly.
Meze: $8-$14
Mains: $26-$46 (whole fish $30 or $36 per pound)
buckheadrestaurants.com/kyma
---
SECRETO KITCHEN AND BAR
It would be easy to pigeon-hole Secreto Kitchen as classic Southern, but that would be short-changing this neighborhood bistro. It dives deep into sophisticated comfort food that's pleasing to all manner of palates. Don't miss Chef Boyd A. Rose's fried chicken and world-class carrot cake— culinary laurels the chef could rest on if he weren't so busy impressing with other items. Crispy bang bang shrimp is the sole diversion from "y'all come back now" fare, and it's no secret that Charleston-style crab cake, fried green tomatoes with jalapeño-spiked strawberry jam and smoked bacon white cheddar mac 'n' cheese are irresistible favorites.
Salads, soups, appetizers: $7-$20
Entrees: $22-$35
Desserts: $8-$9
secretokitchen.com
---
STORICO FRESCO ALIMENTARI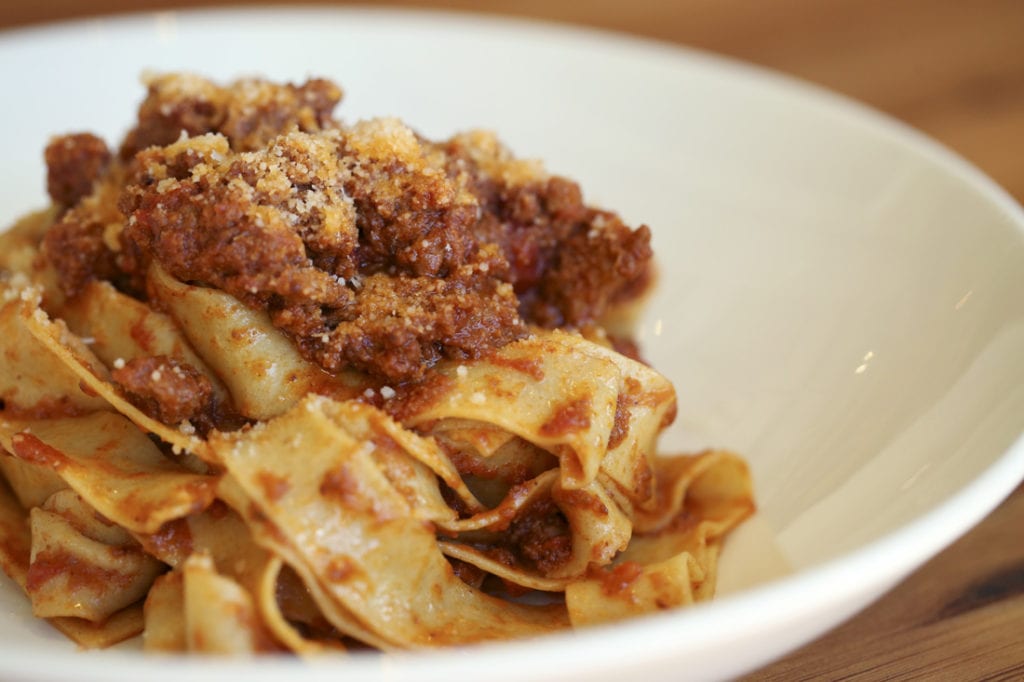 Is a trip to Italy on your bucket list, but you can't get away? A meal at oh-so-authentic hot spot Storico Fresco may be just the ticket. A must here is the meat and cheese board, piled with prosciutto, bresaola, culatello, fragrant cheeses and gooey honeycomb. Its refined, rustic and utterly classic pastas, including garganelli con funghi, tagliatelle alla Bolognese and ravioli spinaci, conjure up images of Tuscan vistas and Michelangelo statues. Seconds such as the pork shank for two and bone-in veal chop will sate your Italian cravings as well. End your repast with a glass of the world-class Miscela d'Oro espresso.
Appetizers: $12-$24
Salads and sandwiches: $10-$21
Pastas: $11-$23
Mains: $24-$30
Side dishes and desserts: $6-$7
storicofresco.com
---
TED'S MONTANA GRILL
We love everything about the housemade dill pickles; the fat onion rings with horseradish dipping sauce; the Arnold Palmers; and the all-American, stick-a-flag-in-it, "where the buffalo roam" burgers. Yep, we're talking bison, baby. It's leaner than beef, yet richer and moister, somehow. The Ted's burger that really rocks our world is the Blue Creek: Inspired by owner Ted Turner's Blue Creek Ranch in Nebraska, it comes with bacon crumbles and blue cheese. And that's all it needs. Just ask for a side of rings and a little ramekin of that horsey sauce.
Appetizers: $5-$14
Burgers: $12-$19
tedsmontanagrill.com
BY: Wendell Brock, Rebecca Cha and Angela Hansberger
PHOTOS: Sara Hanna, Joann Vitelli
Note: Prices and menu items may have changed since original publication.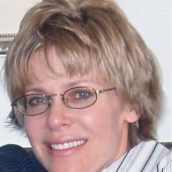 Rebecca Cha
Food, beauty and interiors writer at Simply Buckhead. Linguist, teacher, chef, parent.