A sampling of great eats in and around Buckhead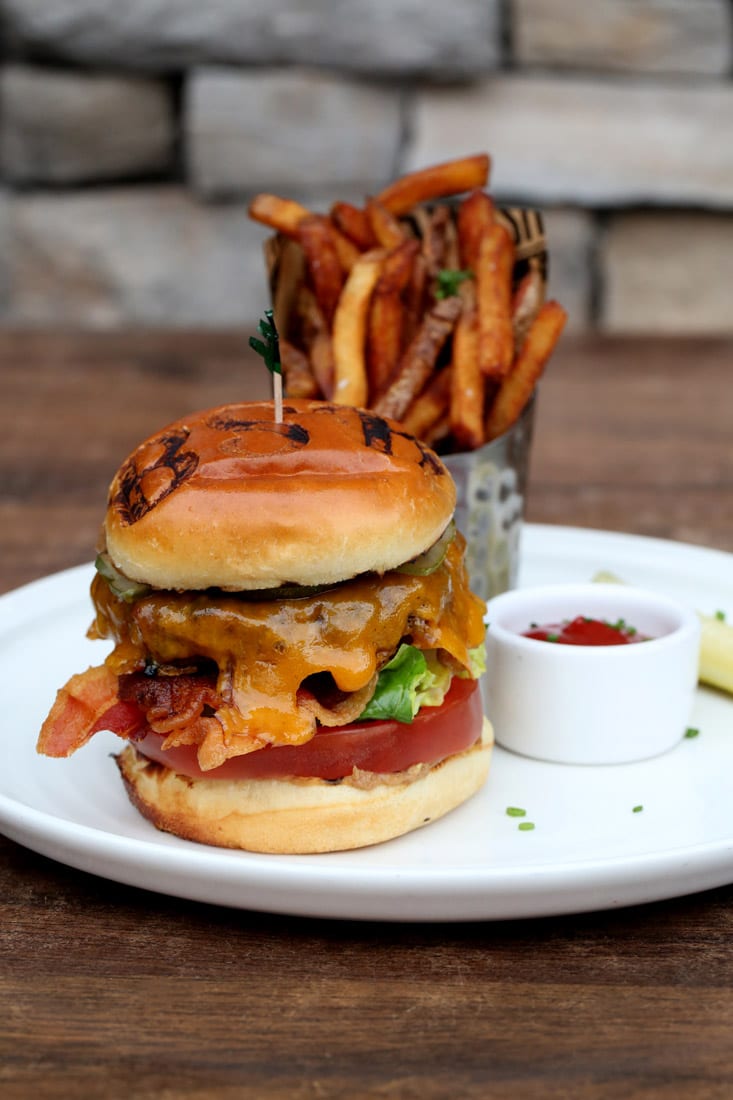 BY: Wendell Brock, Rebecca Cha and Angela Hansberger
PHOTOS: Sara Hanna
1KEPT KITCHEN & BAR
This hidden, club-like space took over the home of old-school French restaurant Toulouse in 2013. Manned by a trio of chefs with equal authority, the collaborative kitchen strives to keep up with the contemporary culinary game. When they nail it—with the likes of pimento cheese boards, fresh seasonal salads, old-fashioned pecan pies, killer brownies and what is surely the best steak frites in town—you'll find yourself sated and happy. Start with a classic Sazerac, then drink in the ambiance. Proprietor Thaddeus Keefe attended Buckhead's Atlanta International School as a lad, and this is his vision of the neighborhood of today: young, prosperous and ready to embrace the good life.
Salads, starters and flatbreads: $6-$14
Entrées: $20-$27
1kept.com
BIG SKY BUCKHEAD
The laid-back cattle ranch decor in this West Village hotspot is the perfect foil for top-notch Tex-Mex-meets-Deep- South eats. Specialty cocktails served up by fresh-faced mixologists combined with events such as Wednesday trivia nights, game-day viewing parties and weekend brunches with all-you-can-drink mimosas make Big Sky Buckhead a favorite urban escape. Best-in-class dishes such as the Big Sky Nachos, Goose Island IPA wings, Original Burger and Buffalo Chicken Sandwich are good enough to brand this place in your memory forever. Good to know: Big Sky is a cashless establishment, so don't forget your alt-currency. Also, free on-site parking spots are limited, so check the website for alternative options.
Starters: $4-$12
Salads, sandwiches and tacos: $11-$13
Entrées: $15-$19
Brunch items: $12-$15
bigskybuckhead.com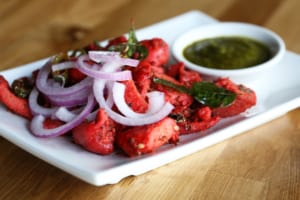 BHOJANIC
After a couple of meals at this North Indian restaurant in Buckhead, we've come to admire the flavorful, long simmered home cooking. The samosa chat was a wonderful smash-up of potato-and-pea samosas topped with tamarind and mint chutneys and yogurt. As for the entrées, we loved the intensely flavored goat curry and wanted to sop up every drop of the gravy with rice. This second location of Archna Becker's beloved Decatur restaurant is an appealing minimalist space, and it's easy to get in and out and have a solid and affordable meal.
Tapas and appetizers: $4-$9
Entrées: $12-$18
bhojanic.com
CO'M VIETNAMESE GRILL
In a Buford Highway strip mall on the edge of Brookhaven, Co'm has been for some time now a favorite place for the vibrant, aromatic flavors of the Southeast Asian nation that owner-brothers Duc and Henry Tran once called home. While Atlanta has pho shops aplenty, the stars here are the rice and noodle dishes, which can be ordered with heavenly grilled meats, chicken or fish. The pièce de résistance, though, is the grilled grape-leaf rolls, stuffed with bits of beef, lamb, salmon, duck or tofu and doused in a pool of sweet-fishy vinaigrette and sprinkled with crushed peanuts and crispy fried scallions. Heaven!
Appetizers: $3-$10
Entrées: $7-$18
comgrillrestaurant.com
ECLIPSE DI LUNA
At the tail end of Miami Circle is one of the most convivial joints in town. Head over for happy hour Monday through Thursday when most drinks and tapas are half price, and there's live music. Yummy small plates of habanero spiced ahi tuna ceviche, smoky sundried- tomato mac and cheese (made with three different cheeses) and refreshing Granny Smith apple salad are some of our favorites. Still hungry? It's hard to pass up the succulent balsamic-y spare ribs and flavorful, crunchy calamari. If you're with family (or a family of friends), consider the exquisite saffron-infused paella, made with authentic Calasparra rice.
Tapas: $2.95-$14.95 (most in the $5-$8 range)
Large plates (for two or more): $20-$24
eclipsediluna.com
F&B
Like its predecessor, the much-loved former Brasserie le Coze, F&B delivers timeless Provençal fare in a classic brasserie atmosphere. The menu is bolstered by comfort dishes portioned with hunger in mind, but it's also fortified with lighter salads, sandwiches and soups. Classics such as steak frites and skate wing with a brown butter sauce are deeply satisfying in their rustic charm. Mussels come piled high in a white wine and shallot broth, along with crusty French bread for sopping. The drink menu is built on interesting French wines and remarkable cocktails such as the well-balanced, bourbon based Line of Destiny.
Appetizers: $6-$18
Entrées: $11-$42
Desserts: $6-$8
fandbatl.net
HEARTH PIZZA TAVERN
Sandy Springs is lucky to be home to Hearth Pizza Tavern, where worldclass pie is served up in a cozy corner of the Exchange at Hammond. Pizzas such as the Ring of Fire and The Cure would earn three Michelin stars if there was a pizza rating, and other menu items aren't far behind. If you're eating low-carb, go for the Tavern chopped salad, piled high with Italian meats and cheeses, or dig in to hot, crispy Brussels sprouts or zesty roasted cauliflower. If those don't tempt you, then the steaming bowl of PEI mussels or an oozing, medium-rare Angus beef burger will be your best bet.
Openers and salads: $6-$12
Burgers and sandwiches: $10-$12
Pizzas: $7-$19
hearthpizzatavern.com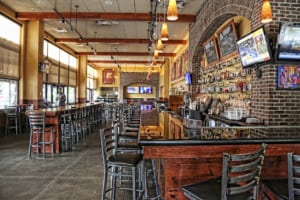 KALEIDOSCOPE BISTRO & PUB
Kaleidoscope is one of Brookhaven's most popular watering holes. Fabulous small plates include pimento mac and cheese, roasted cauliflower seasoned with garlic and a touch of lime, and the smoked pork and pimento spring rolls. The steak frites with garlic-heavy chimichurri is exceptional, as is the poutine, a Canadian treat consisting of crisp, hand-cut fries smothered in gravy and mozzarella. Looking for somewhat lighter fare? Go for the fried chicken club salad tossed with sundried tomatoes, fresh avocado and golden chunks of bird. A table on the pet-friendly patio guarantees topnotch people-watching.
Appetizers: $5-$12
Salads, pizzas and burgers: $7-$14
Mains: $13-$19
k-pub.com
SALTYARD
Saltyard offers a menu of small plates with reverence for local farmers and the current growing season. Employing global imagination, it heightens these dishes with international seasonings and flavors to create worldly comfort food. With an ever-changing menu, Saltyard is never the same place twice. Rustic dishes such as crispy duck confit and super-tender grilled octopus are masterful in their simplicity and depth of flavor. Raw and cured items such as the deconstructed salmon pastrami, while lighter, offer an equal flavor punch. This is not the place to skip the dessert course. The same amount of effort goes into the decadent chocolate nemesis with brandy cream as it does the entrées.
Tapas: $5-$16
Large plates: $18-$25
saltyardatlanta.com
TAKA SUSHI AND PASSION
Chef Taka Moriuchi learned from perhaps the most famously finicky and cult-inspiring Japanese chef Atlanta has ever known: Sotohiro Kosugi, owner of Buckhead's legendary (but now shuttered) Soto Japanese Restaurant. Today, Moriuchi holds court at his own sushi bar, where his impeccably fresh fish and hot and cold appetizers compare to the best Japanese food in town. The only difference: His prices won't shipwreck your budget. Among our faves, the UPS roll is a delicious nod to the Atlanta-based Big Brown fleet, and the black cod and okra tempura are packages you'll be happy to see arrive at your table.
Appetizers: $6-$20
Nigiri: $2.50-$11
Sushi rolls: $4.50-$19.50
takasushiatlanta.com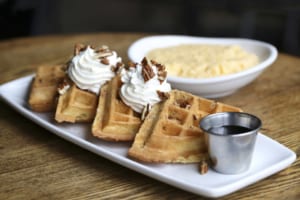 TREEHOUSE
Occasionally, sitting at Treehouse feels more like a cookout. Neighbors and regulars have been coming here for the familiar comfort food and laid-back atmosphere for more than 20 years. Brunch is a big deal, with a large menu and generous portions of favorites such as the Georgia pecan waffle and Southern-style eggs Benedict covered with sausage gravy. It's all about the patio here, and dogs are welcome guests. The chef works to enliven old favorites with as much attention to the all-American fried chicken sandwich as the New York strip au poivre. He also curates a mighty fine list of craft beers.
Brunch: $8-$10
Appetizers: $3-$13
Burgers and sandwiches: $7-$10
Large plates: $17-$22
treehouseatlanta.com
Angela Hansberger
Drinks columnist at Simply Buckhead. Food, spirits, and culture writer.